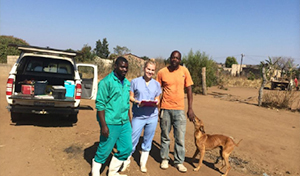 I did not expect to come back to the United States as a different person, but I did. My plan was to travel to South Africa and conduct a STAR research project, assist with veterinary appointments, attend a One Health course, and see the beautiful South African wild animals in their natural setting. Although I accomplished all of these goals, the invaluable benefits of my international experience were in my personal development. 
With mentorship from Dr. Patricia Conrad, Dr. Beatriz Martinez-Lopez, and Dr. Amanda Berrian, I investigated the nutritional statuses of dogs and their primary caretakers in the Mnisi Community, an underserved community bordering a large nature reserve in South Africa. I had to learn how to objectively survey people in a culturally sensitive manner and overcome my own reservations about seeming intrusive all while speaking through translators. Although I initially found this challenging, I gained the people's trust.  Children led me to hiding spots where they showed me nursing puppies, high school students asked me about career options in veterinary medicine, and the community translators shared with me their stories over Sahara ciders. I experienced the perspective of the Mnisi people on issues that were important to them and realized the value in taking the time to listen to people to find solutions to problems that are acceptable to all stakeholders.
I conducted my research project while working alongside veterinary students from the University of Pretoria and their clinicians and learned about veterinary school and veterinary practice in South Africa. Because the livelihood of the Mnisi community is based in livestock production, I also learned the medical priorities when caring for large animal patients. Furthermore, this experience highlighted the importance of considering context when analyzing cases and communicating with clients about treatment options.
Additionally, I participated in a two week One Health course with students and faculty members from universities around the world. We visited the apartheid museum, explored the Cradle of Humankind, performed the stories of villagers, and assisted with a bandage change on a poached rhinoceros among other exciting activities. Besides becoming more informed on global concerns, the course allowed me to network with international professionals interested in One Health. I plan to use their suggestions in developing One Health programs at UC Davis.
I can only begin to convey the impact that this summer in South Africa has had on me by explaining the significance of my experiences. I was inspired by the juxtaposition of hope and worry in the people, of fear and love in the animals, and of poverty and riches in the country. Traveling with an open mind has allowed me to see more possibilities for solutions to problems in my own community and personal life and ultimately grow as a person.
Tags