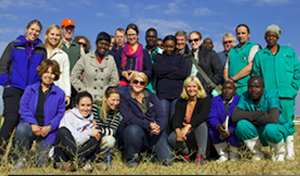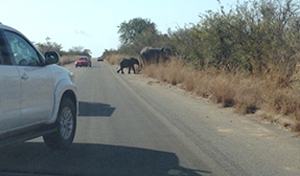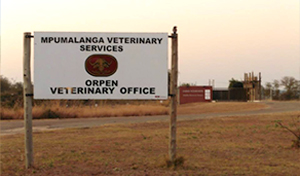 This summer my classroom was the African Savannah, my teachers were international experts and local community members, and the only traffic jams I had to deal with were caused by elephant crossings. In sum, this was a truly amazing and irreplaceable summer. It was only with the support of UC Davis SVM International Programs that I had the opportunity to participate in a unique One Health summer course in South Africa hosted by the University of Pretoria's Faculty of Veterinary Science. In addition to the two week course, I completed an independent research project in the Mnisi community while living at Hans Hoheisen Wildlife Research Station at the edge of the famous Kruger National Park. The Mnisi community is situated in the north-eastern corner of the Mpumalanga Province in South Africa, which is bordered by the Andover and Manyeleti provincial game reserves and part of the Greater Limpopo Transfrontier Conservation Area. The region is mainly populated by small-scale agro-pastoralists living in semi-urban to rural communities, raising livestock such as cattle, goats and chickens for subsistence. Due to the location and lifestyle within the community, interaction between wildlife, livestock, and humans is frequent, and zoonotic infectious diseases are a threat to both human and animal health. My research focused on the dynamics of rodent-borne diseases that occur within the Mnisi study area. It was conducted in collaboration with the Mnisi Community Program, an international platform in One Health for integrated teaching, learning, research, and community engagement at the livestock/wildlife interface. The summer was extremely valuable not only for my development as an individual within our increasingly global community but also as a veterinary professional struggling with how to combine passions and long term career goals. 
My interest in integrative approaches to science and medicine began long before I matriculated to the School of Veterinary Medicine at UC Davis and has been greatly influenced by the diversity of my experiences. As an undergraduate at the University of California, San Diego, I began with veterinary aspirations and followed a pre-veterinary curriculum. However, I ultimately chose to explore my interests in the field of archaeology, graduating with a degree in Anthropology and a minor in Biology. After graduation, I strengthened my knowledge base with a Master of Science degree in GIS and Spatial Analysis from University College London's Institute of Archaeology. My graduate research focused on the science of landscape archaeology, which melds theoretical underpinnings from ecology, geography, and anthropology, and the study of spatial analysis, which focuses on the examination of the patterns of artifacts or sites as well as the way ancient societies interacted with their physical and cultural landscape.
As an archaeologist, I excavated Bronze Age foundries near the ruins of Petra, mapped ancient fortresses hidden in the Andes of Ecuador, and surveyed the Californian landscape for traces of Native American culture. These pursuits took me on an incredible journey around the world and through our common past. It is apparent to me that the partnership between people, domestic animals, and the environment that emerged over 10,000 years ago continues as an important theme of our human experience. In today's society, I think as a veterinarian I will have a unique advantage to acknowledge and support this relationship through the care and management of food production animals that we depend on as well as the companion animals with which we share our homes. As I have gained exposure to the field, through the veterinary curriculum and extra-curricular activities, my professional goals have narrowed. I am currently specializing in large animal studies and hoping to pursue a career in mixed animal medicine through which I aim to use the One Health concept as a practical way to find solutions for both global and local problems.
This summer in South Africa, I was able to live those dreams. I conducted research to scientifically inform zoonotic disease control within the Mnisi community, implemented One Health approaches to community development, and shared in a truly culturally diverse, interdisciplinary, and collaborative experience. A moment that captures the impact of this summer was: standing under the shade of a large tree as the sunset surrounded by the Mnisi leaders and representatives to ask for permission to conduct my research within their community. Through listening to and addressing the questions and practical concerns of the community members regarding these academic pursuits, I felt truly connected to the complexities and challenges of living at the fragile human-animal-environment interface. It is with memories of the faces of Mnisi that I feel reinvigorated to pursue a role that recognizes the inextricable link between animal well fare, human health, and ecological conservation.
Tags