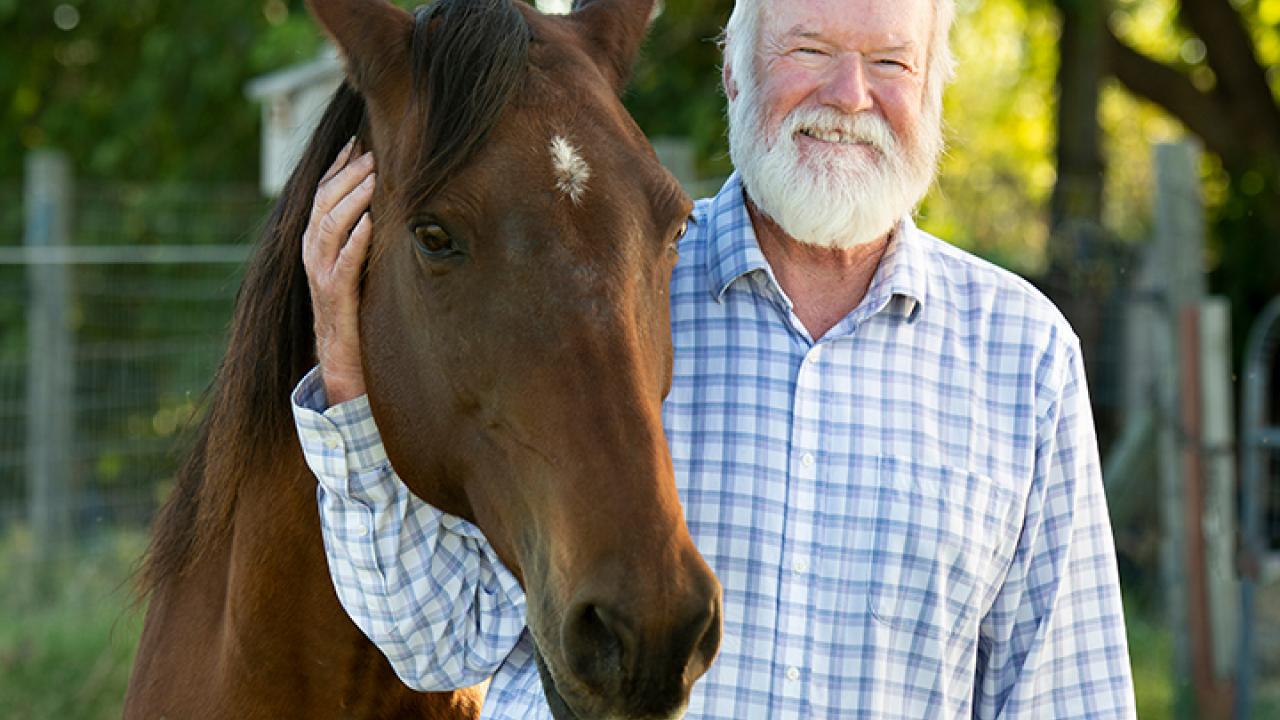 Equine Surgery and Critical Care Center | Veterinary Medical Center
Case Study
Patient: Easy, a 19-year-old Missouri Fox Trotter gelding
Owners: Meredith Reinhart and Mark McLean
Featured team member: Dr. Isabelle Kilkoyne
Easy's issue: Uncharacteristic, distressed behavior
Diagnosis
Following a normal morning feeding, Easy, a 19-year-old Missouri Fox Trotter gelding, was found down and rolling in his pasture. Having been clients of the UC Davis veterinary hospital for more than 30 years, owners Meredith Reinhart and Mark McLean knew exactly who to call. They made arrangements for veterinarians and students from the nearby UC Davis School of Veterinary Medicine to come see Easy. The school quickly dispatched its Equine Field Service, who examined Easy and administered medication to relieve pain and abdominal cramping. But when Field Service had to return three hours later because Easy continued to be pained, they weren't taking any chances and made arrangements to have Easy transported back to the veterinary hospital.
Once at the hospital, Easy was admitted to the Intensive Care Unit (ICU). Despite being medicated, Easy continued to want to be down and rolling in his stall – signs of severe pain. He was taken into emergency surgery where Dr. Isabelle Kilkoyne discovered a cause of colic: a lipoma (fatty lump) that was strangulating the upper part of Easy's small intestine.
Resolution
Dr. Kilcoyne was able to successfully resect the area of the lipoma, and Easy fully recovered. Easy is McLean's primary riding horse, and eventually they were able to renew their trail rides with the rest of the herd, currently at seven horses.
"While not the 'boss hoss,' Easy is the heart of the herd," said Reinhart. "He's the first horse we let the foals interact with—other than their mothers, of course—when we are ready to introduce them to other horses."
Easy is back to his old self, and Reinhart and McLean look forward to many more years riding and enjoying him.
More about colic and UC Davis' success in treating it
Equine Surgery and Critical Care Center
An Equine Surgery and Critical Care Center is being planned as part of the new Veterinary Medical Center at UC Davis. This new facility will allow surgeons to enhance their offerings of the most progressive techniques available for patients like Easy. The operating rooms will be built in close proximity to the Intensive Care Unit, for those critical situations when seconds count to save a horse. The center's surgical suites will be built to best suit the most cutting-edge approaches to injuries, including minimally-invasive procedures such as arthroscopy, laparoscopy, thoracoscopy, endoscopic laser surgery and lithotripsy. These techniques will lessen tissue damage encountered in traditional methods and reduce recovery time following surgery.
UC Davis has higher than normal colic surgery success rates, a sign of its overall expertise in equine medicine. The center will provide a facility in which the current excellent care will not only continue, but will expand to incorporate advancements to take equine critical care to the next level. 
Support the Veterinary Medical Center: Equine Surgery and Critical Care Center
For more information, please contact the Office of Development, at (530) 752-7024.