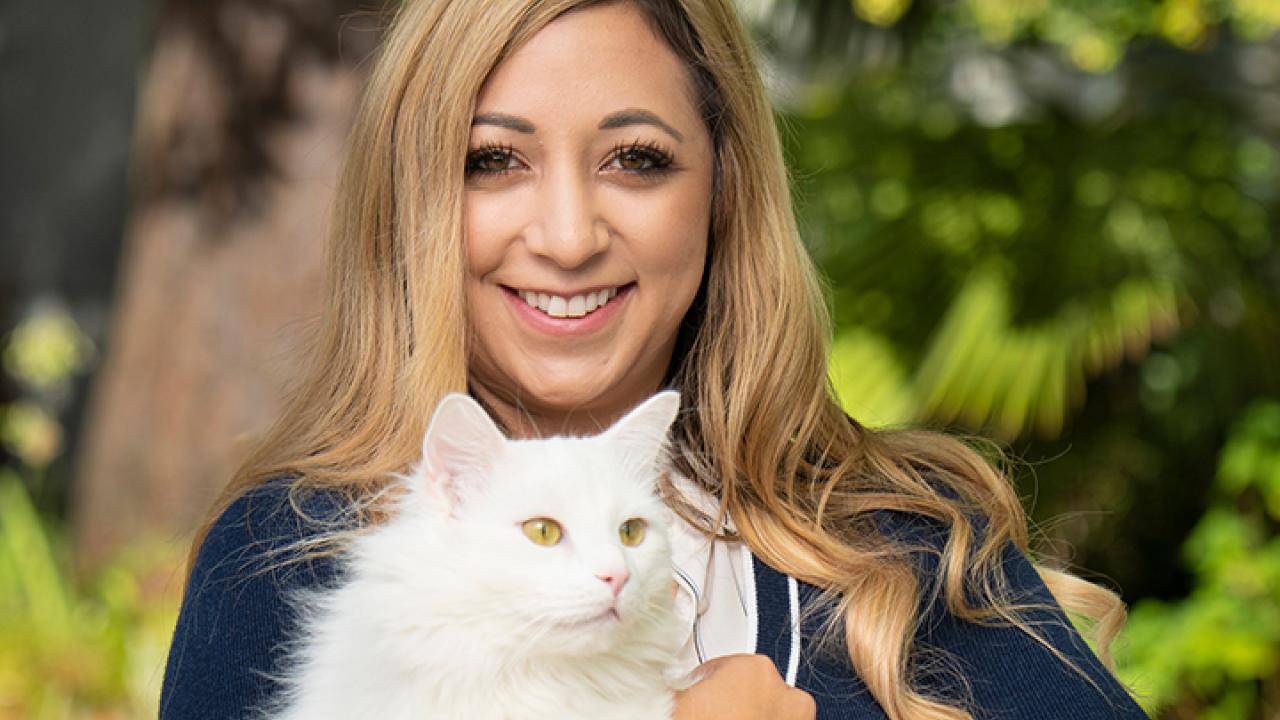 All Species Imaging Center | Veterinary Medical Center
Case Study
Patient: Kevin, a 3-year-old cat
Owners: Natalia Caceres
Featured team members: Registered veterinary technicians Monica Calder and Megan Loscar
Kevin's issue: Broken jaw requiring surgery
Diagnosis
Kevin, a 3-year-old male domestic longhair cat, was attacked by another animal and left with injuries on his face that required medical care. After being seen at his local veterinary emergency room, Kevin was referred to the UC Davis Dentistry and Oral Surgery Service (DOSS) specialists for a complex surgery to repair his fractured mandible.
Once admitted, Kevin required a CT scan to determine the extent of his maxillofacial injuries. Like with all cases in DOSS that need this imaging, Kevin was wheeled nearly 250 yards with his adjoining anesthesia cart to the cone-beam CT machine by registered veterinary technicians Monica Calder and Megan Loscar. They then safely wheeled him back nearly the same distance to the operating rooms. The images were then used for planning a successful surgery.
Resolution
Dr. Boaz Arzi, assisted by residents Drs. Mercedes De Paolo and Armeti Aghashani, used a titanium plate and screws to stabilize Kevin's jaw. The surgeons also had to extract a fractured tooth, close the open wounds in Kevin's mouth, and place a wire around the intermandibular joint.
The CT process was then repeated to obtain postoperative images that showed positive results and an excellent prognosis. In all, Calder and Loscar wheeled Kevin more than a half mile through the hospital for images that were essential for planning surgery and evaluating its outcome.
Several months after the surgery, Kevin has completely recovered from his injuries. Caceres reports that Kevin is eating pain free and is back to his old self. She says Kevin is as good as ever, and it's like nothing ever happened.
All Species Imaging Center
An All Species Imaging Center is being planned as part of the new Veterinary Medical Center at UC Davis. The All Species Imaging Center, staffed by the largest veterinary diagnostic team in the world, will extend its position at the cutting edge of detecting, diagnosing and treating disease and trauma. By utilizing information learned through research, radiologists and clinicians will continue to advance the care and rehabilitation of all animals. The center's imaging modalities will include radiography (x-ray), computed tomography (CT scan), nuclear scintigraphy, ultrasound, magnetic resonance imaging (MRI), and positron emission tomography (PET scan).
In addition, to alleviate issues such as imaging equipment being located far from operating rooms, the center is being built with strategic positioning in mind. The All Species Imaging Center—pivotal to all clinical specialties—will be centrally located to serve all patients, large and small. The strategic placement of imaging technology and expertise will expedite diagnosis and patient care, reduce stress and wait time for our patients and optimize operational efficiencies.
Support the Veterinary Medical Center: All Species Imaging Center
For more information, please contact the Office of Development, at (530) 752-7024.