Latest Internal Hospital / VMC Updates
VMTH PERSONNEL:
As the VMTH transitions to the Veterinary Medical Center, we want to ensure that faculty, staff, and students know the latest updates. The most current information on the project and other important hospital news will be regularly updated on this page. If you have any questions regarding the VMC and its impact on your area, please speak to VMTH Administrator Anissa Nachman. Please see the VMC website for a complete view of the overall plans to bring UC Davis to a new level of veterinary care. 
November 22, 2023
Drs. Jonathan Dear and Mike Ziccardi were recently appointed co-directors of the Access to Care program for a one-year period. They serve as leaders to this newly created umbrella organizational structure for the Orphan Kitten Project, Covelo Clinic, Knights Landing One Health Clinic, and the Fracture Program for Rescue Animals, as well as the VMTH's care for animals burned in wildfires. The Shelter Medicine and Community Surgery Services also collaborate with the ATC programs. Dr. Dear will lead clinical practice work, and Dr. Ziccardi will focus on leadership of off-campus activities.
October 27, 2023
We hope everyone enjoyed the many activities throughout the VMTH to celebrate Veterinary Technician Week. Thank you to all the techs for everything you bring to our patients, clients, students, faculty, and each other. We are truly grateful for your ongoing contributions to the high level of compassionate care we provide.
September 28, 2023
Jody Nugent-Deal, RVT, VTS, has been named VMTH Technician Trainer. Responsibilities of this new position include creating CE events for technicians, developing and guiding new technicians and teams, and assessing service needs, among others. Jody has been with the VMTH for 24 years, most recently serving as supervisor of the Anesthesia Service. Over the next month, she will work with VMTH managers to sign up teams for a free Vet Folio subscription available to all VMTH employees. More information on this will be emailed in the coming weeks. Please welcome Jody to this exciting new role and feel free to send her ideas and CE topics at jpnugent@ucdavis.edu.
August 25, 2023
Welcome new house officers! On August 1, 60 new house officers entered our advanced training programs. The House Officer Program is the largest of its kind in the United States with 140 total house officers training in 41 specialty disciplines.
July 27, 2023
Congratulations to all award winners and nominees!
Rachel Smith Award Winner – Kimi Kan-Rohrer (Dentistry and Oral Surgery Service)
Large Animal Staff Award Winner – Lisa Navarro (Equine Intensive Care Unit)
Small Animal Staff Award Winner – Amanda Dang (Specialty Services Supervisor) Client Services/Administrative Staff Award Winner – Monique Peyton Perez (Financial Services Manager) Support Services Staff Award Winner – Amanda Storms (Anatomical Pathology Service Administration) Rising Star Award Winner – Ashlea Chavez (Equine Medicine Service)
June 29, 2023
On June 23rd, the VMTH welcomed recent, and soon-to-be, graduating veterinary technician students from local vet tech programs to tour the VMTH and participate in continuing education relevant to newer technicians. In partnership with the Center for Professional Continuing Education and Hill's Pet Nutrition, students learned about technician opportunities in academia, research, and industry, as well as skills in resume writing, interviews, application processes, and communication. The VMTH is grateful for these partnerships that allow us to showcase our amazing teams and what we can offer for technician internships and career opportunities.
May 30, 2023
The VMTH now has an enhanced security presence from 8 p.m. to 5 a.m., with security guards from a private security company who are familiar with working on the UC Davis campus. They will be patrolling the entire VMTH complex (inside and out) and will routinely check in at more than a dozen locations throughout the night. Please remember to always wear your ID badge and be aware of your surroundings after dark. If you will be here after-hours, consider moving your car to a closer, well-lit parking place before it gets dark. Main campus resources are also available, such as Safe Ride (530-754-2677), to help provide rides on campus from 8 p.m. to 3 a.m. Please help us by keeping all doors throughout the complex closed and locked overnight, not propping doors open, and using keys, keypads, or ID badges to access buildings. Thank you for helping to keep the VMTH a safe working environment.
April 27, 2023
This week, we celebrate Medical Laboratory Professionals Week, an annual opportunity to recognize medical laboratory professionals and pathologists and highlight the important role they play in diagnostics and patient care. Let's celebrate our VMTH clinical and anatomic pathology laboratory professionals. Thank you for your dedication to our patients and clients.
March 27, 2023
UC Davis Chancellor Gary May announced the end of the Campus Interim Public Health Policy as of February 28, 2023 in coordination with the end of the County, State, and Federal Emergency Public Health Orders. This will bring changes to policies and protocols we have used for the past 3 years. The Daily Symptom Survey is no longer in use. Reports of positive cases of COVID-19 are strongly encouraged, but not required. It is also strongly encouraged to report positive cases, mask in crowded indoor spaces, and test for COVID-19 if symptomatic. It remains mandatory to stay home if sick and to document your vaccination series in Health e-messaging.
February 28, 2023
The VMTH has officially welcomed the first veterinary technician interns back into the hospital since before the pandemic. Yuba College and Carrington College have sent four outstanding and enthusiastic veterinary technician students to learn alongside the VMTH's incredible staff and faculty. The interns will rotate through both large and small animal one day per week for the duration of their semester. In the summer, the VMTH will welcome a new group of interns two days per week, with plans to increase partnerships and intern numbers into the fall. If you are lucky enough to work alongside any of the interns, you will find their positivity and eagerness engaging. If your service is interested in having a future technician intern rotate through, please reach out to Harmony Lindberg at harlindberg@ucdavis.edu.
January 31, 2023
UC Davis will adopt the UC updated policy on Vaccine Program With Interim Amendments, effective January 31. The policy requires all employees and students to get the primary COVID-19 vaccine series and be up to date on boosters, except for those people who have approved exceptions. For those who prefer to opt out of COVID-19 boosters, there is an option to do so by submitting a declination statement. To comply with policy, employees and students will need to upload their COVID-19 vaccine information or submit the declination form via Health-e-Messaging, or HEM, no later than February 28, 2023. The declination form is still in development and will be available in HEM in early February. For more information on the vaccine policy, please visit Campus Ready.
December 21, 2022
Construction on the All Species Imaging Center continues to progress. In small animal, the opening of the renovated and expanded ER and ICU will be coming in January, providing much needed space for around-the-clock management of our most critical patients. Emergency care in small animal increased as much as 65% during the pandemic and more than 160% in the past decade, so this expansion is vital to our continued success in compassionate emergency service. Other small animal construction projects over the next year will include new and/or expanded spaces for Cardiology, Nutrition, Behavior, Dentistry, and Orthopedic Surgery.
November 23, 2022
Improvements to utility infrastructure have sprawled throughout the hospital complex over the last year in preparation for All Species Imaging Center (ASIC) construction to begin. In December, construction will be concentrated within the actual ASIC footprint and the VMTH loading dock, as well as the completion of the new equine induction/recovery stalls in B-Barn. In January, the newly enlarged and remodeled small animal ER/ICU will officially open, providing much needed space for around-the-clock management of the VMTH's most critical patients.
October 27, 2022
Updated COVID-19 protocols began in the VMTH on Monday, October 24. Masks will be encouraged, but optional, in all VMTH clinical spaces, as they are currently optional throughout campus. All employees will still be required to complete and pass the symptom survey. Clients will be required to take and pass a verbal symptom survey upon arrival (proof of vaccination is no longer mandated). The hospital will return to normal use of client waiting facilities and examination rooms. This new protocol aligns the VMTH with the majority of veterinary teaching hospitals in the nation, UCD main campus spaces, and all other UCD veterinary teaching facilities. The hospital will continue to provide a variety of mask options to meet our team's individual needs. We will continue to monitor COVID-19 positivity rates in the community and may have times of surges where masking is required of clients and/or our team members in the future. Vaccination mandates remain unchanged for employees and students.
September 28, 2022
Faculty and staff recently gathered at the annual American Association of Bovine Practitioners conference, held this year in Long Beach. Led by Large Animal Clinic Director Dr. Bret McNabb, several members of the Livestock Medicine & Surgery Service and the Livestock Herd Health & Reproduction Service attended the event and hosted an alumni reception. The hospital was also well represented with a booth in the exposition hall to promote clinical and laboratory services, as well as residency and graduate programs. This is the first year the VMTH has been represented in this capacity at AABP, and all who attended agreed it was an overwhelming success.
August 29, 2022
Dentistry and Oral Surgery Service Opens Stomatitis Clinic

DOSS is opening a monthly Stomatitis Clinic to better serve patients suffering from this oral disease and provide them with cutting-edge diagnostic and therapeutic options. This expansion of oral medicine opportunities will greatly improve UC Davis' ability to treat one of the most devastating oral diseases in pets. Following a successful soft launch in July and August, the clinic will officially open on September 8, with a 2-day "stomatitis only" receiving and treatment schedule. The Stomatitis Clinic will be the first of its kind anywhere in veterinary medicine. Going forward, DOSS will continue to dedicate two days each month exclusively to stomatitis patients.

Large Animal Clinic Opens New Equine Stalls

LAC celebrated the grand opening of new clinical space in its equine barns. LAC Director Dr. Bret McNabb and several faculty and staff members recently cut the ceremonial ribbon into new hospitalization space of three large-capacity equine stalls and an adjacent treatment area. The new space repurposes an area of the hospital that had not been utilized in more than a decade and paves the way for future renovation projects to move forward, including the All Species Imaging Center, a central hub of imaging modalities which will be located between the main hospital building and the barns.
July 28, 2022
VERT Rescues Horse at Tevis Cup

On July 17, members of the UC Davis Veterinary Emergency Response Team (VERT) responded to a request by the organizers of the Tevis Cup to rescue a horse that had fallen off the Western States Trail while competing in the famous 100-mile endurance ride. Partnering with emergency crews from CalFire, as well as Placer, Nevada, and Butte Counties, VERT played a major role in a dramatic helicopter rescue that was featured extensively on Northern California news outlets. Dr. Lais Costa led the team of four, including Dr. Tara Urbano, staff member Tim Williamson, and veterinary students Julia Hills and Caitlyn Higginbotham.
June 30, 2022
As we wrap up Pride Month, I want to take a moment to reaffirm our commitment to diversity, equity, and inclusion. I am proud to sign the Pride VMC Gender Identity Bill of Rights on behalf of the hospital. Every day and especially during Pride Month, it is important to reflect on our community commitment to these rights and reaffirm our intent to ensure safe spaces for all members of our team. --Joshua Stern
May 26, 2022
The American Veterinary Medical Association's American Board of Veterinary Specialties has provisionally recognized the American College of Veterinary Nephrology and Urology (ACVNU) as veterinary medicine's newest specialty discipline. Decades in the making, the charge for ACVNU's establishment was led by Dr. Larry Cowgill, along with an organizing committee of leading experts in the field. Dr. Cowgill will serve as ACVNU's first president, and under his guidance, the VMTH and UCVMC-SD will be prominent initial training centers for ACVNU's residency program, as we help establish the initial benchmark for the new college's training programs.
April 29, 2022
The VPETT program is designed to emphasize the importance of recognizing the hard work and dedication of our team members in alignment with the hospital's five Cultural Pillars (Realize Our Vision, Value People, Pursue Excellence, One Team, and Trusted Dialogue). In this video created by the VPETT Committee, you can see some of the great prizes available and how easy it is to nominate your colleagues.
March 30, 2022
Construction Update

Please be advised there will be major disruption around the VMTH loading dock area the first week of April, as the canopy over the loading dock will be demolished. This demolition is one of the beginning phases of preparing the area for the construction of the All Species Imaging Center as part of the Veterinary Medical Center campaign. Thank you for your patience and understanding during this time.
February 26, 2022
COVID-19 Update

Remember that it is still required to take and pass a daily symptom survey prior to entry into VMTH facilities, as well as forwarding the results of that survey to your supervisor. Masks at VMTH entry points are being replaced with high quality KF94 masks. Changing into a fresh, provided mask at the entry point is required for all employees and students. The only exception to this rule is if you are wearing a fresh N95/KN95 of your own or as provided by central supply. Thank you for your diligence in preventing the spread of COVID-19 in our community and all your hard work during these times of staff, student, and clinician shortages. Feel free to reach out to vmthcovidqns@ucdavis.edu if you have questions.
January 26, 2022
COVID-19 Update

Remember that it is still required to take and pass a daily symptom survey prior to entry into VMTH facilities, as well as forwarding the results of that survey to your supervisor. Masks at VMTH entry points are being replaced with high quality KF94 masks. Changing into a fresh, provided mask at the entry point is required for all employees and students. The only exception to this rule is if you are wearing a fresh N95/KN95 of your own or as provided by central supply. Thank you for your diligence in preventing the spread of COVID-19 in our community and all your hard work during these times of staff, student, and clinician shortages. Feel free to reach out to vmthcovidqns@ucdavis.edu if you have questions.
Latest Newsletter Issues

VMTH Voice is a monthly internal newsletter for faculty and staff of the UC Davis veterinary hospital.

As of Winter 2020, Heartbeat became a quarterly electronic newsletter for the hospital's referring veterinarians only. The publication acts as a timely reference for veterinarians on the latest clinical advancements, clinical trials, and research happening in and around the UC Davis veterinary hospital.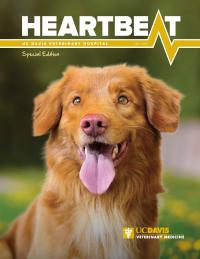 Prior to 2020, Heartbeat was a public newsletter about the latest happenings at the UC Davis veterinary hospital.