Latest Internal Hospital / VMC Updates
VMTH PERSONNEL:
As the VMTH transitions to the Veterinary Medical Center, we want to ensure that faculty, staff, and students know the latest updates. The most current information on the project and other important hospital news will be regularly updated on this page. If you have any questions regarding the VMC and its impact on your area, please speak to VMTH Administrator Joy Hoover. Please see the VMC website for a complete view of the overall plans to bring UC Davis to a new level of veterinary care. 
September 11, 2020
"Return to Campus" eLearning Course

By now, you should have received an email regarding the campuswide "Return to Campus" eLearning course. Everyone is required to take this short (approximately 12 minutes) online training. If you are an employee already back to work on campus, you must complete the training by September 25. If you are currently working remotely, regardless of a return to campus date, you must complete the training by December 15.

Flu Shots
The University of California has determined that all faculty, staff, and students must receive a flu shot this fall. The current COVID-19 pandemic makes vaccination for the upcoming 2020-21 flu season even more critical to help protect the health of our campus community. A reduction in the number of influenza cases preserves valuable health care resources to prevent and treat COVID-19. The deadline for vaccination or submitting a medical exemption is November 1.
August 21, 2020
COVID-19 Update

The VMTH is experiencing increased difficulty in obtaining PPE (both sterile and non-sterile), with certain items like disposable surgical gowns reaching critical levels. Unless disposable gowns are critical for the surgical procedure being performed, cloth gowns should be used as an alternative. Please carefully consider usage of the following limited supplies which may become scarce in the future, and ways to be conservative in their use without compromising biosecurity to extend our current stock: nitrile exam gloves, sterile gloves, surgical gowns, chemo gowns, isolation gowns, surgical masks, bouffant caps, surgical caps, shoe covers, and surgical beard/head covers. You may soon see different versions of these products, as we are reaching out to as many distributors as possible and looking at equivalent alternative products.
July 21, 2020
COVID-19 Update

•    It is imperative that everyone wears masks at all times when in the VMTH (unless you are in a private office alone or a designated eating space), so that we can continue to teach students and care for patients. If you see someone not wearing a mask properly, please remind them that they need to adhere to hospital policy. Should an individual repeatedly be seen not wearing a mask, it may be grounds for disciplinary action from campus.
•    One of the most clustered spaces in the hospital is the Small Animal Clinic anesthesia prep room. Unless you are assisting with a patient induction or surgical prep, please do not enter this area. If you have questions regarding induction times, please call the anesthesia office at 752-6898. The Anesthesia Service requests that services limit those assisting with induction and preparation of their patients to no more than one technician and one clinician.
•    With limited number of spaces available for people to eat inside the VMTH, several options have been created outdoors and in the breezeway. Please try to distance as much as possible from others and minimize time spent to just that required to eat and drink when utilizing these areas.
•    VMTH faculty and staff are invited to a Q&A session on workplace safety as it relates to COVID-19. This will take place by Zoom on Monday, July 27 at 3 p.m. with the VMTH leadership team, Educational Access team, and Dr. Stuart Cohen, chief of the Division of Infectious Diseases at UC Davis Health. Please check your email for the invitation and link to this session.

Feline Treatment and Housing Suite (Ward 3 Redesign)
SVM Dean Michael Lairmore and Assistant Dean of Advancement Hyemi Sevening joined Drs. Kate Hopper and Jane Sykes for a small ribbon cutting ceremony to officially open the Feline Treatment and Housing Suite on July 20. The Ward 3 redesign gives us a dedicated space to hospitalize and treat cats in the same area, and we look forward to seeing this new suite create a more efficient work environment for technicians, as they care for multiple patients. We are so excited to have a brand new space in the hospital! We are so thankful to the anonymous donor that allowed this to happen.
June 29, 2020
COVID-19 Update

Please continue to use the VMTH entry process and only enter the hospital at three doors: CCAH front door, VMTH east door (near the annex), and VMTH west door (LAC entrance). Before entering, you will need to complete the online daily symptom screening survey. Items needed at all times in the VMTH include: a mask, your identification badge, and daily colored dot for badge showing you are approved to be in the building. Please leave enough time (~10 extra minutes) to get through the health screening entry points that includes survey approval check-in. We appreciate your dedication to the safety of all our team members. Infrared scanning will begin June 29 as communicated by email.

Feline Treatment and Housing Suite (Ward 3 Redesign)
The Feline Treatment and Housing Suite is complete. The Ward 3 redesign has given us a dedicated area to hospitalize and treat cats in the same area, without having to transport patients to other areas of the VMTH. This new suite will help create a more efficient work environment for technicians, as they care for multiple patients. We will be having a virtual ribbon cutting for our generous donors and will communicate when the ward is available for use.
Women's Locker Room
On June 15, we opened the new women's locker room on the first floor of the VMTH. This renovation is part of the needed infrastructure upgrades for the VMC project. You will only be able to access this room with an assignment from Personnel. Therefore, if you are interested in a obtaining a locker on the first floor, please reach out to Personnel Services (530-752-2238). You can setup a time to receive a key and a locker assignment. We will keep the Annex locker room operational as well.
June 9, 2020
COVID-19 Update - Health Screening Before Entering VMTH

Additional safety measures have been implemented for all personnel, students and visitors of the VMTH. Before leaving home, an online symptom survey must be completed. If your screening is approved, you may proceed to work at the VMTH. You will enter in one of three areas: CCAH front door, east door of the VMTH Pritchard building (near the annex), or the west door of the Pritchard building (LAC entrance). These stations will be staffed 6-10 a.m., and 2:30-6:30 p.m., Monday through Friday (instructions will be available at these entrances for self check-in outside of these hours). You will need your identification badge to enter the hospital - please allow approximately 10 extra minutes to get through the health screening entry points and check-in process. The results of the survey apply for 24 hours, after which you need to repeat the survey. If your health screening is "not approved", you must remain home and contact your supervisor for instructions. Learn more about the health screening survey.
May 11, 2020
COVID-19 Update

As we gradually increase patient receiving in the hospital over coming weeks, our major concern is maintaining the safety of our personnel. We will continue to emphasize the importance of physical distancing, good hand hygiene and environmental cleaning. We encourage services to evaluate their usual routines and consider if they can make changes that will promote greater physical distancing. Holding case discussions in a larger room or outside, avoid working on medical records in the same room as others need to provide patient care, etc. Please think about physical distancing as you move around the hospital. If a room already has several people present, consider returning at a later time or waiting until someone leaves. Do not walk through rooms occupied by people if there is an alternative route. Do not visit other areas of the hospital unless there is an important reason to do so and you cannot achieve the same goal with a phone call. Please continue to follow the hospital policy and Yolo County mandate to wear a face covering whenever physical distancing is not possible, this would include when moving around the hospital as unintended interactions with others could easily occur. We ask that you only come to the VMTH if you are scheduled on clinical duty. We appreciate that these working conditions can be challenging and we want to thank everyone for maintaining our usual standards of exceptional patient care throughout this period.
April 22, 2020
COVID-19 Update
During the COVID-19 pandemic, the VMTH leadership is continuously re-evaluating recommendations from public health officials, the CDC, WHO, and AVMA amongst others. The guidelines presented here are fluid, based on what our current state of knowledge is, and may change as the recommendations from the aforementioned agencies change. Realizing there are multiple sources of information and various practices being enacted by different veterinary facilities, we seek to clarify the guidelines for the VMTH.
Some of the strategies we continue to undertake include:
•    As of April 15, following acquisition of sufficient provisions for all hospital personnel, everyone is required to wear a face covering in communal areas of the hospital when physical distancing (6 feet) is not possible or reasonable. This is in an effort to protect those around us from asymptomatic transmission. Facemasks are available from Central Service.
•    In accordance with campus directives, the VMTH permits continuation of critical clinical research efforts (including formal clinical trials and other clinical research studies) only on patients that were previously enrolled in studies and where delaying treatment or laboratory testing will lead to adverse patient outcomes or significantly impact the outcome of the trial and render previous work invalid. New patients should not be enrolled into clinical research studies during this period. The VMTH laboratory services will not accept research samples for processing unless they are part of an existing clinical trial with previously enrolled patients.
•    Currently, public health officials nationwide emphasize that based on all available literature, there is no evidence that animals are important as sources of transmission of SARS-CoV-2, either as fomites or shedders of virus, and that human-to-human interactions drive transmission. Experimental infections should not be considered representative of the "field" situation. Until more evidence is available, to err on the side of caution, VMTH protocol is that animals that live indoors with owners that have current illness be decontaminated using Chlorox® hydrogen peroxide wipes on admission to the hospital as possible.
•    Clients are not allowed to enter the VMTH. Exceptions for this rule would include: clients whose animals are to be euthanized, clients who are considering euthanasia, or clients who have critically ill animals whose survival is not expected. Those clients should be escorted to a designated visitation area while staff maintain appropriate physical distancing.
•    We are planning an increase in services starting on May 4 and will be communicating this plan next week once it has been solidified.
March 16, 2020
COVID-19 Update


Due to developing circumstances surrounding the COVID-19 pandemic, including adhering to social distancing and limiting public gatherings, the VMTH is altering its patient receiving schedule to operate on a limited patient receiving basis, concentrating on urgent or critical appointments. The ER will remain open 24/7 for emergent medical concerns. Most appointments scheduled for the weeks of March 16 and March 23 will be rescheduled. Clients are currently being contacted regarding cancellations and will be contacted at a future date to be determined to reschedule. Clients continuing to come to the VMTH will be asked to wait outside the hospital to avoid congregating in waiting rooms. VMTH Laboratory services are operating on a limited basis with all lab testing for research projects being temporarily halted. The VMTH Pharmacy will reach out to clients needing prescription medications. We are encouraging mail options for those needing refills rather than coming to the hospital. All Pet Loss Support Group meetings and An Evening With Vet Med lectures have been indefinitely postponed. Please see the school's Coronavirus Resources page for more information.
February 26, 2020
Feline Treatment and Housing Suite (Ward 3 Redesign)


Construction on the new Feline Treatment and Housing Suite (Ward 3 redesign) is nearing completion. We anticipate opening the ward in late March/early April. The Dean's Office and the Advancement Team will host a grand opening ceremony to celebrate the occasion with refreshments for staff, as well as a tour for donors responsible for helping to create the new space. We look forward to the increased efficiency the ward will provide our technicians as they care for hospitalized cats.
January 14, 2020
Feline Treatment and Housing Suite (Ward 3 Redesign)
Construction on the new Feline Treatment and Housing Suite (Ward 3 redesign) is nearing completion, with finishing touches being applied to the walls and the installation of cages, cabinets and other equipment to follow. We anticipate the room to be complete in February and look forward to the increased efficiency it will provide our technicians as they care for hospitalized cats.
December 18, 2019
All Species Imaging Center
Hospital administrators, staff, and faculty continue to work with architects on the final design plans for the All Species Imaging Center, to be built adjacent to the south side of the hospital. Construction on this central hub of imaging services is scheduled to commence in 2020.
November 8, 2019
Laundry Relocation Project
The electricians, plumbers, sheet rockers, laborers were all onsite this week. The plumbers are running the plumbing for the washers and the sinks/toilets and shower. The electricians are completing rough-in work, and they will wait for sheet rock on the walls before continuing. The sheet rock company was also onsite this week and rocking the walls in the laundry rooms. The washers and dryers are being delivered and installed on Tuesday, 11/19. Flooring in the laundry area is scheduled for next week. Thank you all for your cooperation during this construction period, we are getting closer to this great improvement!
November 4, 2019
Feline Treatment and Housing Suite (Ward 3 Redesign)
The contractors are working on the metal stud framing and backing this week as well as some electrical and plumbing work. This might include some hallway work. There will be a ventilation and hot water shut down for a small portion of the second floor on Saturday, 11/16. The ventilation will be shut down from 9am-1pm and the hot water will be shut down from 9am-5pm (there will still be water, but it'll be cold). The week of 11/4, the contractors will finish framing the north wall, insulate the walls, and perform mechanical work. The week of 11/11, the contractors will be doing the tape and texture and finishing the floors.
October 25, 2019
Feline Treatment and Housing Suite (Ward 3 Redesign)
An upgrade to the water fountains to include a bottle filler is being integrated into this project. This systematic replacement is underway and will continue until the end of the project. In addition, contractors have made progress this week installing door frames and stud framing. Work on mechanical and electrical projects will take place in the next few weeks. This might include some hallway work as well. There will be a ventilation shut down for a small portion of the second floor, and that date is pending. We will send out further notification as soon as it becomes available.
Laundry Relocation Project

The laundry renovation made progress this week with framing and electrical work occurring.  The new doorway has been constructed, and the existing door removed. Venting to the outside for the washer/dryer also occurred this week. Additional framing and electrical/mechanical/plumbing work will continue in the upcoming weeks. Your patience and understanding with any disturbances is truly appreciated, as this renovation will be such an asset when completed.
October 7, 2019
Feline Treatment and Housing Suite (Ward 3 Redesign)
Metal stud framing, metal stud backing, and door frames will be finished this week. Contractors will also start the mechanical, plumbing, and electrical work which will go into the week of 10/14. They are anticipating a future ventilation outage for a portion of the 2nd floor of the hospital. This will be for a block of time that will be scheduled in advance with appropriate notice, as well.
Laundry Relocation Project

The plumbers continue their work this week. The backfill and concrete pour around the lint interceptors will occur this week, as well. This may lead to some extra noise and activity in the adjacent hallways. Starting at 7 p.m. on 10/7, the contractor will cut the wall on the south corridor (main hallway) to open up the wall for a new larger door. The existing door and frame in that hallway will also be removed at that time. This will lead to more activity and noise in the hallway this evening, so please be aware. We are anticipated to still be on schedule.

Please contact Hospital Administrator Joy Hoover if you have any questions or concerns. Thank you for your continued patience while we look forward to our new and improved facilities!
September 17, 2019
Feline Treatment and Housing Suite (Ward 3 Redesign)
The project remains on schedule. Contractors will be doing metal stud framing and metal stud backing this week. The week of 9/23, contractors will finish the metal stud backing, install door frames, and do mechanical top out. The week of 9/30, contractors will do plumbing top out.
September 10, 2019
Feline Treatment and Housing Suite (Ward 3 Redesign)
The project remains on schedule. The noisy part of the mechanical demo will continue through 9/10. Contractors will do electrical demolition and metal stud framing the rest of this week – we anticipate noise with this (hopefully not as loud). The week of 9/16, contractors will continue metal stud framing and backing. The week of 9/23, contractors will install door frames, and mechanical and plumbing.
Laundry Relocation Project
The trench outside the VMTH main entrance will be covered up and concrete poured back by 9/20. All the repairs that need to be done on the existing piping will also be completed. One section of that piping already has been replaced. Currently, the electricians, mechanical and plumbing subs are onsite and doing their rough-in work. The carpenter will be onsite at the end of week of 9/16 to install the studs for future walls in new space.
         We are making good progress and your cooperation is greatly appreciated! 
September 5, 2019
Feline Treatment and Housing Suite (Ward 3 Redesign)




The project is on schedule and the noisy demo is complete. There won't be any night work for a while and if there is night work we'll give you a couple weeks advanced notice. The suite will be quite this week as the contractors will only be reviewing things in the room. We are trying to confirm with DCM if we can move back into the adjacent wards – that will be conveyed at earliest notice. Contractors will be working on mechanical demolition the week of 9/9. A mechanical shut-down plan will be decided 9/10. We are hoping to meet with Facilities on 9/11 to get them to turn the HVAC damper off for rooms 2100 and 2107. It will be suggested that shut down early in the morning because there will be less people. Contractors will be doing electrical demolition the week of 9/16, and also begin metal stud framing. Framing will finish the week of 9/23, door frame installation will begin.

Laundry Relocation Project




Additional repairs by Facilities outside of the VMTH main entrance need to be completed in order for construction on the new laundry location to continue. While that work has been steadily progressing, we do not have an exact completion date – that will be conveyed at earliest notice.   
July 19, 2019
Laundry Relocation Project




Construction will begin 7/22. Most of the demolition will occur at night and as this project is not adjacent to clinical space, we are hoping for very little disruption. Please convey concerns during the process to VMTH Administrator Joy Hoover. The end product of the laundry being on the first floor will be a wonderful improvement! 
June 19, 2019
Feline Treatment and Housing Suite (Ward 3 Redesign




Bids are expected on 6/28, and a working group is scheduled for 7/9 to discuss priorities. We expect construction to start as early as the week of 7/22. Demolition should last approximately six weeks, and construction should be complete in December. We will confirm the schedule with the contractor in early July.

Laundry Relocation Project




In order to provide more efficiency for our staff, we are relocating the VMTH laundry facilities from basement to first floor in space previously occupied by the men's locker room near the lobby. Exterior construction on west side of the building (near VMTH main entrance) will begin 7/2 and last through to late July. Interior demolition in the locker rooms is expected to start on 7/17 and last through mid-August. The project is expected to be complete in mid-December.

All Species Imaging Center




In order to properly analysis the location slated for the All Species Imaging Center, Facilities will perform an infrastructure evaluation on 6/26-28, from 6:30 a.m. – 3 p.m. The scope will include saw cutting the pavement, extracting soil, backfilling and re-paving. These activities will occur on the south side of the VMTH between the hospital and the barns. Equine lameness evaluations during this time will take place on the south side of the barns. 
---
Latest News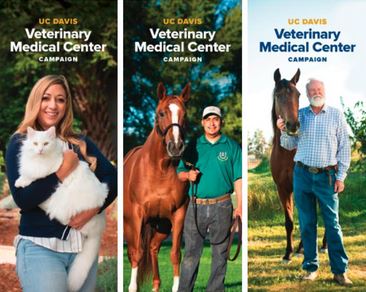 October 29, 2019
School Promotes Veterinary Medical Center Campaign
In recent months, the transition of the Veterinary Medical Teaching Hospital to the future Veterinary Medical Center has become more real. The Veterinary Medical Center campaign is the largest fundraising effort ever by a veterinary school. And as it progresses, the school is celebrating the clients, patients and care teams who are the reason behind the center, and provide new tools where hospital personnel can find the latest construction information. With that in mind, last week the school launched new communications that use banners, posters, web pages and other means to tell extraordinary patient stories, and the care teams behind their successes.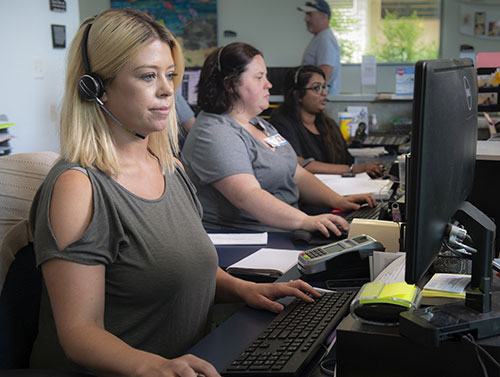 August 22, 2019
Hospital To Open Client Call Center
In order to provide better service to clients and improve clinical workflow, the veterinary hospital is opening a new call center in late August 2019. Currently, the hospital receives upwards of 1,800 phone calls per day, fielded by 10-15 client service representatives (CSRs) at the busiest times – all of whom are physically located in one of three walk-up reception areas. The new call center will be housed away from the reception areas to give CSRs an opportunity to provide dedicated one-on-one client service.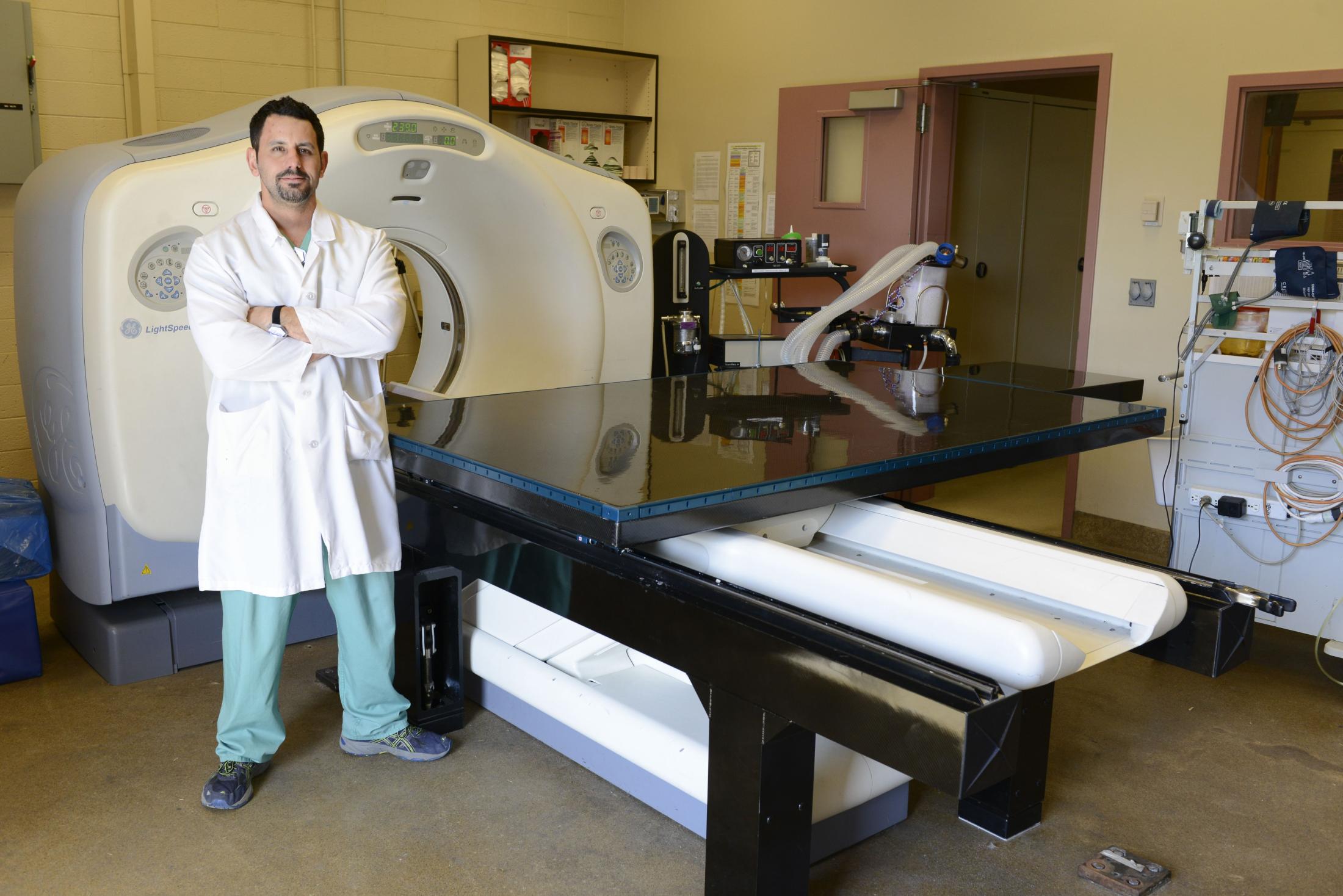 July 17, 2019
Hospital Recognizes Outstanding Staff
VMTH Staff members were recently recognized for their dedication to providing the best customer service and contribution to clinical care. Five awards were handed out during the annual hospital staff awards presentation.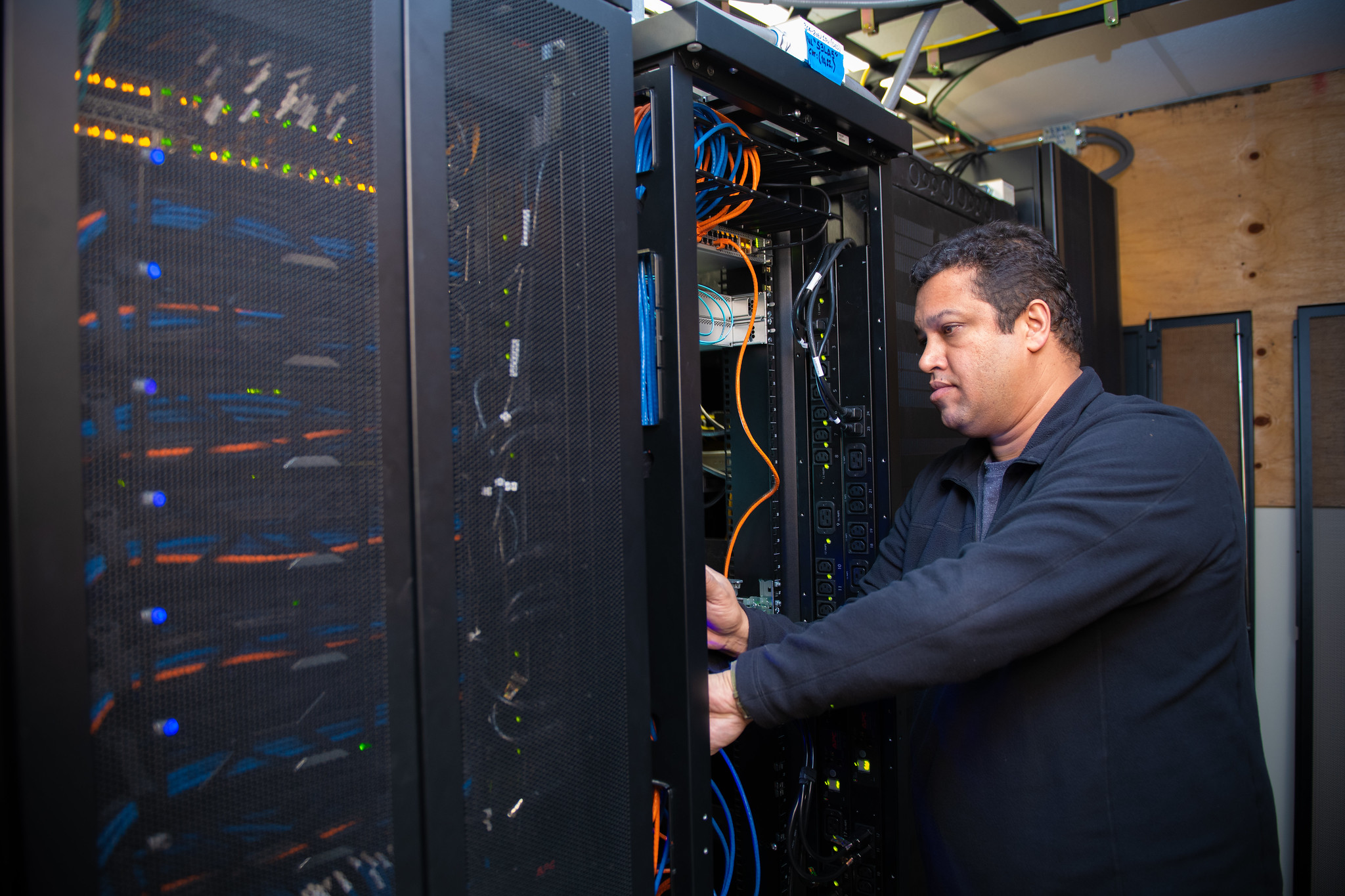 June 10, 2019
Hospital Improves Imaging Communication Technology
​​
The hospital is currently in the process of implementing a modern, sustainable Picture Archiving and Communication System (PACS) that provides cutting-edge clinical, teaching, and research imaging functions for clinicians, students, faculty, staff, referring veterinarians, and clients. The hospital's current PACS is aging and does not allow clinicians to utilize it to the best of its abilities.
---
Latest Newsletter Issues
VMTH Voice
VMTH Heartbeat