Our Mission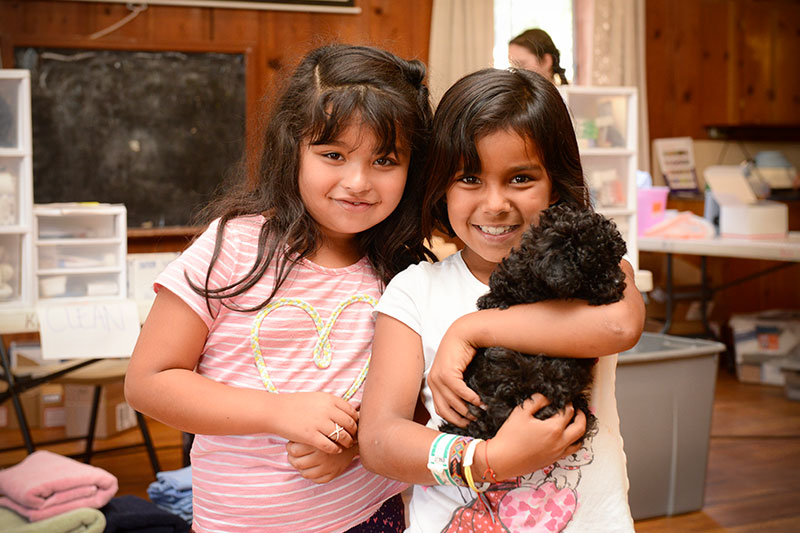 KLOHC aims to provide linguistically competent, culturally sensitive, and compassionate veterinary services to the communities of Knights Landing and Robbins, California. That mission includes providing a warm and inclusive environment that honors the human-animal bond and takes steps towards health equity for all members of the family. The clinic works with the family members to provide examinations, preventive animal health services, minor treatments, and health education to those who cannot afford to obtain such services otherwise. Education is the foundation of this preventative approach, empowering clients to have increased choices in their healthcare of their pet.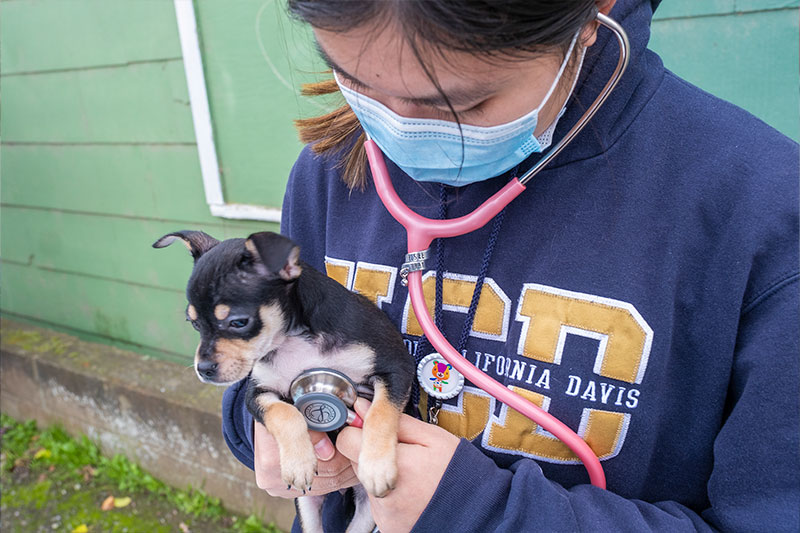 History
Veterinary care at KLOHC was established in 2013, when the UC Davis School of Veterinary Medicine began offering free veterinary services to pets in Knights Landing, California, where the UC Davis School of Medicine had been offering free human healthcare for a year. Knights Landing, located 20 miles north of campus, is an underserved community that historically lacked veterinary and other healthcare services. Following the creation of the human healthcare clinic, the community asked for veterinary services, as there were many pets and strays in the area. With great initiative of veterinary students, and a seed grant from the veterinary school's One Health Institute, a cohesive One Health organization was formed. The KLOHC founders sought to provide accessible and culturally sensitive medical and veterinary services and educate the community on health risks. Since 2013, the bilingual veterinary clinic has provided free physical examinations, flea/tick medications, spay/neuter surgeries, nail trims, and other veterinary services.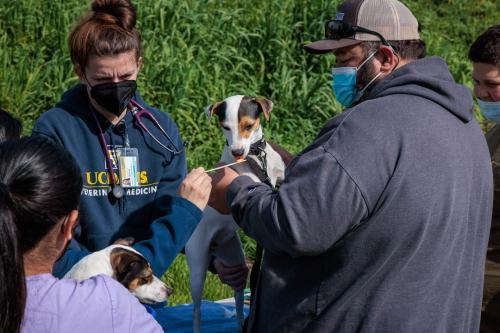 How The Clinic Functions
The clinic is run by UC Davis veterinary students under the hands-on guidance of volunteer faculty veterinarians. Staff technicians also assist in the hands-on operation of the clinic. The entire team is dedicated to providing the community members of Knights Landing and Robbins with access to high-quality veterinary care regardless of their financial situation.
On scheduled clinic days, the students spend the early morning setting up the clinic's reception area, examination stations, pharmacy, laboratory, and an education area. Although it's a bustling atmosphere, every attempt possible is made to utilize fear-free techniques and transparent communication to keep pets and their owners happy and comfortable during their visit. As the clinic opens, community members arrive on foot and by car for appointments for their pets in need of routine health check-ups, preventative care, or follow-up examinations. Patients with appointments are attended to throughout the day. In addition, the team makes every attempt to accommodate a steady stream of guests and their pets who arrive without appointments.
In cases where more advanced diagnostic or medical procedures are warranted, KLOHC is fortunate to partner with the Community Surgery Service at the UC Davis veterinary hospital, which performs procedures such as spay-neuter surgeries, mass removals, and other entry-level practitioner procedures at no charge for this community. That partnership—as part of the school's Access To Care Program—is such an important part of the school's and KLOHC's missions.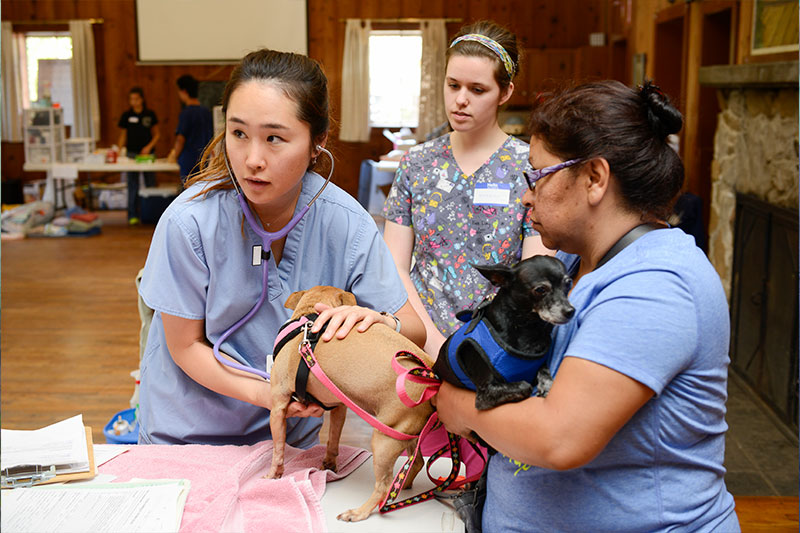 Importance
Why is KLOHC so important? Knights Landing is a very rural underserved community. There are only a handful of businesses in the town and no healthcare options. The only available option for routine medical and veterinary care is to travel to the nearest town of Woodland, 13 miles away. Woodland is home to four full-service veterinary clinics, however the only bus connecting the two towns runs just once daily, and pets are not allowed on the bus. This makes it difficult for many residents who rely on public transportation to access healthcare for all members of their families. KLOHC was established to break down barriers to care and build trusting relationships with the residents of these communities to help further assess their needs.
While this clinic could not function without faculty participation, KLOHC is driven by the dedication and determination of UC Davis veterinary students. Despite facing rigorous academic demands, long hours, and challenging cases, these students embrace the difficulties of their training with a strong work ethic and resilience. Through their volunteer work at the clinic, they not only positively impact animal and human health but also sharpen their leadership, teamwork, and problem-solving skills and build relationships with communities that deepen their cultural competence.
As members of a society that values equity and access to quality healthcare, KLOHC is thrilled to partner with the families of Knights Landing and Robbins. The friendships built and skills gained in this pursuit are what will shape the students into becoming better and more compassionate professionals.
Vaccine Schedule Information
(For more detailed information on vaccines for dogs and cats, please see here)
Puppy's First Shots
DAP (Distemper/adenovirus/parvo)
First dose between 6-8 weeks of age
Booster every 4 weeks, until 16 weeks of age
Booster 1 year later then every 3 years
Rabies
First dose at 12-16 weeks of age
Booster 1 year later
Booster every 3 years
Leptospirosis
First dose at 12 weeks of age
Booster 3-4 weeks later
Annual booster
Bordetella (Kennel Cough) (non-core, dependent on dog lifestyle)
First dose at 6-8 weeks of age
Annual booster if lifestyle indicates continued vaccination
---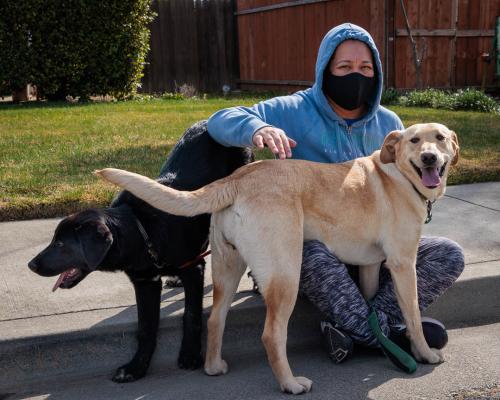 Adult Dog with No History of Vaccination
DAP (Distemper/adenovirus/parvo)
First dose
Booster 3-4 weeks later (lasts one year)
Booster every 3 years
Rabies
First dose
Booster 12 months later
Booster every 3 years
Leptospirosis
First dose
Booster 3-4 weeks later
Annual booster
Bordetella (Kennel Cough) (non-core, dependent on dog lifestyle)
First dose
Annual booster
---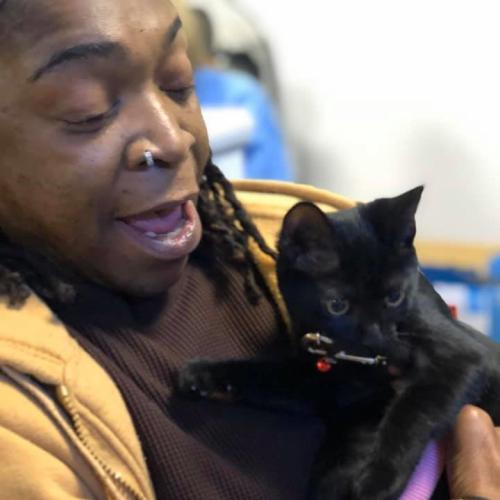 Kitten's First Shots
FVRCP
First dose at 6-8 weeks
Booster every 4 weeks, until 16 weeks (good for 1 year)
Booster at 12-16 months of age (good for 3 years)
FeLV
First dose at 12 weeks after negative Felv test
Booster 3-4 weeks later
Annual booster if lifestyle puts cat at risk
Rabies
First dose at 12-16 weeks
Booster 12 months later
Annual booster
---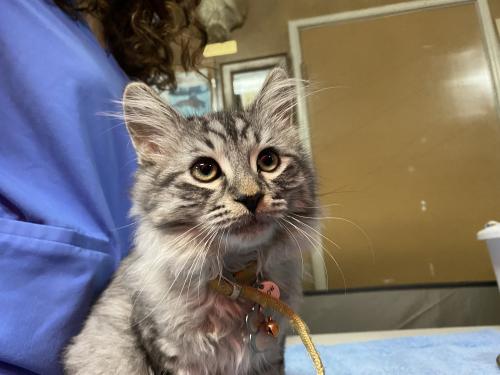 Adult Cat with No History of Vaccination
FVRCP
First dose
Booster 3-4 weeks later (Good for 3 years)
Booster every 3 years
FeLV
First dose after neg FeLV test
Booster 3-4 weeks later
Annual booster if lifestyle puts cat at risk
Rabies
First dose
Booster 12 months later
Annual booster
Deworming (Pyrantel)
Annual deworming recommended