The Richard M. Schubot Parrot Wellness & Welfare Program
The Richard M. Schubot Parrot Wellness and Welfare Program is dedicated to supporting resources, education and clinical care of companion parrots*, providing optimal quality of life, disease prevention and treatment. Maintaining the UC Davis School of Veterinary Medicine's tradition of excellence, this innovative program just for parrots encompasses 
Preventative health

Nutrition

Behavior

Environmental enrichment

Pain prevention and management

Pediatric and geriatric care
Our program also supports research focused on providing best practices for protecting the health and well-being of parrots kept by private owners, aviculturists and zoological collections.
Your gift supports parrots, students and community outreach, all the necessary ingredients to make our parrot wellness and welfare program the leading model for helping parrots and the people who care for them. To learn more about how you can support the Richard M. Schubot Parrot Wellness & Welfare Program, please contact our Development Office at development@vetmed.ucdavis.edu, (530) 752-7024.
*Due to recent changes to its clinical team, the Companion Exotic Animal Medicine and Surgery Service, which provides emergency care for exotic companion animals, has changes to its emergency service. Starting September 1, 2018, they are able to provide emergency care to their regular patients that have been seen within the last 3 years on weekdays and weekends from 8am-9pm only. Please call to discuss your animal's condition with the clinician on emergency duty as soon as possible. Unfortunately, the Companion Exotic Animal Medicine and Surgery Service is unable to provide emergency service from 9pm-8am.
---
Community Services
Physical Examination and Consultation
Wellness classes for you and your bird: Look for upcoming seminars, both virtual and at our location, for parrot owners to talk about best care practices for parrots.
Mobile services: We offer on-site consultation services for large parrot collections.
---
Faculty Recognitions
Congratulations to Dr. Joanne Paul-Murphy for being awarded the 2019 American Veterinary Medical Association Animal Welfare Award for all her contributions to avian welfare. In 2020, Dr. Paul-Murphy was also named the Messmer Family Presidential Chair in Companion Exotic Animal Medicine & Surgery. Both of these honors are a testament to her dedication to advancing veterinary care for all companion exotic animals.
---
For Veterinarians
We promote teaching about the health and welfare of parrots at all levels within the School of Veterinary Medicine.
Veterinary students: The School of Veterinary Medicine has incorporated Parrot Health into its core curriculum for all veterinary students. Throughout their four years of education, veterinary students have opportunities to learn about the unique anatomy, health needs and welfare issues of parrots.
Residency program: The School of Veterinary Medicine offers a three-year residency program to give veterinarians advanced, specialized training in parrot medicine. Residents, who successfully complete this program focused on companion birds and other non-traditional companion animals, can become board-certified specialists in zoological medicine.
SEEKING INPUT FROM VETERINARIANS FOR SQUAMOUS CELL CARCINOMA PROJECT:
Avian veterinarians are often limited by lack of knowledge of how our patients respond to therapies, possible side effects of therapies and what we can expect in terms of survival, particular when treating cancer. In response to these needs, an online survey was designed by avian veterinarians at Stanford and UC Davis in collaboration with the Stanford Center for Clinical Informatics to start addressing these questions for one common avian cancer, squamous cell carcinoma (SCC).
We are seeking your input for this database. Please complete our online survey about your SCC cases. In general, the survey should take approximately 15 minutes to complete (but may take longer with more complicated cases).
By combining cases from multiple practices, we can begin to obtain statistically significant information on treatment outcomes for avian patients with SCC. This information may be used in the future to help clinicians guide therapy as well as to guide researchers to develop clinical trials. The information obtained by this survey will be made public once enough data has been obtained for analysis.
---
Parrot Focused Research
EXPLORING A NEW MODEL OF SHORT-ACTING INFLAMMATION IN COCKATIELS
This year, the Richard M. Schubot Parrot Wellness and Welfare Program is delving into a new model to help study acute inflammation in parrots, beginning with the cockatiel. The model involves the use of carrageenan, a material commonly used to create short-acting and reversable inflammatory responses in the paws of mice and rats but has yet to be applied to companion birds. We plan to use this new model to assess the effectiveness of anti-inflammatory pain medications in parrots, as well as better-understand and recognize the subtle behavioral changes when these birds respond to a short period of inflammation.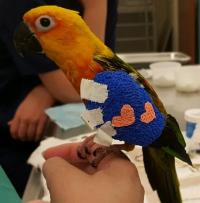 CAN RECOGNIZING CHANGES IN BIRD BEHAVIOR HELP US UNDERSTAND HOW WE CAN HELP RELIEVE THEIR DISCOMFORT?
As part of a post-doctorate project funded by the Richard M. Schubot Parrot Wellness and Welfare Program, another goal for this year is to create a review on the behavioral displays of pain and discomfort in multiple bird species. This review involves taking a very in-depth look at all the studies that have been performed over the last 50 years that describe observations made regarding this topic. By summarizing this type of information, we hope to better-recognize and assess injury and illness in a variety of bird species and help highlight areas in which future research can be performed to continue improving the welfare of these species.
Three veterinary students joined UC Davis veterinary faculty (with support from the Richard M. Schubot Parrot Wellness and Welfare Program and the STAR [Students Training in Advanced Research] Program) to pursue independent research projects of their own.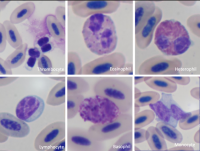 1) GOING MICROSCOPIC WITH RED AND WHITE BLOOD CELLS IN COCKATIELS
One of this year's STAR projects involved better classifying the red and white blood cell profiles of one of the nation's most popular companion parrots, the cockatiel. This project took on the challenging task of collecting blood samples from 124 cockatiels (62 males and 62 females, ranging in age from 2-11 years old). Researchers are able to use an artificial intelligence technique to help establish reliable reference ranges and examine differences between male versus female individuals of the cockatiel species.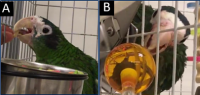 2) ENRICHING LIVES AND OVERCOMING FEAR IN HISPANIOLAN AMAZON PARROTS
Two independent STAR projects studied the effects of human socialization on Hispaniolan Amazon parrots. Hispaniolan Amazon parrots are very social animals by nature and often live in flocks in the wild, whereas parrots kept in captivity are more frequently individually housed. This can result in a lack of socialization with their own kind. The goals of these STAR projects were to evaluate the effects of positive, continuous human interaction and socialization on a group of Hispaniolan Amazon parrots housed on the UC Davis campus. So far, the results of these studies show promise, with socialized parrots being less anxious, more open to exploring new toys and other new items in their environment, displaying more natural parrot behaviors, and having an improved sense of welfare overall.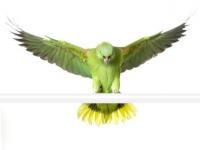 WILL GETTING PARROTS IN SHAPE IMPROVE WELLNESS?
SPWWP researchers were selected to receive the American Association of Zoo Veterinarians Wild Animal Fund's Mazuri Grant for a new study on the wellness benefits of exercise in captive parrots. Like people, parrots eating a high-fat diet can develop high cholesterol and atherosclerosis. Some parrot species, such as Amazon parrots and African grey parrots, are particularly susceptible to these problems. And like people, sometimes changing the parrots' diet is not enough to bring their cholesterol back to normal. Regular exercise has been shown to improve lipid metabolism and lower cholesterol in many species, including humans. SPWWP researchers will study the link between exercise and metabolism in Amazon parrots with naturally occurring high cholesterol, as a way to reduce the risk of disease and promote longer, healthier lives for captive parrots.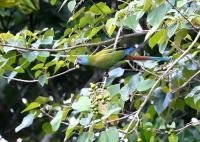 STUDY INVESTIGATES BENEFITS OF NATURAL FEEDING BEHAVIOR
Researchers from the SPWWP and the Department of Animal Sciences are collaborating to study the health and welfare benefits of natural feeding behavior in Amazon parrots and cockatiels. Wild parrots spend a large part of the day finding edible plants, picking fruits or grains, and removing skins and shells in order to eat. Companion birds are often fed bite-sized pellets or food items in a dish, and consequently spend very little time eating. This "couch potato" lifestyle is often blamed for common problems such as screaming and feather-damaging behavior. Previous studies have shown that behavioral problems can improve when birds spend more time acquiring their food. Anecdotally the birds seem to enjoy it, and many species of birds, from chickens to parrots to starlings, prefer to "work" for their dinner even when food is freely available in a dish. This study will investigate specific characteristics such as the size, shape, and texture of food items that promote time-consuming, natural feeding behavior in Amazon parrots and cockatiels. During the study, birds will also be monitored for feather quality, stress hormones, and other indicators of health and welfare that may improve with a shift toward natural behavior.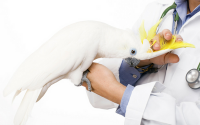 RESEARCH PROGRAM EVALUATING SQUAMOUS CELL CARCINOMA IN BIRDS
The Richard M. Schubot Parrot Wellness & Welfare Program in partnership with Stanford University has created a research project that will help gather essential information regarding a significant cancer in birds, squamous cell carcinoma.  This cancer is quite common in companion birds and often responds poorly to treatment.  An online survey is helping us gather information from a large number of bird veterinarians regarding patient treatments and outcomes. This information may be used in the future to help veterinarians guide therapy as well as to guide researchers to develop clinical trials for new treatments. By gaining insight into the behavior of this tumor type in birds, we may also be able to learn more about ways to manage similar tumors in human patients.
Research studies: Our program focuses on select studies benefiting the parrot population with an emphasis on pain management, nutrition, reproduction and behavior
Team approach: Researchers work with a team of mentors in Avian Sciences, Avian Nutrition and the faculty in Zoological Companion Animals.
Health and wellness: Projects link post-graduate students in Masters degree programs with research projects designed to improve psittacine health and wellness.