Aquatic Veterinary Specialists Perform Surgery on Pet Goldfish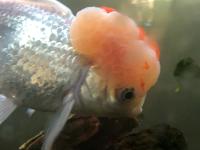 Finding specialized aquatic veterinary care can be difficult, and many fish owners resort to performing some aspects of care themselves. When Leslie Michel noticed her 4-year-old male oranda goldfish, Trumpy, being lethargic, she knew it was because of his overgrown wen, the fluffy tissue on top of his head. It had grown so large that Trumpy could barely move from the bottom of the aquarium. Michel could not find a fish veterinarian near her home in the Bay Area, however, she did find videos on how to perform the procedure and prepared herself for that possibility.
"Ultimately, I don't think I would have been brave enough to trim off as much as was needed," said Michel, who has been a fish enthusiast for 50 years since she was 10 years old. "So, I kept looking, and I found an article about a pet fish taken to UC Davis for a tumor removal. It soon became clear that was the place for Trumpy."
At the UC Davis veterinary hospital, Trumpy was seen by the Companion Exotic Animal Medicine and Surgery Service, which treats many species of exotic pets, including fish. Aquatic animal health specialists, Drs. Esteban Soto and Hali Jungers, along with exotics resident Dr. Paula Rodriguez, performed a physical examination on Trumpy and found his health to be within normal limits, apart from his overgrown wen. They agreed with Michel that it should be trimmed.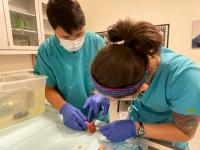 The veterinarians were able to anesthetize Trumpy by continually flushing his gills with water containing adequate oxygen and an anesthetic agent. During the successful 20-minute procedure to trim his wen, Trumpy's respiratory rates while under anesthesia were continually monitored, and he recovered without any complications.
Drs. Soto, Jungers, and Rodriguez removed 19 grams of his wen, nearly one-fifth of Trumpy's total weight of 100 grams.
"It was so great the way our case was received," said Michel about her experience with the exotics team. "The questions they asked were thorough and thoughtful. The entire process was so welcoming and comfortable."
Michel enjoyed her visit to UC Davis so much that she made wellness appointments for Trumpy's five tankmates.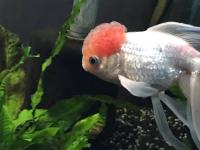 "Over the years of taking care of fish, it is heartbreaking when something goes wrong and you don't have veterinary resources," Michel said. "Now knowing we have UC Davis to help us, it's so much easier."
Michel reports that Trumpy is back home and swimming like his old self.
Primary Category
Tags