The Call of the Wild
Dr. Jackie Gai '01 was always fascinated by wildlife, but it was the experience of serving as a surrogate elephant mom that awakened a passion for their welfare in captivity. 
She had been working as a zookeeper and veterinary technician at the Oakland Zoo for several years when one of the African elephants had a surprise birth in 1995. The calf, named Kijana, was rejected by his mother (not uncommon in captive elephants) so Gai and seven other keepers cared for him around the clock. 
At the same time, Gai was completing her prerequisites for veterinary school at night. After two other careers in law enforcement and corporate sales, Gai had decided to pursue her biggest dream of becoming a veterinarian. She was admitted to UC Davis in 1997 on her third attempt.
Despite his careful hand-raising and care, Kijana died of a herpes virus infection at 11 months old. He was only the 2nd elephant in the U.S. to come down with the disease and the first African elephant.
"That experience was really trial by fire for me," Gai said. "It woke me up to a host of animal welfare issues for captive wildlife. There are so many medical issues brought about by captivity that aren't adequately addressed by exotic animal medicine textbooks."
Gai graduated from the UC Davis School of Veterinary Medicine in 2001 and joined a small animal practice in Marin, but it wasn't long before the call of the wild lured her back. The call actually came one day from Pat Derby, the late founder of the Performing Animal Welfare Society (PAWS).
"I'll never forget, she called out of the blue and said 'We're looking for a veterinarian with elephant experience who is concerned about their welfare.' It was the perfect match," Gai said.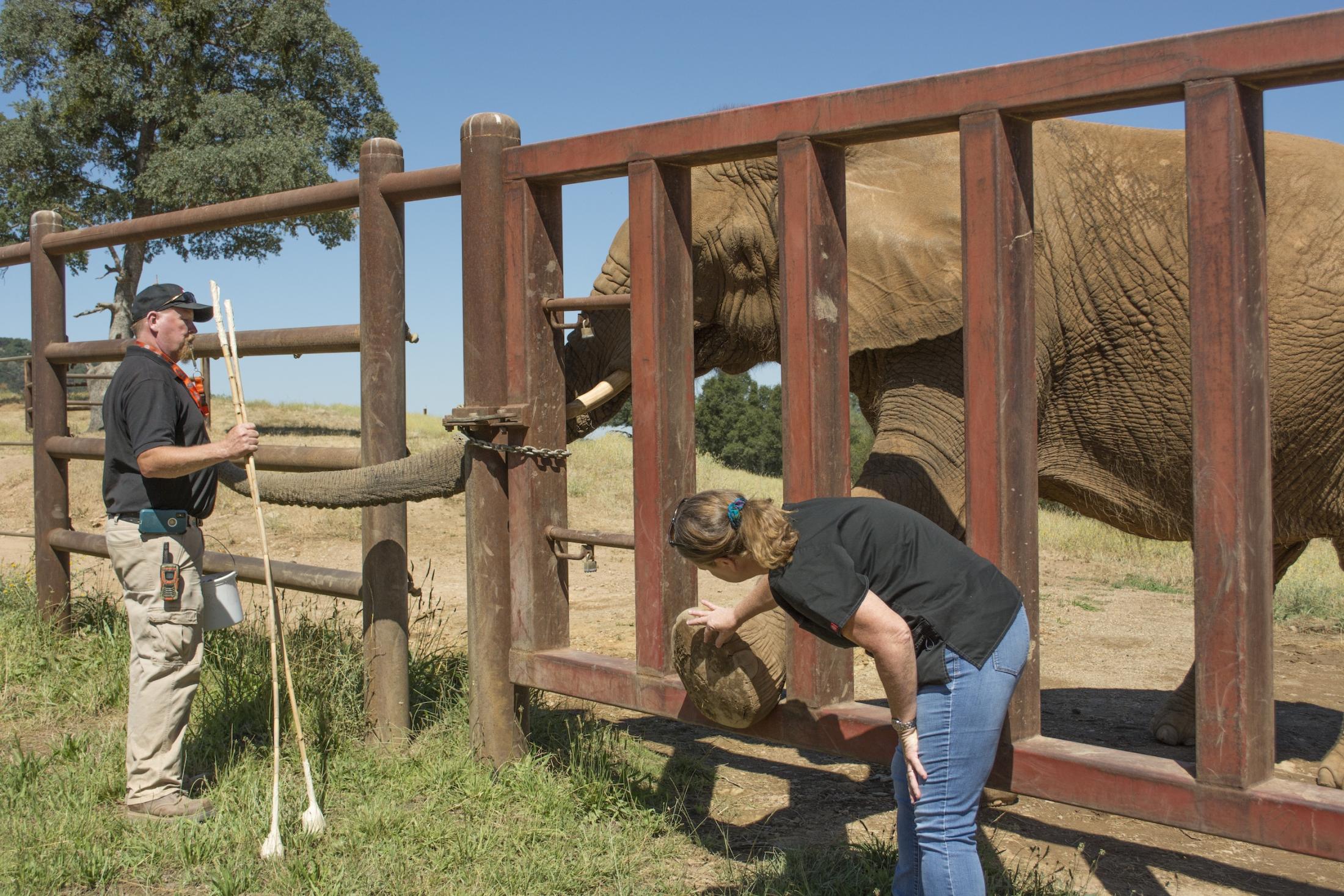 Gai has worked with PAWS ever since and serves as the director of veterinary services. 
"No matter what job I'm doing, l like to work my way through a problem using my brain, intuition and compassion," Gai said. "At PAWS, we treat each animal as an individual and focus on their well-being, both physical and mental. We appreciate and respect their social structures and emotions. I get to delve into a deep understanding of the animals and their unique histories, which unfortunately all too often includes abuse or neglect."
PAWS was founded in 1984 by Derby as the first elephant sanctuary in the U.S. The sanctuary grew over time and now includes a 2,300-acre site in San Andreas, California that provides a home for animals who have been the victims of exotic and performing animal trades. That currently includes 12 tigers, eight elephants, five bears, and a number of other species.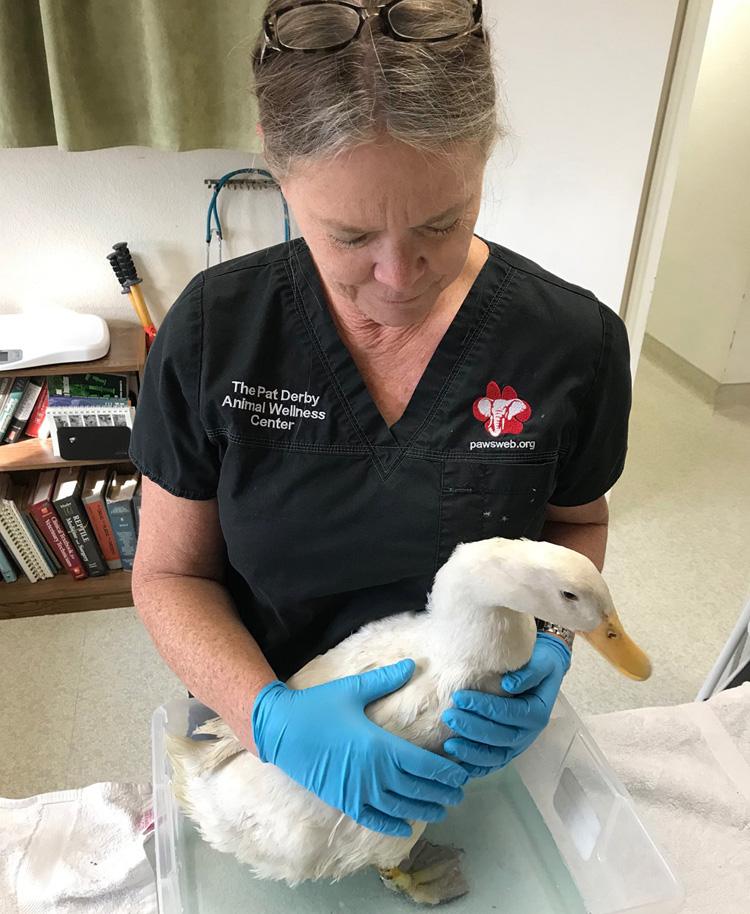 On occasion, Gai still works with less exotic animals such as Patty, the duck. Gai volunteered her veterinary services with the CAVMRC (California Veterinary Medical Reserve Corps) at a temporary emergency shelter that was set up at the Chico Airport to help animals impacted by the Camp Fire last year. Gai had experience in avian medicine, so she was assigned to help with a variety of bird species. 
Gai sought advice from UC Davis's Dr. Jamie Peyton about treating Patty's burned feet with tilapia skin and helped her make a full recovery. Patty was adopted by the rescue organization, Harvest Home Animal Sanctuary, and now visits schools and libraries where kids sit on the floor and read books to her. 
"Being able to heal a sick or injured wild animal feeds my soul," Gai said. 
Gai's other passion is encouraging others and giving back through mentoring veterinary students. She established the Christine Parker Marino Memorial Wildlife Scholarship in honor of a registered veterinary technician who worked in the Companion Exotic Animal Medicine and Surgery Serviceat the UC Davis veterinary hospital and was an inspiration to many students.
Gai also likes to pass along valuable advice she received as a student from Dr. Pat Conrad who served as one of her mentors. "Never be afraid to pursue your dream. Don't listen to voices that try to tell you that you can't."
Primary Category
Tags