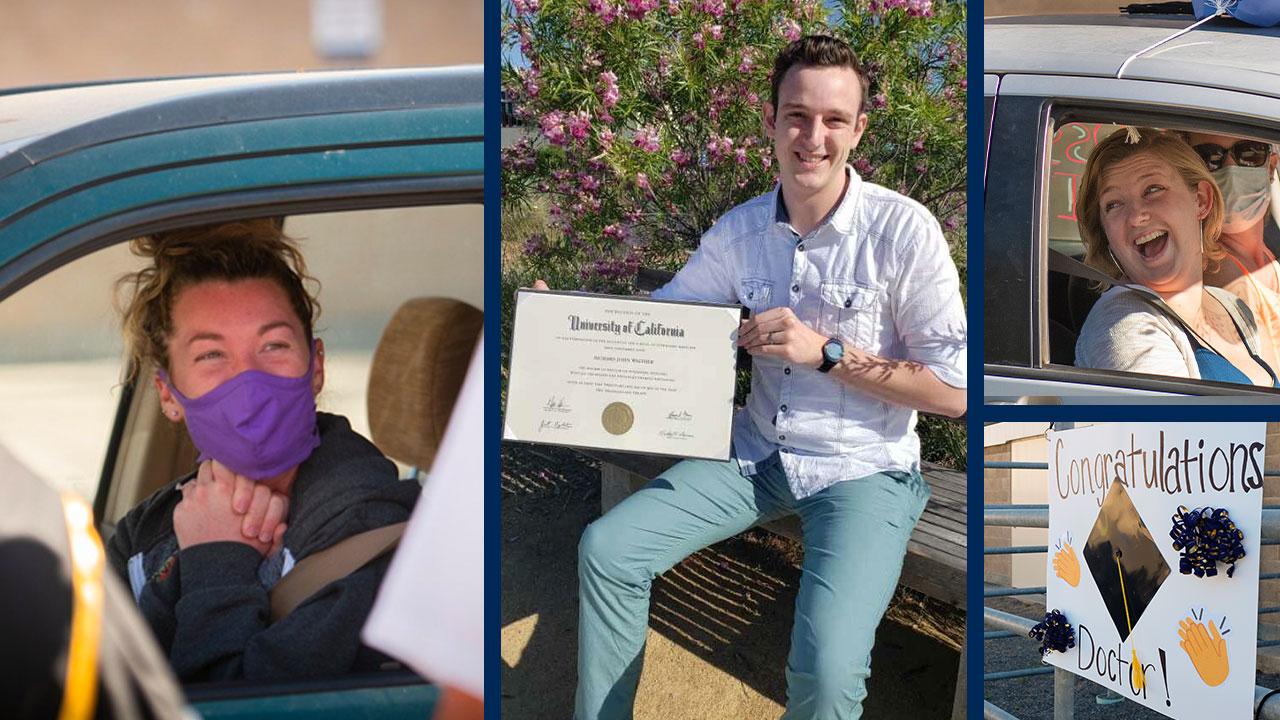 Congratulations to the Class of 2020! During the midst of a global pandemic, the UC Davis veterinary medicine community held a virtual 69th Commencement Ceremony on May 22nd to honor 147 DVM graduates.
In a pre-ceremony celebration presented on Facebook Live, a video slideshow showed the progression of this class from their White Coat ceremony nearly four years ago through hours of bonding in clinical settings. Dr. Lane Johnson led the students in reciting the veterinarian's oath, while faculty and staff contributed videos of congratulations and even some fun TikTok dances!
Dr. Joie Watson announced two winners of the school medal, the highest honor for a graduating DVM student in recognition of outstanding academic and clinical performance: James Wood and Tasha Hulands. Following graduation, Wood will intern in small animal medicine and surgery at Colorado State University; Hulands will intern in equine medicine and surgery at Pioneer Equine Hospital in Oakdale, CA.
Once the official virtual ceremony began, Dean Michael Lairmore offered opening remarks, calling it a celebration of joy, hard work, tears and major accomplishments. Certainly, for this class, having a pandemic disrupt their clinical year was a challenge, but one that the faculty helped them overcome.
"You are part of the reason we're a preeminent institution of veterinary medicine," Lairmore said. "Your class is now part of our legacy."
This class has a track record of giving back to society, such as caring for pets of the homeless and low-income communities, and treating animals impacted by California's devastating wildfires.
"Life happens as we're making plans," Lairmore said. That perhaps has never been more true as we have all had to switch gears and adjust expectations during the past few months. "Learn from these moments and continue to care for yourself."
Following Lairmore's intro, graduating student Francesca Solari sang a moving rendition of the National Anthem in a beautiful outdoor setting, demonstrating the multi-talented nature of the Class of 2020.
Dr. Kimberly Dodd ('15) served as the invited speaker, which was a prescient selection by the students given her experience during her fourth year at UC Davis. In her recorded video from her home in Connecticut, Dodd shared her story of responding to a pandemic. She was in her clinical year, completing a combined DVM/Ph.D. program when an outbreak changed her career plans. As a VSTP fellow, she had spent a couple years working at the CDC in Atlanta on viruses such as Rift Valley fever and Ebola. 
In the fall of 2014, during her emergency medicine rotation, Dodd received a call from the CDC, asking her to assist in responding to the Ebola outbreak in Sierra Leone. That experience changed her planned career path and she now directs the Plum Island Foreign Animal Disease Diagnostic Laboratory. 
Dodd encouraged the graduating class to do two things: don't wait to celebrate and accept the things beyond their control. 
"This version of today and tomorrow are not what you've planned for, but it's been my experience that my planned versions of tomorrow often fall short of the new opportunities that replace them."
Dr. Lane Johnson, assistant clinical professor of Health Science, served as the faculty speaker. He opened his video in the back of a dog run and walked the halls one more time with students as he brought out literal "pearls of wisdom" from under his blue scrubs to help him remember to say something worthwhile. 
Johnson had originally been chosen to speak with the graduating class during the CVMA banquet, which was cancelled along with many other much-anticipated events that would typically accompany the completion of their veterinary medical school journey.
"While the loss of those is depressing and irreplaceable, the resiliency, adaptability, dedication and perseverance that you've showed in such a trying time will serve you immeasurably in the years ahead," Johnson said. 
Throughout his life, Johnson said he has relied on the Four Agreements for guidance on the correct path to follow. Be impeccable with your word. Don't take things personally. Don't make assumptions. Always do your best.
Johnson added one more bit of advice from his own experience. "Look for the good, no matter what the circumstances. It may be small and hard to find, but it will have great meaning."
Student speaker Ashley Keffler-Roa concluded the ceremony with an analogy of how the journey through veterinary school resembled pregnancy. In years one and two (first trimester), you may feel a little nauseated at times, but the excitement overrides the anxiety and you find yourself fully enthralled in this new experience, she said. Year three (second trimester) you're exhausted and aching from countless hours of sitting lecture. Year four (final trimester), your brain grows at a speed you didn't think was humanly possible. You develop a broader definition of food. She said she knows she's not the only student who found the hydrolyzed dog treats in pharmacy a little too appealing after a long shift without meal breaks. 
"Today, our graduation, represents the birth of our career," Keffler-Roa said. "Even if we didn't get the birth plan we anticipated."
She ended with words of wisdom shared with her from a mentor in the beginning of her journey to become a veterinarian.
"The hard work to get into the profession will be matched by the hard work of being in it. But it will be filled with joy that never ends if you allow it. Be curious, be humble. Accept the downs and relish the highs; it will be a good ride. Don't play doctor, be one. So, let's go be doctors."
View Pre-Commencement Celebration
Category
Tags