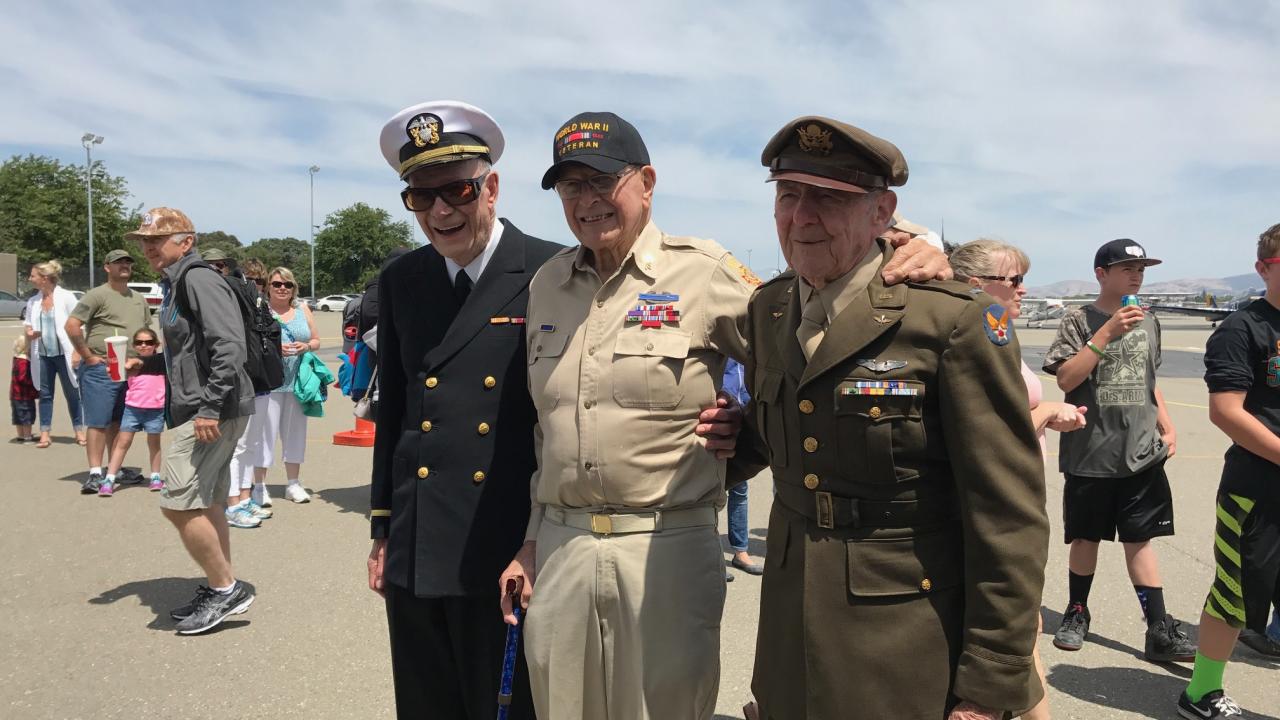 We are sad to announce the passing of Dr. Walter Hughes on April 26th. He was a member of the first class of the UC Davis School of Veterinary Medicine to graduate in 1952. This remembrance is provided by Francine A. Bradley, Ph.D., Extension Poultry Specialist Emerita.
Walter F. Hughes (far right in photo) was a proud native son of southern California, born January 27, 1922 in Santa Barbara. His parents had a small farm and Walt was a very active 4-H member, with projects in poultry and dairy. In 1940, Walt was one of the first 4 Californians to receive the prestigious 4-H Diamond Star award. 
In 1941, Walt began studies at the Agricultural College at Davis (now UC Davis). Just a few months later, the United States was at war. On Feb. 23, 1942, a Japanese submarine shelled the oil field at Elwood Ranch (just west of Santa Barbara) with artillery rounds landing in the pasture where he and his brothers had their dairy cows. Walt volunteered for Army Air Force Pilot Training.  
Lt. Walter Hughes became a B24 pilot. He flew out of Hardwick Airfield in Norfolk, England. The 35 missions that Walt and his crew flew over Germany, hitting the Nazi military infrastructure, helped the 93rd Bombardment Group of the Eighth Air Force turn the war toward Allied victory. He was recipient of the Distinguished Flying Cross, the Distinguished Service Medal, and the Purple Heart. His military career gave Walt the most valuable gift. He met a wonderful WAAC, named Violet Sasso, fell in love, and married his life partner.
After his military duty, Walt returned to Davis is 1945. He wanted to start at Davis' new School of Veterinary Medicine, but the war had delayed construction of the school.   So Walt began courses in Animal Husbandry. He completed his BS and some graduate classes before he was admitted to the very first class of the Vet School. To support his family while in vet school, Walt worked as a technician for some of the most famous names in poultry medicine: Adler, Bankowski, Yamamoto, and Zander.
Upon graduation in 1952, Dr. Hughes worked for a general practice in Lancaster, but in 1954 moved north to join "The Poultry Clinic" in Petaluma. Then in the summer of 1955, Dr. Hughes was appointed the Veterinary Laboratory Director for Kimber Farms (famous chicken breeding company in Niles, California). In 1971, he became Vice President of Operations at Fairview Farms, Olson Farms' egg production division. 
During his career, Dr. Hughes made numerous and significant contributions to our understanding of poultry disease and poultry management. He was on the forefront of the fight against Marek's Disease. With his staff at Kimber Farms, he produced the first licensed (state level) Marek's vaccine in 1971. Walt  took rightful pride in his "three seminal concepts and inventions."  They were: "All-in All-out Husbandry," the "Performance Concept" (development of daily performance guides so producers could tell if their birds were performing as bred to perform), and Body Weight (the concept that pullet weight at 20 weeks of age was predictive of lifetime performance). 
Walter and Violet were fixtures at many Avian and Veterinary Conventions. Vi helping organize the golf tournaments and both of them generously supporting students and student activities. In 2003 Walt and Violet moved to the Big Island of Hawaii to live with their daughter, Trisha and Eddie Macomber. Walt would march every year in Hilo's Veterans' Day Parade, wearing his perfectly fitting uniform and delivering crisp salutes.  He was the 2018 Parade Grand Marshall. He also returned to California every year until 2018,  to be a docent for the Collings Foundation's WWII bombers. 
He is survived by sons Robert (Joanne) Hughes of Boise, Idaho; Thomas (Vicki) Hughes of Pasco, WA; and Daughter Patricia "Trisha" (Eddie) Macomber.  Her contact is: 15-1477 Keaau Pahoa Road, Keaau, HI 96749. Or Macomber@hawaii.edu.
Category