NCI Renews UC Davis Comparative Oncology Program as Part of Its "Comprehensive" Cancer Center Designation Renewal
UC Davis' Cancer Center Is One of Few to Partner with Veterinary Science
UC Davis' comparative oncology program, a partnership between UC Davis Comprehensive Cancer Center and Veterinary Medicine that combines human and companion-animal oncology, has been included as part of the renewal of UC Davis' status as a "comprehensive" cancer center by the National Cancer Institute (NCI). Comparative research is considered crucial to advancing the understanding of tumor biology, speeding development of therapies, and giving hope to both people and their pets impacted by cancer.
"The Comparative Oncology Program at UC Davis creates an important bridge of scientific and medical understanding between humans and animals," said Michael Kent, DVM, DACVIM, DACVR, co-director of the program and Professor of Radiation Oncology. "We are gratified that the NCI has reaffirmed the importance of our work as part of the designation renewal."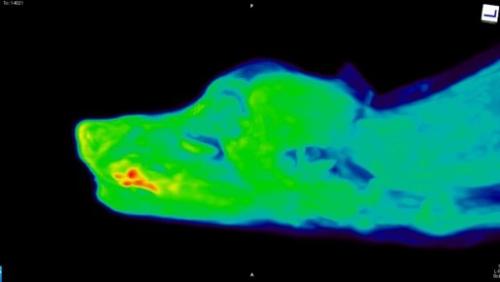 The program has advanced important breakthroughs, including being instrumental in the development of the EXPLORER project, the world's first total-body PET scanner. A prototype version of the EXPLORER (called the miniEXPLORER II) was installed at the School of Veterinary Medicine in 2017 in collaboration with the Biomedical Technology Program (BTP) and was critical in providing data that contributed to the successful development of its human counterpart by the School of Medicine.
The program has also opened new understandings of disease through its translational research into canines and humans. The center created a novel radioimmunotherapy strategy to investigate the treatment of advanced metastatic disease. A human clinical trial using a similar construct opened as an investigator initiated clinical trial in humans. This work shows direct translation from basic science to mouse models to dogs with spontaneously arising tumors to humans. This work has also led to the opening of a nationwide clinical trial.
Program Structure and Funding
The Comparative Oncology Program aims to define neoplastic processes in biologically-relevant, predictive and innovative animal model systems and translate those findings to address cancer in humans and animals. The program assesses cancers that are experimentally induced by genetic engineering and oncogenic viruses, as well as cancers that develop spontaneously in animals, particularly companion animals.
The program has 20 full members and 39 Associate members across five schools/colleges, with expertise ranging from basic cancer biology, medical and veterinary oncology, to radiation physics. These domains of expertise are driven by the particular and novel resources and infrastructure available at UC Davis.
The program has a total direct funding of ~$5.0 million, 97% of which are peer-reviewed, including $2.7 million NCI funding (55%) and $1.8 million other NIH peer reviewed funding (37%).
Program members produce outstanding and innovative cancer-related research (333 articles) published in the most prestigious journals; 24% of the articles were published in high-impact journals. Program members are highly collaborative as evidenced by 42% multi-institutional, 25% intra-program and 44% inter-program publications. The program has generated fundamental knowledge of trans-species tumor biology and translated these findings into novel clinical trials in companion animals designed to inform human cancer patient outcomes and drug discovery.
In addition to research, the program engages in education, training and development of the next generation of basic science and clinical investigators in comparative oncology; facilitation and enhancement of opportunities for collaborations between basic scientists and clinical investigators; and encouragement of collaborative development of new technologies with shared resources.
Robert Canter, MD, clinician scientist and surgical oncologist, and Xinbin Chen, DVM, MS, PhD, Professor of Surgical and Radiological Sciences, co-direct the Comparative Oncology Program with Kent.
More information on the program
More information on the overall renewal of the UC Davis Comprehensive Cancer Center
Clinical trials occurring at the school
——November is National Pet Cancer Awareness Month——
Primary Category
Tags