Remembering Dr. Shri Giri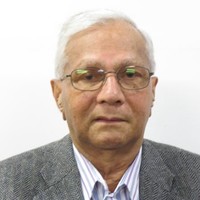 Dr. Shri Giri passed away on April 22, 2019. He served on the faculty of the UC Davis School of Veterinary Medicine for 35 years (1968-2003), including 12 years as chair of the Department of Molecular BioSciences. Giri obtained his veterinary degree from Mathura Veterinary Science College (India) in 1959, then completed a MS (Pharmacology) at Michigan State University in 1961, a PhD (Pharmacology) at UC Davis in 1965, and postdoctoral training at UC San Francisco. He was recruited to UC Davis from Stanford University, joining the faculty as an assistant professor of pharmacology in the Department of Physiological Sciences in 1968.
Giri taught pharmacology, toxicology, and drug metabolism in the DVM and pharmacology toxicology graduate group curricula and was recognized for outstanding pharmacology teaching by the DVM Class of 1974.
Early in his research career, he characterized hemolysis caused by glyceryl guaiacolate ether and chlorpromazine – drugs used in anesthetic protocols for several species, including humans, and also studied pulmonary edema and the effects of the herbicide paraquat on the lungs. Giri pioneered two of the most commonly used animal models for lung fibrosis. He spent much of his career studying the molecular basis of interstitial lung fibrosis and evaluating drugs for their antifibrotic potential.
Giri became a Diplomate of the American Board of Toxicologists in 1982. He received the Beecham Award for Research Excellence in 1989 and was the Wilhelm Lecturer for Australian Society of Pathology in 1999.
Giri is survived by his wife Donna, son Eric and daughter-in-law Jill Giri, DVM ('07). No public service is planned, and the family requested in lieu of flowers, that donations may be made in his name to the School of Veterinary Medicine.
#   #   #
Primary Category