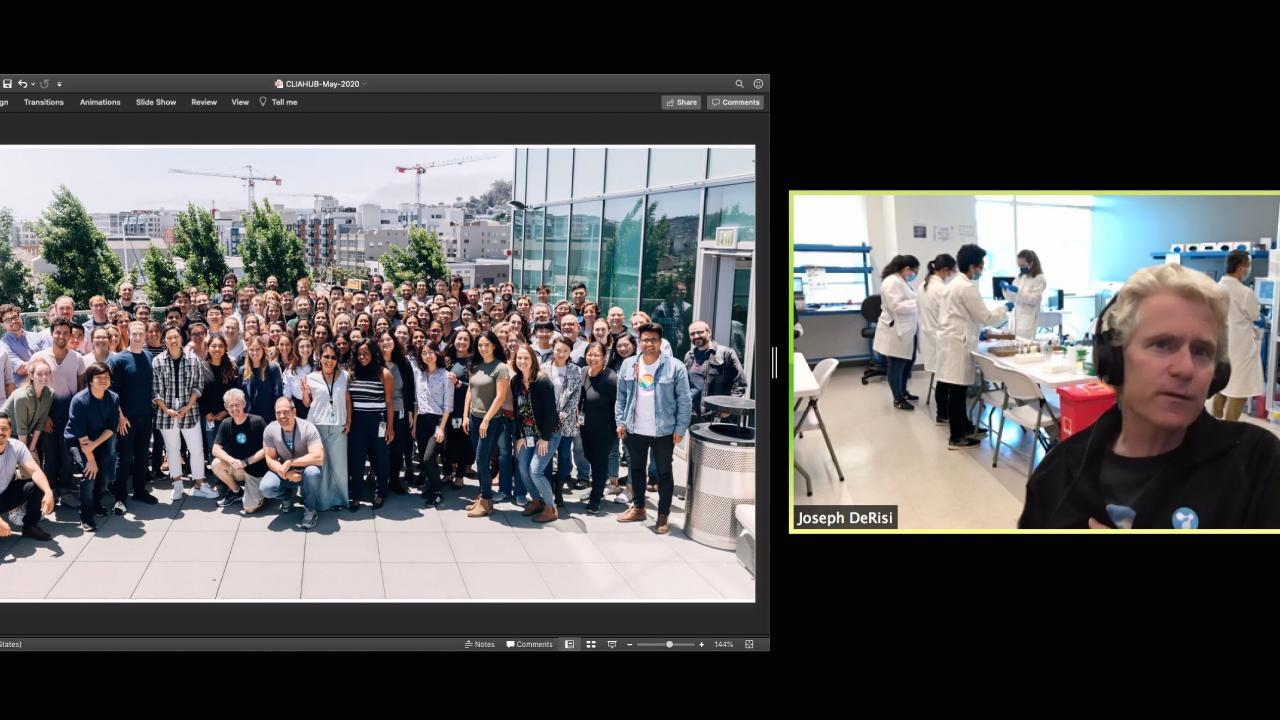 Even a pandemic can't stop researchers from getting together to share information and ideas—through Zoom, of course. The school's research committee, in collaboration with the Office of Research and Graduate Education, recently held a virtual Research Expo to discuss various aspects of COVID-19 research.
Dean Michael Lairmore, DVM, PhD, provided opening remarks and Joseph DeRisi, PhD, Professor and Co-President of the Chan Zuckerberg Biohub at UCSF gave a keynote address: "Metagenomics for Infectious Disease." DeRisi discussed two recent intense, geographical surveys for COVID-19, conducted in the relatively isolated community of Bolinas, and an urban neighborhood in the Mission. The studies will provide valuable information that can be used as models for community surveillance of the disease. Data will be helpful in evaluating when it is safe to discontinue community containment and return to work. 
Isaac Pessah, PhD, Professor and Associate Dean, SVM Office of Research and Graduate Education, discussed where to find information on COVID-19 research resources, the collaborations that have come together quickly, and the advantages of existing research infrastructure to switch gears to tackle some of the major questions of SARS-CoV-2, the coronavirus that causes COVID-19.
Chris Miller, DVM, PhD, Professor at the Center for Immunology and Infectious Diseases (CIID), explained the value of the California National Primate Research Center as a unique resource for studying COVID-19 in terms of vaccine development and developing diagnostics. 
Chris Kreuder Johnson, VMD, MPVM, PhD, Professor and Associate Director of the school's One Health Institute, relayed what it has been like to be on the frontlines of COVID-19 response around the world. The forces of global climate change in combination with an increase in population have caused drastic landscape change, especially since the 1960s. Massive urbanization and industrialization have cause unprecedented ecological change where humans are often overlapping with wildlife interfaces, leading to greater risk of zoonotic disease spread. 
Jane Sykes, BVSc, PhD, Professor and Chief Veterinary Medical Officer of the UC Davis veterinary hospital, discussed the emerging issue of the susceptibility of domestic animals to infection from SARS-CoV-2.
After a brief break, several other SVM researchers gave lightning presentations on their research that has turned to responding to COVID-19, including:
Smita S. Iyer, Assistant Professor/Core Scientist, CNPRC, discussed "COVID-19 Immunology Research at CIID/CNPRC: Bridging Academic Science with Urgent Reality."
Gino Cortopassi, PhD, Professor, VMB presented "Small molecule Shc inhibitors for pneumoprotection from COVID-19.
Brian Murphy, DVM, PhD, Associate Professor, PMI, presented: "A rationale approach to identifying effective combined anticoronaviral therapies against feline coronavirus."
Lark L. Coffey, PhD, Associate Professor, PMI, presented: "In vitro models of infection and viral genetic tools to study SARS-CoV-2 pathogenesis and evolution."
For abstracts on these presentations, please contact Charrise Torres, cmtorres@ucdavis.edu. View recording here.
Category
Tags