UC Davis Provides Veterinary Care for 101st Red Bluff Round-Up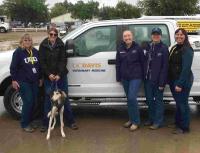 The Large Animal Clinic at the UC Davis veterinary hospital served as the on-site veterinary team during last week's Red Bluff Round-Up rodeo, held annually in Red Bluff, California. The event is the largest 3-day rodeo in the world and is a major stop on the Professional Rodeo Cowboys Association (PRCA) circuit.
"We were excited to provide veterinary services for the Red Bluff Round-Up this year," said Dr. Bret McNabb, director of the Large Animal Clinic. "The rodeo allowed us to provide routine and emergency care for horses and livestock, while also allowing additional hands-on training and for senior veterinary students and residents as part of our mission to serve the people and animals of California."
While at the rodeo, UC Davis veterinary students and technicians assisted resident and faculty veterinarians in performing health checks on horses, bulls, calves, and sheep participating in the event. This year's rodeo was the 101st annual Round-Up, which brings in leading professional contestants from around the world.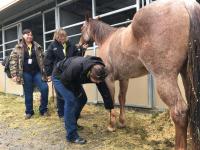 One example of the team's work was to treat Hollywood, a 7-year-old American Quarter Horse gelding owned by 2017 PRCA Tie-Down Roping World Champion Marcos Costa and his wife Keyla. After a 24-hour drive from their home in Childress, Texas, Hollywood was lethargic and not eating. Along with the assistance of a local veterinary clinic, the team treated him for colic. While he was not well enough to compete at the rodeo, Hollywood made a great recovery and was eating well when the team checked on him the following day.
The large animal veterinarians also performed health checks on several horses from the Calgary Stampede Ranch and facilitated the international documents necessary for them to cross the border on their journey home to Alberta, Canada.
This was the first year UC Davis has cared for animals at the Red Bluff Round-Up, but for many years the large animal team has served as the on-site veterinary team for the Professional Bull Riders' annual event in Sacramento, local PRCA rodeos, the California State Fair, the Breeder's Cup, and other regional events.
#   #   #
Primary Category
Tags