UC Davis Resumes Don Low Fellowships
Following a two-year absence due to the pandemic, the Don Low/CVMA Practitioner Fellowship will once again be offered at the UC Davis Veterinary Medical Teaching Hospital (VMTH). The advanced training program for veterinarians provides 20 days of in-depth continuing education (CE) in multiple specialty services. The fellowship can be completed on a flexible basis and earns the participant up to 100 hours of CE credits. Applications are now being accepted for the 2022-2023 academic year (deadline: January 7, 2022).
Administered by the UC Davis School of Veterinary Medicine's Center for Continuing Professional Education, Don Low Fellowships are currently offered in the specialty areas of anesthesia, anatomic pathology, behavior, integrative medicine, nutrition, ophthalmology, small animal emergency and critical care, small animal internal medicine, soft tissue surgery, and zoological medicine.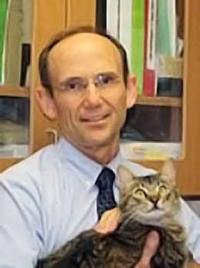 "The Don Low Fellowship offered a long-term consistent exposure to a specialty over a period of time that I was able to schedule on my terms," said participant Dr. John Huebner. "I was able to schedule the fellowship over multiple weeks, which allowed me the time to apply the knowledge learned and come back the next week with follow-up questions. That made it more of an in-depth CE exposure rather than a routine weekend CE seminar."
Dr. Huebner—a 1985 graduate of UC Davis and a 35-year general practitioner—first completed a Don Low Fellowship in small animal ultrasound in 2013.
"For me to observe the residents go through their studies, to be able to ask as many questions as I needed, and to interact with the faculty was a tremendous learning opportunity with that first ultrasound fellowship," said Dr. Huebner. "I learned skills and knowledge that I still use to this day nearly a decade later."
Huebner enjoyed that experience so much that he decided to pursue another fellowship in cardiology, completing that in 2018. The fellowships were so thorough that Huebner, who is nearing retirement at the Redwood Veterinary Hospital in Vallejo, currently limits his practice to diagnostic ultrasound and its applications in cardiology and internal medicine.
"The cardiology faculty were so gracious with their support," Huebner said. "The knowledge gained and my continued professional relationship with them helps me develop treatment plans for my cardiology patients, which has been tremendously beneficial."
When he needs to refer the more complex cardiology cases, Huebner says the fellowship gave him a better professional connection to the VMTH. It also gave him a better understanding of what his clients can expect at UC Davis, so he can better prepare them for their visit with the school's specialists.   
"I would surely recommend a Don Low Fellowship to colleagues," said Huebner. "It's an opportunity to be fully engaged with a specialty service and to learn from the residents and faculty who apply those procedures on a daily basis."
The fellowship—a joint activity between UC Davis and the California Veterinary Medical Association—is designed to meet practitioner needs not available within residencies or other advanced training programs. It is named after Dr. Donald G. Low (1925-2004), who served on the UC Davis faculty from 1974-1991. More information on Don Low Fellowships can be found on the CE website.
#   #   #
Primary Category
Tags