Welcome Class of 2026
Families, friends, faculty and staff gathered at the UC Davis Mondavi Center to welcome 150 new students into the UC Davis School of Veterinary Medicine Class of 2026 on August 19. Others watched a livestream of the event, which can be rewatched here.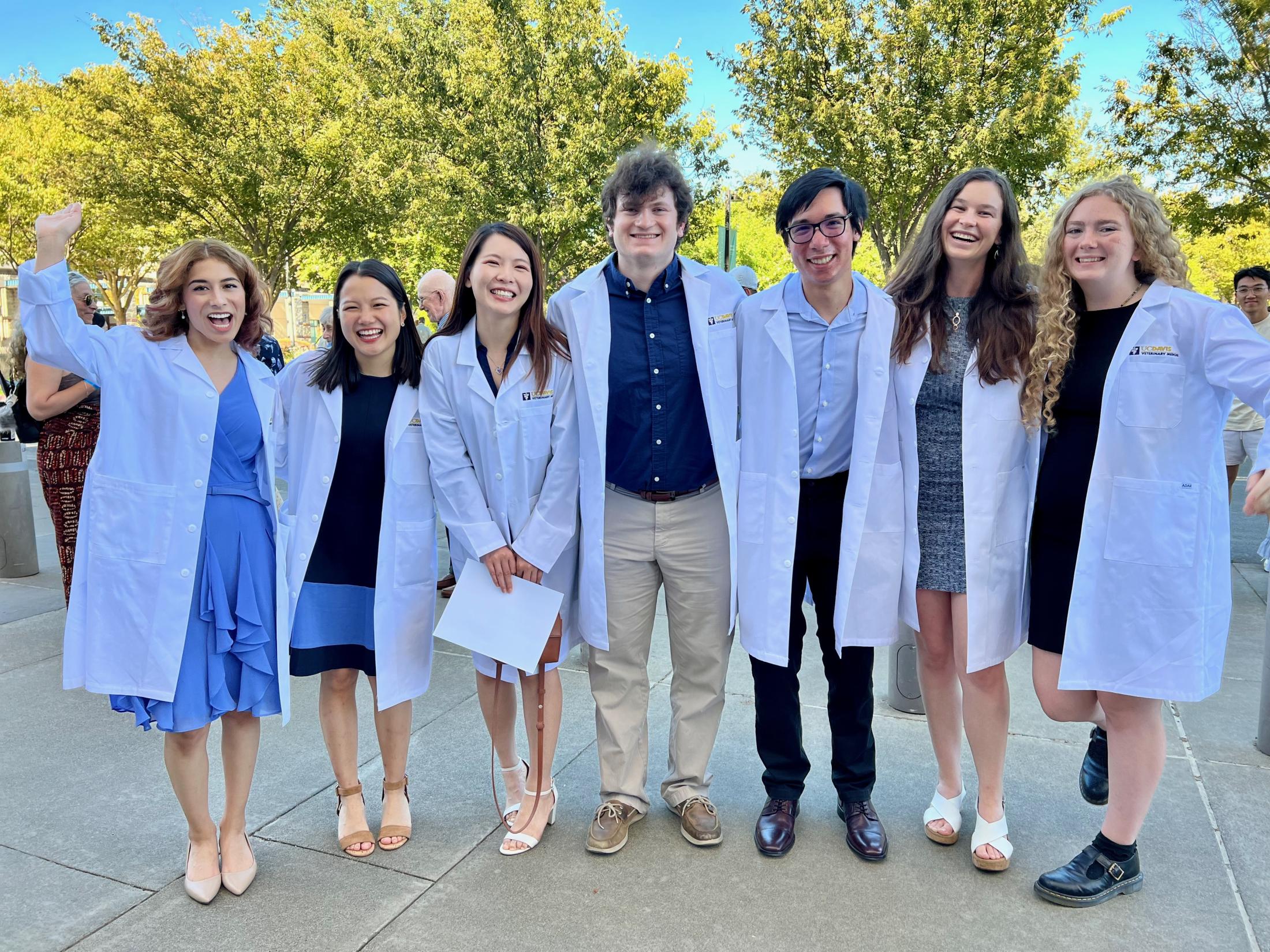 Class of 2026 Induction Ceremony
Dr. Karl Jandrey, associate dean for Admissions & Student Programs welcomed the new students and guests to the New Student Induction Ceremony. Dean Mark Stetter offered the opening speech with a humorous account of being the last student accepted in his veterinary class (he put his chemistry degree to work as a bartender until he got notified that he'd been accepted from the waitlist). Now as the dean of the top veterinary school in the nation, Stetter had the new class repeat several times: You Can Do Anything!
Dr. Anjali Daryani from the Class of 2015 provided remarks with animal anecdotes from her childhood in West Africa and India. After working as a veterinarian in the Sacramento area for two years, Daryani experienced a major health crisis and was diagnosed with a rare condition called dysautonomia.
Daryani learned the value of relying on her colleagues, friends, husband and even clients for support. She didn't give up and progressed from bed to walker, to scooter, to walking. She is now back at work part time with a new perspective on life and the veterinary profession.
She encouraged the incoming class to put their health first; ask for support when needed; be kind and support others as well; don't judge; forgive each other and themselves; lead by example; and most importantly, keep loving what they do.
Molly Mettler, class of 2024 and president of the Student American Veterinary Medical Association, shared a few thoughts with the incoming class, followed by the distribution of white coats and remarks by Jandrey. With each student who crossed the stage, Jandrey gave the audience a snippet of what makes them unique. The incoming class includes: a journeyman of the Northern California Laborers Union on a variety of road construction projects across the state; several students who have raised guide dog puppies; a world traveler to all seven continents; a national bowling competitor; a foster for more than 80 cats and kittens; and several first-generation college students.
After the students recited the veterinarian's oath, Dr. Keith Rode, president of the California Veterinary Medical Association and alum from the Class of 2006, took the podium.
"You are preparing for a journey – one that will take you four years to get from Point A - your first day of veterinary school, to Point B - being conferred the title of Doctor of Veterinary Medicine. But like they say, sometimes the journey is as important as the destination."
To that end, Rode offered these tips:
Be willing to get off the main road, travel down some side streets, and venture down some dirt roads along the way. In other words, keep your mind open to new possibilities.

Stop for fuel and maintenance. Prioritizing your mental and physical health will be an important practice to carry on throughout your career and life.

Enjoy your travel companions. Journeys taken are best when shared with friends.

Perfection is not a requirement for becoming a successful veterinarian. Mistakes are expected and are important opportunities to learn, adapt, and develop.

Don't be afraid to stop for directions.

Stop and admire the scenery.

Understand that your destination may look different than how you are picturing it now. One of the beauties of this profession is the wide variety of opportunities that await you.

Even while you are in the middle of your journey, you can become a leader now. Contributions you make now will help make the profession rewarding for you, your colleagues, and generations to come.

Give back to the profession that will give so much to you.
"We welcome you to this profession that is profoundly impactful to animals, their humans, our communities, and even our world," Rode said in closing. "I wish you a bon voyage!"
More images on FB and Instagram
Primary Category