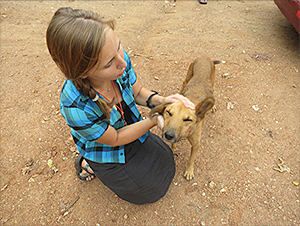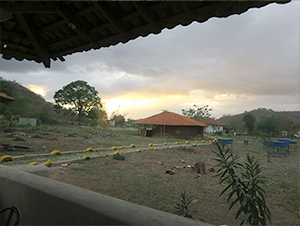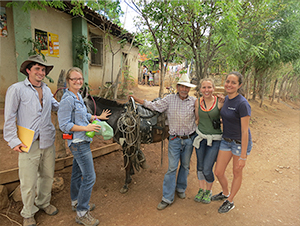 Thanks to the International Summer Externship Travel Fund, I was able to spend a month in Nicaragua last summer with fellow grant recipient, Lauren Michaels. We spent the first week volunteering in the southwest with Paso Pacífico, a nonprofit conservation group.  This organization is currently working to protect jaguars, which have recently returned to the region, while simultaneously supporting local farmers, whose animals are prey for these wild felids.  To help with this effort, Lauren and I rose before sunrise every morning and drove with a local park ranger to isolated rural communities. We worked with a local veterinarian to provide basic medical care to injured livestock. Although our primary goal was to treat jaguar victims, we regularly addressed other injuries, such as vampire bat bites.   In addition to our daily routine, we also took advantage of opportunities to observe sea turtles and interact with rescued monkeys.
After our work with Paso Pacífico, we traveled north to the rural community of Sabana Grande to join our teammates from One Health Nicaragua. This is a student-led project consisting of veterinary and graduate students who are committed to addressing community-identified environmental, human and animal health needs.  After months of preparation, grant writing and anticipation, I was thrilled to finally arrive at the community. During my time in Sabana Grande, I helped lead workshops on poultry vaccination and tick-borne disease, and I surveyed community members on animal health.  I also participated in a meeting between faculty from both the medical and veterinary schools of UC Davis and the University of León to plan future One Health collaborations in Sabana Grande. 
My summer travels vastly expanded my concept of veterinary medicine.  With Paso Pacífico I came to appreciate how integral community support is for the success of conservation efforts. I also witnessed firsthand the interconnectedness of wildlife and domestic animals. In Sabana Grande I learned how veterinarians can serve communities with limited resources by emphasizing education and preventative medicine.  These experiences have contributed to my veterinary education and will continue to motivate me to seek international opportunities.
Tags