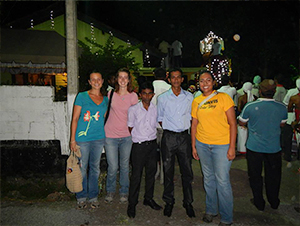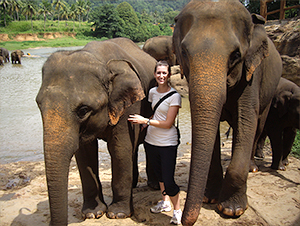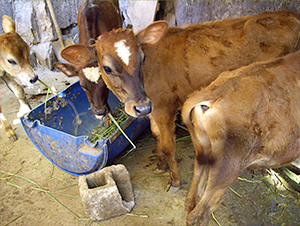 This past summer, I had the opportunity to conduct a STAR research project in Sri Lanka.  This research project was a One Health project that studied how implementing best hygienic management practices on Sri Lankan dairy farms affect the milk quality.
For the first part of my project, I visited a little over eighty dairy farms to assess what type of management practices are currently being utilized on the dairy farms.  With the help of a recent Sri Lankan veterinarian graduate, Ruwini Rupasinghe, I was able to survey the farmers to obtain data on hygienic practices on the dairy farms; such as how often the dairy house is cleaned, types of bedding material, udder washing practices, and cleanliness of milking equipment.  For the second part of my project, I collected milk samples from various dairy farms and compared the coliform counts between the different management practices used on the dairy farms.  To collect the milk samples, Ruwini and I had to reach the farms before they had completed the morning milking.
For two weeks, I was able to work on my research project at a government run veterinary clinic.  This clinic saw both small and large animals and often did its procedures for free or for a small-subsidized fee.  While I was at the government veterinary clinic, I was able to improve my clinical abilities by discussion cases, assisting in surgery, and even doing pregnancy checks in dairy cattle.  I also saw cases that are not common in the United States, such as tick fever, rabies, and foot-and-mouth disease.
Aside from my STAR project, I was also able to see other aspects of veterinary medicine in Sri Lanka.  I visited dog shelters, national parks, and various elephant orphanages.  One of the highlights of my trip was visiting the Elephant Transit Home in Uda Walawe.  The veterinarian in charge of the Elephant Transit Home gave me a behind the scene tour of the facility and let me assist in the care of the baby elephants.  Unlike other facilities in Sri Lanka, the Elephant Transit Home does not allow the public to handle or interact with the elephants, so they can be released back to the wild once they are healthy.  My time spent at the Elephant Transit Home demonstrated the importance of wildlife conservation and the important role that humans play in preserving wildlife.
I had an amazing trip to Sri Lanka.  Living with a homestay family, I was immersed in the culture and I learned a lot about the everyday life of a Sri Lankan.  I even had time to travel on the weekends to explore the beautiful country.  I visited beaches, ancient ruins, and participated in poya day – a holiday in Sri Lanka that celebrates the full moon.  I had a truly unique experience, and am very grateful for the International Program for giving me this amazing opportunity.
Tags