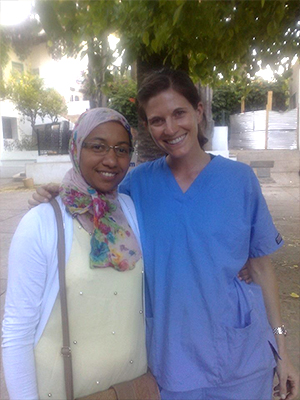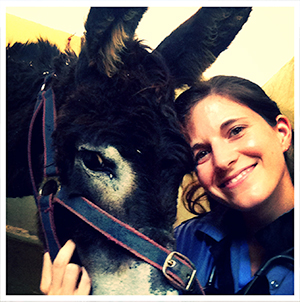 Last year I was fortunate enough to receive a scholarship to travel to the American Fondouk Animal Hospital in Fez, Morocco. I spend 6 weeks working with working donkeys, mules, and horses at this clinic.
I found out about the opportunity to work at this animal hospital many years ago, as it was a family friend's grandfather who started the clinic in the 1920s. This clinic's focus is humanitarian efforts – it provides free veterinary care for the poorest subset of the population in Fez. It is the Fondouk's policy to treat only working equines, as these animals are the livelihood for many families in Morocco. It is understood that without these animals, the families are unable to feed themselves.
My days working at the Fondouk were longer and harder than anything that I have experienced so far in vet school! Externs typically worked 12-16 hour days, 5-7 days per week. As a small animal person, the additional physical aspect of working with strong equines definitely added an additional component that kept me pretty exhausted. Each day began with Rounds at 7:30am. By 8am, the clinic doors opened to the public and typically 20+ equines would come through the doors as the morning wore on. Many of the animals were presented with minor complaints – mules need shoeing, de-worming, and teeth floated. Each day, however, we usually saw about five patients who required more intensive treatment and were thus hospitalized at the clinic. On any given day there are more than 30 donkeys, mules, and horses staying at the Fondouk.
One of my most interesting cases was a mule with Habronema lesions covering her shoulders, face, and legs. Aside from the gruesome nature of the lesions that this parasite causes, I quickly came to understand how extremely distressing and pruritic the lesion is to the animal. In addition to the several hour long process of daily wound cleaning, I had to address this animal's pruritus in order to keep her comfortable both so that her quality of life would be maintained, and so that she wouldn't continue to scratch off her bandages each evening. Because these lesions can take months to heal, I left the clinic before her case was resolved. The last I heard, however, was that the mule's lesions are getting smaller but the staff is still struggling with her intense pruritus!
Not only was I fortunate enough to travel across the world to work in Fez, I was able to take a week at the end of my trip to explore a couple other parts of the country. My favorite place to visit was a small mountain town called Chefchaouen. In many cities and towns in Morocco there are walled off areas called medinas. In Fez, for example, the medina is over 1200 years old and houses several hundred thousand people. The medina in Chefchaouen, by contrast, is much smaller and all of the buildings and walls are painted a bright, sky blue. Visiting Chefchaouen was a relaxing relief after my 6 weeks at the Fondouk!
Overall this truly was a trip of a lifetime. I made many friends from other countries, I learned a great deal about equine medicine, and perhaps most importantly I put myself in an uncomfortable situation and within days found myself thriving. Thank you so much, International Programs, for your support!
Tags