Dean Lairmore's COVID-19 update – August 31, 2020
The LNU Lightning Complex fires are more than 50 percent contained as I write this, and the latest evacuation orders have been downgraded to warnings.  Upon learning of the regional fires, our school and veterinary hospital crisis management teams went into action. Although it isn't over yet, I want to take this opportunity to provide my deep gratitude to everyone who has contributed to the fire response, including the hospital and VERT teams, communications and development teams, and anyone else involved. The field teams examined or treated more than 1,000 animals, and we've had an additional 30 animals treated in the hospital. We also have people affiliated with the school who have been deeply affected by the fire, and I thank everyone in our community who has provided support as needed.
No solution to prevent these fires is in sight, but there are things that residents of fire-vulnerable areas can do to prepare themselves. Dr. Michael Payne, from our Western Institute of Food Safety and Security (WIFSS), is a veterinarian and volunteer firefighter who earlier this year gave a presentation about wildfire preparedness. His presentation included pictures, animations and videos to explain fire service response procedures and the specific actions that livestock owners can take to help protect themselves, their ranch and their animals before and during a wildfire. Please keep this resource in mind for sharing with our friends in rural areas.
We also continue to post our updates regarding the fire response on our resources page, accessible from the school's home page. It has a link to the presentation above, along with the Center for Equine Health's Equine Emergency Action Plan and the "Disaster Planning" issue of their publication the Horse Report.
COVID-19
COVID-19 hasn't gone away during the fire, but thanks to the precautions that everyone has been taking, the local case numbers remain low. Davis even went a few days recently with zero cases reported. Actions like the new requirement for everyone to take a symptom survey before entering a campus facility are essential for preventing infection spread. There is a webinar on implementing the survey tomorrow (Tuesday) at 1:30pm that I encourage all managers to attend or view later.
The university is preparing to welcome undergraduate students back and is taking precautions to avoid seeing infection hotspots occur like some other schools have faced. One of these precautions is to implement "high-through put" testing, which is an effective way to screen large numbers of people quickly. Veterinarians are familiar with population-based animal testing, and UC Davis has unique expertise for creating such a program. Dean Brashear from the School of Medicine and I address that very topic in the Deans Discuss podcast episode being released today; I hope you'll tune in to hear more. We also recently discussed how our early perceptions of COVID-19 as a respiratory disease has evolved, in part to our existing knowledge of coronaviruses in animals and through use of advanced technologies such as imaging and artificial intelligence. You can see all the episodes on the podcast home page; new episodes are released at noon on Mondays.
Last week, we announced in partnership with the National Institutes of Health's National Institute of Allergy and Infectious Diseases that our One Health Institute is leading a new research center, the EpiCenter for Emerging Infectious Disease Intelligence, that will focus on areas around the Amazon and Congo Basin forests regions to advance understanding of how viruses emerge and spill over from wildlife to humans. The research, which builds off of our experience leading the PREDICT program, aims to improve global preparedness and response for when such events occur. Congratulations to Dr. Christine Kreuder Johnson, the new leader of the center, and her team. We are proud to be at the forefront of zoonotic disease prevention and intervention.
Social Justice
Last week we also saw another African American male, Jacob Blake, shot in the back by law enforcement in Kenosha, Wisconsin. We then saw two protestors killed and another injured there by a 17-year-old with an assault rifle, followed by a death during protests in Portland, Oregon. And, as if this wasn't enough, two well-known African American heroes, Chadwick Boseman and Clifford Robinson, also passed away. Many of you are advocating for change in your communities; remember that UC Davis has collected Racial Trauma Resources for mental health, education and action, including for preventing and addressing police abuse.
I want to thank our Communications and Student Programs teams for updating our diversity and equity information on the UC Davis site. The new information hub contains information on initiatives and resources from the school, the university and the AAVMC. It can be found by going through the Community link on the "About Us" tab on the main website menu. Please take a moment to review it and let me know if you have any suggestions for how it can be improved even more.
Community news
For years, members of the School have, along with their colleagues from the School of Medicine, dedicated their time to serve the Knight's Landing population through the One Health Clinic. That work has made a significant difference; this recent article showcases the clinic and the community and professional partnerships that have kept it strong. I'm proud of what has been accomplished there and how it serves as a model for One Health.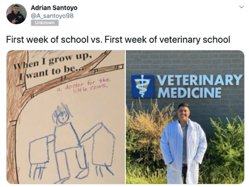 Finally, I want to highlight a social media post by one of our first-year students that went viral last week. Adrian Santoyo drew a picture when he was little that said, "when I grow up, I want to be a doctor for the little cows." Santoyo posted that next to a photo of him wearing a white coat on his first day of veterinary school at UC Davis. Thanks, Adrian, for posting that and inspiring us in these trying times. Your post is a wonderful reminder of why we are here.
Primary Category
Tags