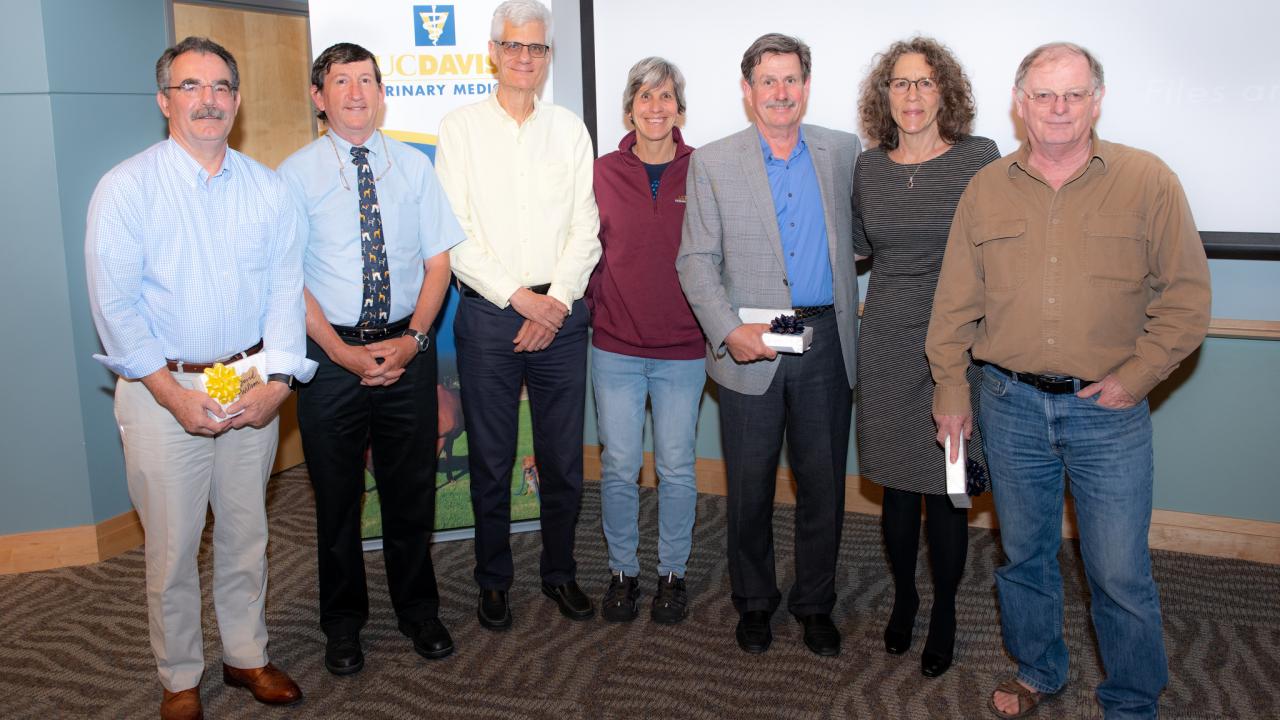 In his State of the School address, Dean Michael Lairmore thanked the following faculty retirees for their many years of service:
Carolyn "Cary" Craig, DVM, DACVAA
Professor of Clinical Anesthesiology
Dr. Cary Craig has been a member of the faculty for 20 years as a professor of clinical anesthesiology. Craig is highly respected for her sustained level of highly competent patient care into which she skillfully integrates experiential teaching. She is described as passionate about her work, able to create a calming and nurturing clinical learning environment, and appreciated as a role model for her perseverance and work ethic.
In 2014, Craig served on the American College of Veterinary Anesthesia and Analgesia Job Task Assignment Committee to define and describe knowledge and skills required by boarded anesthesiologists to perform their jobs in academic, private and corporate sectors as a basis for rewriting the board certifying exam.
Students appreciate the confidence that she cultivates in their ability to develop competence and knowledge in anesthesia and analgesia. Residents consider her an outstanding clinical mentor and faculty peer—the consummate competent professional. Craig maintains a healthy balance by pursuing her passion as a competitive runner and is now a top triathlete in her age category.
Rance B. Lefebvre, Ph.D.
Professor of Pathology, Microbiology and Immunology
Dr. Rance Lefebvre joined the faculty in 1986 as an assistant professor in microbiology with research expertise in Lyme disease, leptospirosis and other zoonotic pathogens. He published 48 research papers and contributed seven book chapters on veterinary microbiology.
An exceptional contributor to the enhancement, facilitation and mentorship of veterinary, graduate, undergraduate and secondary school students, LeFebvre established an outstanding record of achievement in higher education instruction. He taught veterinary and human medical biology to both undergraduates and veterinary students. As the Associate Dean for Student Programs, LeFebvre administered pre-veterinary advising, admissions and academic advising.
In 2004, LeFebvre received the School of Veterinary Medicine Distinguished Faculty Teaching Award for his contributions to DVM, graduate, undergraduate, and—through the California state summer school in mathematics and science (Cosmos) program—high school students.  LeFebvre served as wellness coordinator for the school, and graduating veterinary students have twice selected him as faculty commencement speaker. LeFebvre served on a number of school and university committees, including the Graduate Group in Comparative Pathology and the Student Affairs committee, and provided mentorship to the Veterinary Student Public Health Club.
N. James MacLachlan, BVSc, M.S., Ph.D.
Professor of Pathology, Microbiology and Immunology
Dr. Jim MacLachlan joined the faculty as an associate professor in 1987. During his career, he served in a number of leadership roles, including acting chair of the Department of Pathology, 1990-91, Chair of the Faculty, and as the inaugural chair of the Department of Pathology, Microbiology and Immunology from 1993 to 2003.
MacLachlan is a dedicated scientist, producing 202 peer-reviewed publications and a number of chapters and reviews on equine clinical techniques, infectious diseases and foreign animal diseases. He coauthored a 2006 review article that resulted in the science-based decision to relax bluetongue non-tariff trade barriers for U.S. cattle imported into Canada for the first time in 37 years. MacLachlan engaged in international collaborations to develop recombinant African horse sickness vaccines and researched equine viral diseases, bluetongue and African horse sickness pathogenesis. He served on numerous national and international scientific review boards for competitive grants programs as an expert on African horse sickness and bluetongue virus.
MacLachlan was selected as the faculty commencement speaker for the class of 1994. He received the Outstanding/Favorite Teacher Award four times, the Norden Distinguished Teacher Award in 1993, the Pfizer Animal Health Award for Research Excellence in 2003, and the school's Alumni Achievement Award in 2007.
He served as president of the American College of Veterinary Pathologists, chair of the American Association of Veterinary Laboratory Diagnosticians bluetongue diagnosis committee, and as a member of the American Society for Virology International Committee for Taxonomy of Viruses.
Frederick "Chuck" Mohr, DVM, Ph.D.
Professor of Pathology, Microbiology and Immunology
Dr. Chuck Mohr joined the faculty in 1987 as an assistant professor in pathology and throughout his career sustained a record of highly effective clinical and classroom teaching. His dedication to resident instruction in anatomic pathology and facilitation of joint veterinary/human pathology rounds to diversify their training is renowned. His research focused on nephropathology; environmental pathology and toxicology; biological effects of petroleum oil pollution; and general pathology. He advanced the knowledge base through more than 52 publications and 31 abstracts. His original research contributions to improved classification of glomerular disease in dogs not only reflects his creative scholarship, but his outstanding teaching with the tangible benefit of improved diagnostics and patient care.
Additionally, he co-authored a chapter on urinary disease in the gold standard veterinary pathology reference text. He was the Master Advisor for the Graduate Group in Comparative Pathology (now Integrative Pathobiology) and served the school in a broad capacity, including membership on the MPVM Admissions and Student Affairs Committee, Admissions, and Curriculum committees. Mohr also served as editor for the Journal of Comparative Pathology for many years.
Peter F. Moore, DVM, Ph.D.
Professor of Pathology, Microbiology and Immunology
Dr. Peter Moore joined the faculty as an assistant professor in 1979, with a research focus on leukocyte antigen biology and spontaneous leukocytic diseases of companion animals—especially the dog, cat and horse. Moore was a pioneer in the investigation and diagnosis of immune system neoplasia in dogs and cats. His work has been instrumental to the development of new diagnostic tests and treatment recommendations for dogs with lymphoma, leukemia, or histiocytic neoplasia.
Moore is respected by his colleagues for his research contributions, but also for his generosity in sharing the monoclonal reagents which his laboratory developed – long before these became commercially available. He has published his findings in more than 100 publications. Among these are numerous collaborative studies with veterinary colleagues worldwide, in which the reagents he developed are applied to investigations of canine and feline diseases of the alimentary and respiratory tract, and the central nervous system among others.
Moore provided outstanding service to the school in graduate clinical education and served as the associate director of Anatomic Pathology in the VMTH for six years. He also served on numerous committees and contributed to the Optical Biology Executive Committee for more than 20 years. He received the World Small Animal Veterinary Association /Waltham International Award for Scientific Achievement in 2008, and the Pfizer Award for Research Excellence in 1998. He was twice honored with the Charles Louis Davis Foundation Journal Scholarship Award for research publications.
Jorge E. Nieto, MVZ, Ph.D., DACVS, DACVSMR
Professor of Surgical and Radiological Sciences
Dr. Jorge Nieto came to Davis more than 20 years ago as a visiting assistant professor and formally joined the faculty as an assistant professor in 2007. He is considered an outstanding clinician, mentor, teacher and colleague who is an excellent role model for both students and residents.
During his career at the school, Nieto completed an equine surgery residency and a Ph.D. before becoming a faculty member in Equine Surgical Emergency and Critical Care. He is a diplomate of the American College of Veterinary Surgeons and a diplomate of the American College of Veterinary Sports Medicine and Rehabilitation. Nieto contributed significantly to the diagnosis of colic, specifically intestinal ischemia, and treatment of gastric ulcers in horses. He was considered by his colleagues to be the "cornerstone" of the equine surgery program and has provided an abundance of clinical expertise to a vast number of VMTH patients.
Nieto is an accomplished educator of DVM students and mentored many residents during his tenure. He is recognized for going above and beyond with regard to resident and student teaching, helping to shape many of the leaders of our profession. He has contributed considerably to the teaching, research and service missions of the teaching hospital and was recognized with the school's Faculty Clinical Excellence Award in 2016. He has produced 72 peer-reviewed publications and was twice honored with the school's James W. Wilson Award for Most Outstanding Equine Research Publication.
Peter J. Pascoe, BVSc
Professor of Surgical and Radiological Sciences
Dr. Peter Pascoe joined the faculty as an assistant professor in 1989, with a research focus on anesthesia and analgesia of dogs, cats and horses. He developed and evaluated new regional anesthesia techniques, and provided generous collaborative support to faculty colleagues in the development of novel minimally invasive surgical techniq­ues with concurrent investigation of anesthetic management of these patients. His research generated 102 publications and 38 book chapters, and he was an invited speaker at numerous conferences and continuing education symposia on small animal pain management.
Pascoe was an excellent teacher, which was appreciated by veterinary students and residents for the nurturing learning environment in the operating room. His commitment to the education of professional students included his participation on the curricular development committee across several blocks from 2009-2013.
Pascoe provided substantial leadership to the American College of Veterinary Anesthesia and Analgesia (ACVAA), serving as editor, chair and board member. He was recognized for his dedication to the specialty college with the ACVAA Presidential Service Award in 2003 and received the Langley Award for the best paper published in Veterinary Anesthesia and Analgesia in 2004.
Pascoe provided excellent service to the university and the school that included roles as chair of the faculty, chair of the admissions committee, and member of curriculum development committees for cardiorespiratory, clinical foundations, neurology/senses/behavior, and pharmacology/toxicology/nutrition blocks.
W. David Wilson, BVMS
Professor of Surgical and Radiological Sciences
Dr. David Wilson has been a member of the school's faculty since 1981 and served in numerous administrative roles during these 36 years, including: director of the Center for Equine Health, director of the William R. Pritchard Veterinary Medical Teaching Hospital (VMTH), and associate dean of Clinical Programs. As VMTH director, Wilson's visionary leadership resulted in increased operational efficiencies, the addition of new services, expanded patient care and increased client/referring veterinary services. Of particular note was his oversight to ensure the successful implementation of the expanded senior year from 48 weeks to 59 weeks as part of the new curriculum. Faculty, staff and students appreciated his willingness to understand complex issues, give thoughtful consideration to potential solutions and ensure everyone felt part of the team.
Wilson has been a critical part of the facilities planning for the new Veterinary Medical Center, from detailed project design and effective phasing of construction, to the vision for future needs as the profession evolves.
Throughout his professional career, Wilson advanced the area of equine internal medicine and infectious diseases. He actively engaged in teaching of students and residents, and conducted research resulting in 123 scientific publications, 64 book chapters and 120 other publications. He delivered more than 280 presentations and served on more than 150 department, school and university committees and dozens of professional society committees. He was awarded the Carl J. Norden Distinguished Teacher Award in 1989.
Fern Tablin, VMD, Ph.D.
Professor of Anatomy, Physiology and Cell Biology
Dr. Fern Tablin joined the faculty in 1985, with a research focus on platelet physiology and the role of platelets in health and disease. She specifically focused on the contribution of platelets to the systemic, cardiac and pulmonary proinflammatory responses to air pollution. Serving as co-director for the Center for Biostabilization, Tablin developed novel methods for storage of blood cells and nucleated cells in the dry state.
Tablin's contributions to the evolution of the professional curriculum were highly valued and achieved with extraordinary effectiveness. Particularly notable was her leadership and diligence as a block leader, a willingness to be creative, and thus, a role model for colleagues. For more than a decade, she led the dual degree Veterinary Scientist Training Program (VSTP) and is recognized for her mentorship of trainees which contributed to their individual success and national recognition of the program's quality.
Tablin provided excellent service as a campus citizen, highlighted by her appointment as the department chair of Anatomy, Physiology and Cell Biology, chair of the faculty, and member of numerous school and campus committees including service on the university's Privilege and Tenure Committee. She was inducted into the American Association for the Advancement of Science in 2002 and awarded the Pfizer Distinguished Teacher Award in 2012.  She is now serving on the American Veterinary Medical Association's Council on Education.
Category
Tags