Getting Bella Back on Her Feet
by Amy Young
Bella, a 20-year-old miniature donkey jenny, was brought to the UC Davis veterinary hospital for severe lameness and abnormally shaped hooves on all four feet.
An otherwise healthy donkey, Bella had severely overgrown hooves that made it hard for her to balance. To stabilize herself while walking, she had to rock back onto her heels and lift her toes. Over time, this led to thick soles and long toes, which were not even in contact with the ground on some of her feet. Radiographs showed abnormalities indicative of chronic laminitis, an inflammation of the sensitive tissue underneath the hard outer wall of the hoof.
"Several people told us that she would probably need to be put down," said her new owner Daniel, who, along with his wife Jennifer, recently adopted Bella. "That's what I thought when I brought her here. I didn't think I was going to be taking her back home."
But Bella is a fighter. She's been through a lot and, with a little help from her friends, hasn't given up yet.
Bella, and her best friend Henry, a miniature donkey jack, spent most of their lives with their devoted owner in Northern California wine country. Then the 2017 fires hit. The donkeys were fortunately rescued, but the house burned to the ground. During the evacuation, Bella injured one of her hooves. While she was in foster care, her hooves were trimmed at the wrong angle, and her injured hoof became very sore. Daniel and Jennifer had their hearts set on adding some miniature donkeys to their recently acquired property, and found out about Bella and Henry through a co-worker.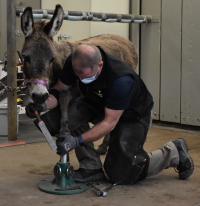 Although things looked bad when Bella arrived at UC Davis, Dr. Scott Katzman from the Equine Surgery and Lameness Service and UC Davis farrier Shane Westman were confident they could help her. Shortly after trimming her hooves to remove Bella's excess sole and improve her hoof pastern axis to make sure her feet were more balanced, Westman sent Daniel and Jennifer a video of Bella walking normally. Much to their relief, and Henry's, who was very distraught while she was gone, they picked her up and took her home.
"Shane did an amazing job with this case," said Dr. Katzman. "The transformation of the feet and the immediate correction of the gait abnormality was astounding."
The UC Davis Center for Equine Health (CEH) was able to provide financial support for Bella's treatment through the Animal Rescue and Disaster Medicine Endowment.
"Gifts like these allow us to help owners such as Daniel and Jennifer provide the best chance for animals that have suffered in the California fires," said CEH Director Dr. Carrie Finno.
"Bella is doing great," said Daniel. "Now she spends her days out on the hillside with Henry and our ten Alpine goats. We couldn't do that before because we were worried that she couldn't keep her footing."
Bella and Henry recently stopped by the veterinary hospital for a recheck and received clean bills of health, although Henry was told he needs to go on a diet. (Don't take it personally, Henry; quarantine's been tough on everyone.)
#   #   #
Proper hoof care is essential to good health for all equids. Learn more in the hoof health issue of the Horse Report.
Primary Category
Tags