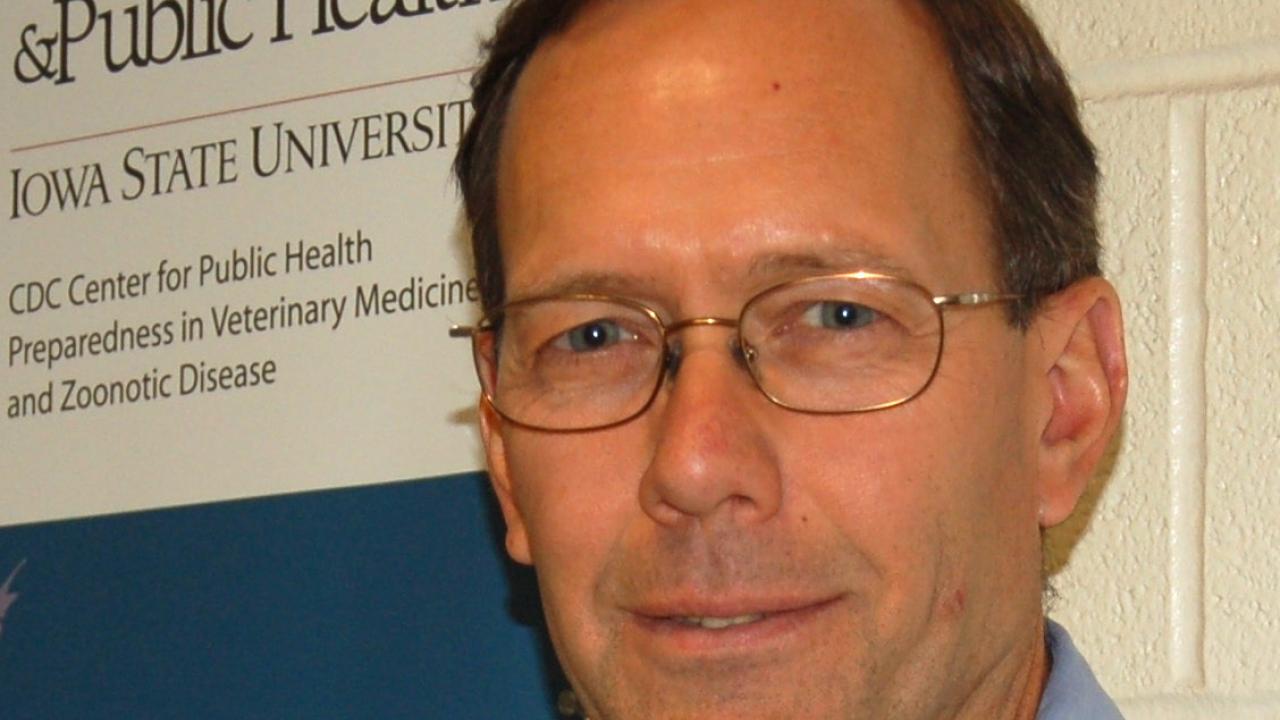 Please join us for the Oscar W. Schalm Lectureship featuring Dr. James A. Roth. He will present: "Response to an Outbreak of Foot and Mouth Disease (FMD) in the U.S."
12:00 p.m., Monday, October 8
1020 Gladys Valley Hall, UC Davis School of Veterinary Medicine
James A. Roth DVM, PhD
Jim Roth is a Distinguished Professor in the Department of Veterinary Microbiology and Preventive Medicine, College of Veterinary Medicine, at Iowa State University. A member of the National Academy of Medicine, Jim received his DVM (1975) and PhD (1981) degrees from ISU and is a Diplomate in the American College of Veterinary Microbiologists. He worked as a veterinarian in a mixed animal practice from 1975 until 1977.
He is the Director of the Center for Food Security and Public Health and the Institute for International Cooperation in Animal Biologics; both are World Organization for Animal Health (OIE) Collaborating Centers. Dr. Roth's primary area of research expertise is immunity to infectious diseases of food producing animals. He has served as the major or co-major professor for 50 MS and PhD students, and has authored or co-authored more than 210 refereed journal articles and book chapters and edited 16 monographs.
Dr. Roth received the Distinguished Veterinary Immunologist Award from the American Association of Veterinary Immunologists, the Distinguished Veterinary Microbiologist Award from the American College of Veterinary Microbiologists, the Public Service Award from the American Veterinary Medical Association, the USDA APHIS Administrator's award for lifetime achievements in animal health and the Senator John Melcher, DVM Leadership in Public Policy Award from the American Association of Veterinary Medical Colleges. He has testified before Congressional committees on biosecurity preparedness, on efforts to address bioterrorism and agroterrorism, and on the need for vaccines for foreign animal diseases. Dr. Roth served on the National Science Advisory Board for Biosecurity from 2005 to 2014.
About Oscar William Schalm 1909 - 1982
The Oscar W. Schalm Lectureship, established in 1988, honors the memory of Oscar W. Schalm, a founding faculty member of the UC Davis School
of Veterinary Medicine and an eminent teacher and research scientist in the fields of bovine mastitis, diagnostic veterinary hematology and clinical pathology. The lectureship promotes a tradition of scholarship, service and commitment to veterinary medicine and recognizes the lecturer's distinguished contributions to the profession.
Light Refreshments will be served
Category
Tags