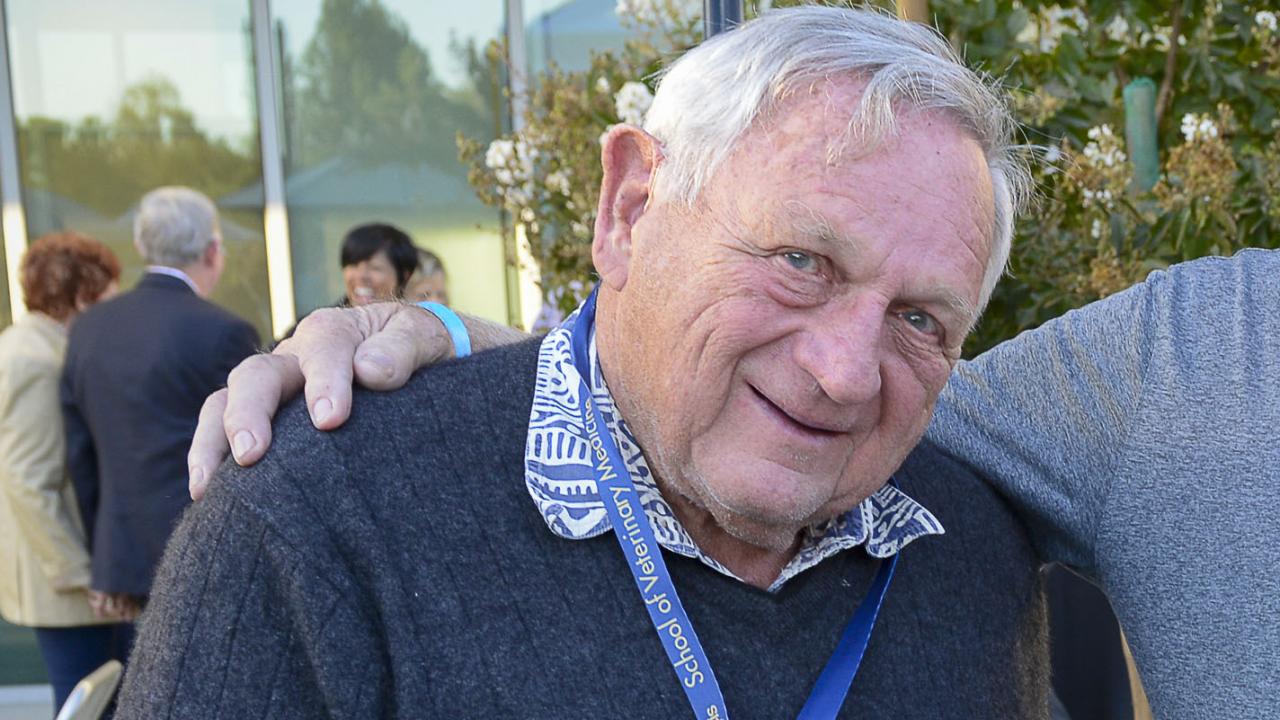 We are sad to share the April 12th passing of Dr. Dale Brooks, graduate of the class of 1959. He was a well-known and beloved member of our veterinary medicine family at UC Davis.
After working briefly in small animal practice then establishing an equine practice in Malibu, Brooks returned to UC Davis for a CE course in Laboratory Animal Medicine (LAM) in the late 1960s. That experience set his path for the next 35 years as a national leader in the development of LAM including serving as a consultant for NIH, for UC campuses, and other west coast universities.
Originally hired in 1968 as a veterinarian in the Experimental Animal Resources unit on campus, Brooks was appointed Director of Animal Resources Services (now TRACS) from 1971 until his retirement in 2002. He became ACLAM board certified (1972), completed a PhD in Comparative Pathology (1978), and led the development of LAM on campus, including establishing the LAM residency program, the diagnostic laboratory (now the Comparative Pathology Labororatory), and the first UC Davis humane care and use of animals committee before the federal requirement for Institutional Animal Care and Use Committees. 
The American Association for Laboratory Animal Science recognized his contributions to laboratory animal medicine and teaching with the Joseph Garvey Award in 1997. He developed and taught a number of laboratory animal medicine courses, was course leader for Ethical Issues and Perspectives in Veterinary Medicine, and was a popular speaker on rabbit and goat medicine to professional organizations, owners, breeders and 4H groups. 
Brooks was also passionate about the California Raptor Center, and served as director of the center from 1990 to 1998.  He was responsible for obtaining many of the current enclosures from across campus.He also had an elective didactic course on raptor medicine and ran elective 'almost externship' courses on raptor handling, care, and rehab each quarter for DVM students for many years. He is responsible for opening the center to the public.
There are no services planned at this time. 
Category