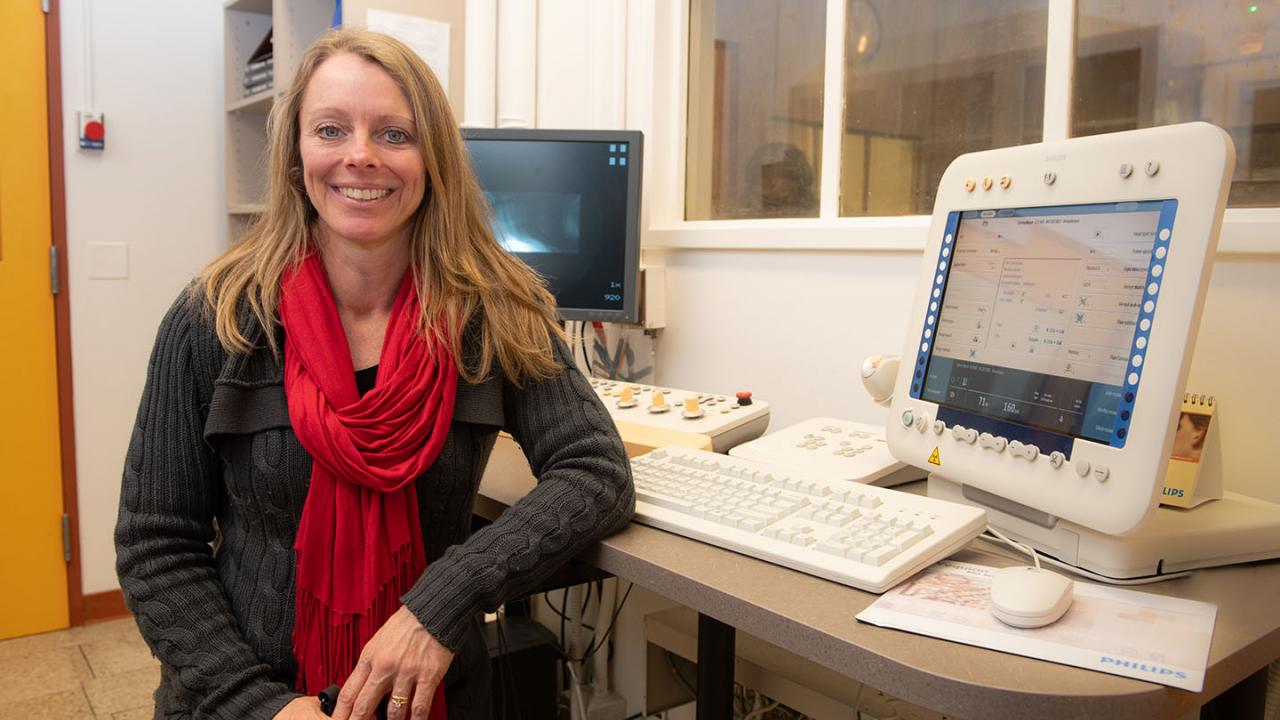 New Insight Into Pharyngeal Collapse
Dr. Rachel Pollard is an international expert on videofluoroscopy in dogs that have trouble swallowing or trouble breathing. Videofluoroscopy, or fluoroscopy for short, is an imaging technique that uses x-rays to film breathing and swallowing in real time. A normal x-ray offers a snapshot in time, which is useful for static problems like a broken bone or an enlarged heart. But for dynamic processes like swallowing and breathing, it's often critical to evaluate the motions in real time.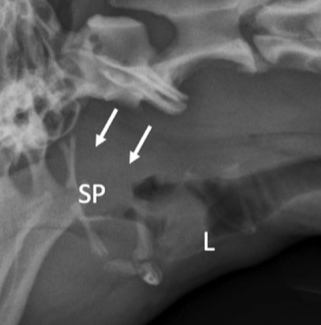 The prevalence of dynamic pharyngeal collapse is high in brachycephalic dogs undergoing videofluoroscopy
Dr. Pollard's article brings new understanding to breathing problems in dogs.
Dr. Pollard recently published an article evaluating collapse of the pharynx in dogs that had videofluoroscopy performed (The prevalence of dynamic pharyngeal collapse is high in brachycephalic dogs undergoing videofluoroscopy). The results were interesting and surprising, giving veterinarians a new understanding of airway disease in different breeds of dogs. This research could spark new areas of investigation and change how veterinarians treat brachycephalic (short nosed) dogs like French bulldogs, English bulldogs, and pugs, which are among the most popular dog breeds in the US and in the world. UC Davis study collaborators Dr. Stan Marks, an expert in swallowing disorders, and Dr. Lynelle Johnson, an expert in respiratory disorders, underscore the importance of this study—and of Dr. Pollard's clinical work—for the field. "This study, along with Dr. Pollard's expertise, have helped ensure that UC Davis SVM is regarded as the premier institution for the diagnosis and management of swallowing disorders in dogs and cats in the world," says Dr. Marks. Here, Dr. Pollard talks briefly about the study and the new research questions emerging from it.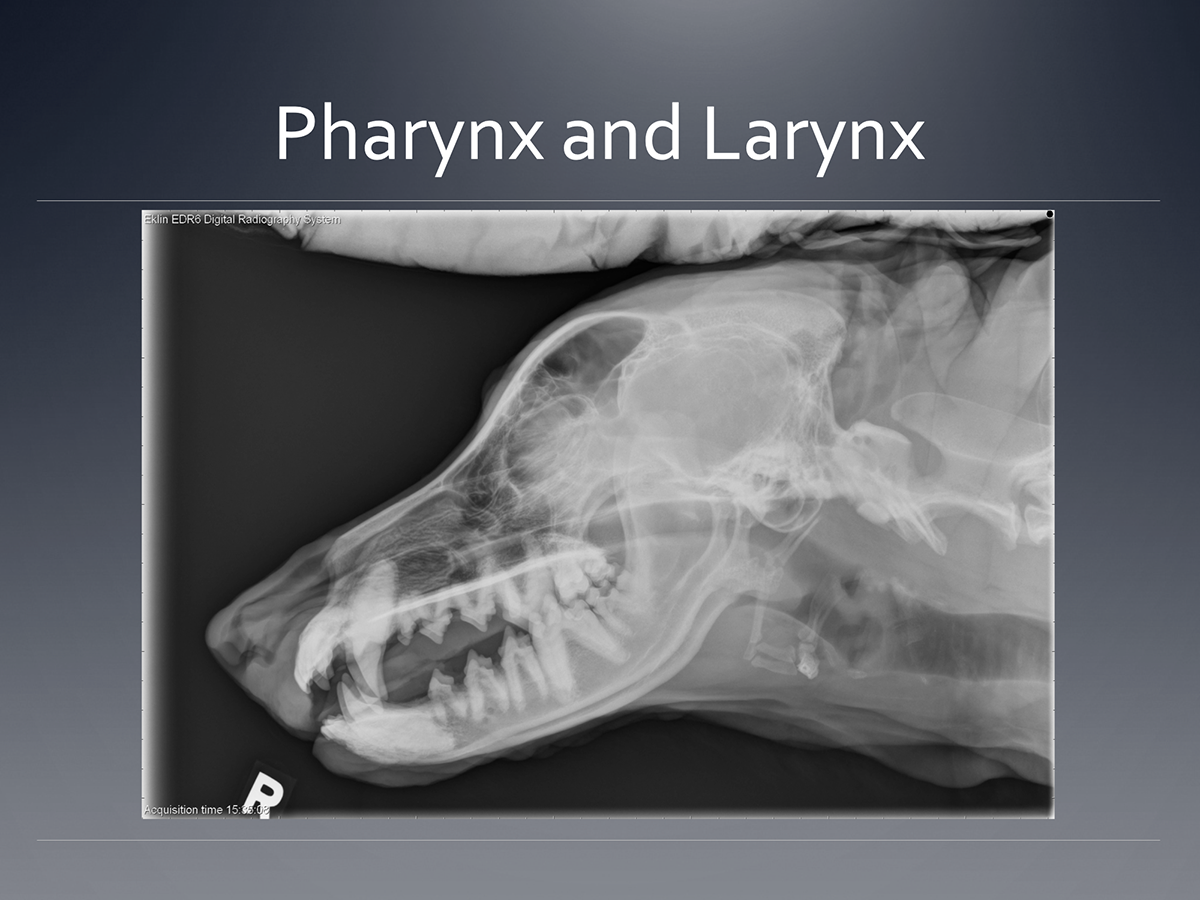 Click to see the radiographic anatomy of the larynx and pharynx
The upper airway of the dog passes air from the nose and mouth to the trachea.
What is the pharynx and how does it relate to breathing?
The pharynx is the area where the trachea and esophagus come together behind the tongue. The pharynx conducts air between the nose and the trachea and serves as the gatekeeper between the respiratory and gastrointestinal tract. Dysfunction in this region is a key indicator of an aerodigestive disorder.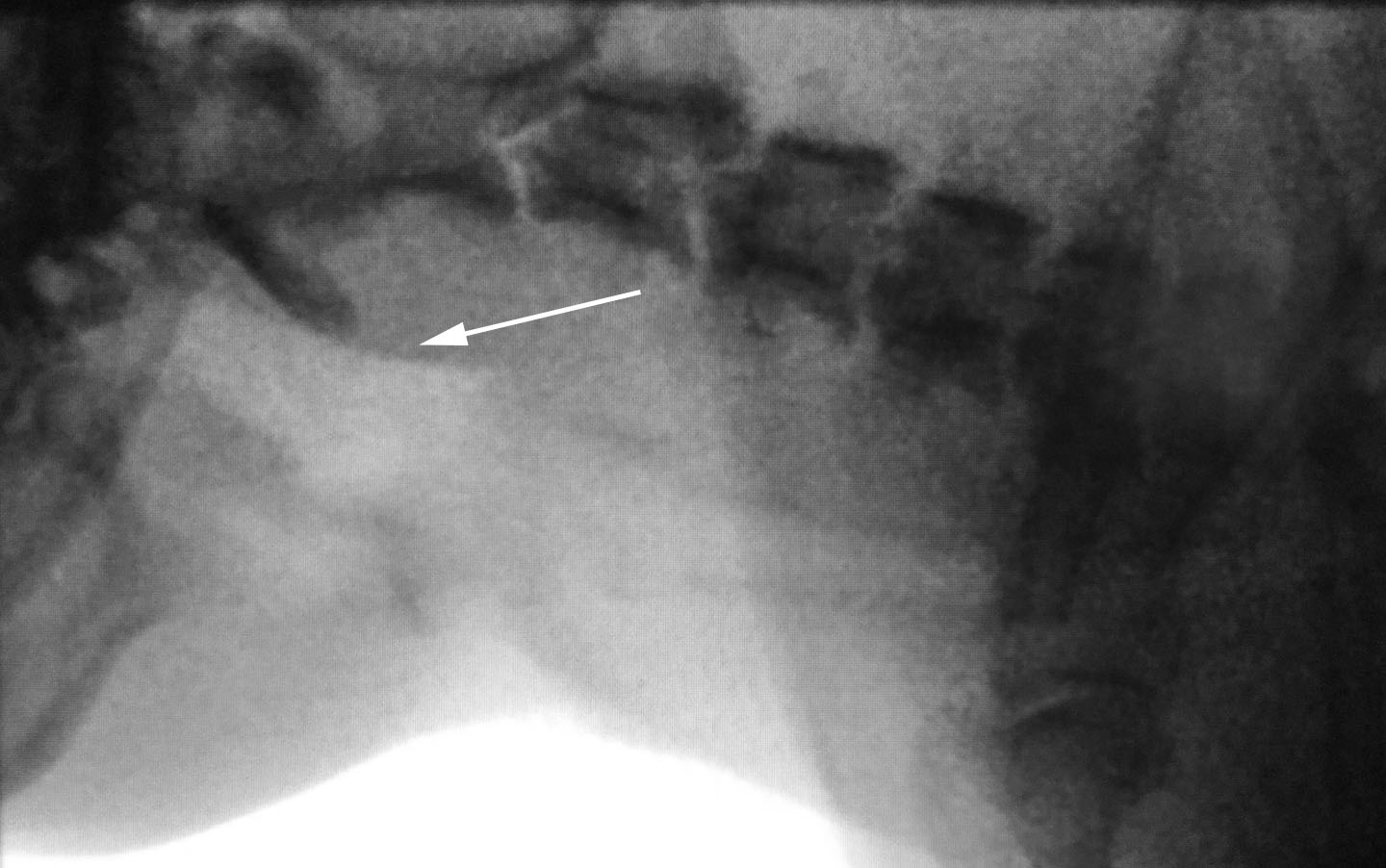 What made you curious about this research question?
After looking at a large number of videofluoroscopy studies, I noticed that brachycephalic dogs like bulldogs and pugs have abnormal collapse of the pharynx far more commonly than other types of dogs. In other breeds, pharyngeal collapse was associated with collapse of the windpipe, but in these brachycephalic breeds it was different. Collapse of the pharynx could be related to the difficulty in breathing and respiratory noise that we often need to investigate in these dogs, with or without windpipe collapse.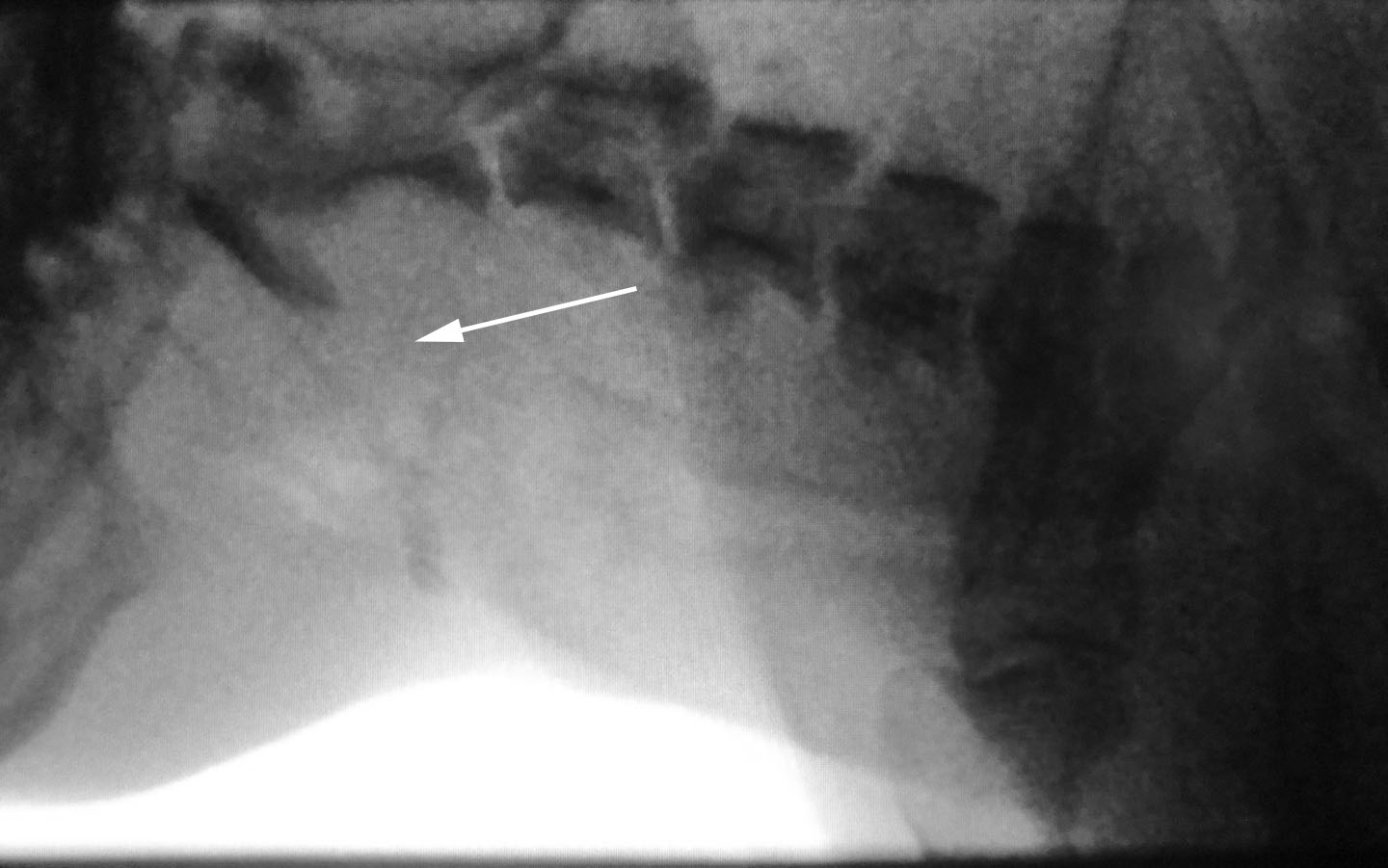 What were your main findings from the study?
More than 70 percent of brachycephalic dogs have abnormal pharyngeal collapse, which is far greater than what we see in other types of dogs.
How will this information be useful for treating dogs with this condition?
This information allows us to better understand that we will commonly see pharyngeal collapse in brachycephalic dogs no matter what signs they might be displaying and regardless of the presence or absence of collapse of the windpipe. Whether pharyngeal collapse needs to be treated and how it might be treated is still unclear.
Are there new research questions that you would like to investigate after learning the results of this study?
I am now curious whether the degree of pharyngeal collapse is related to how brachycephalic a dog is—in other words, how short its nose is. If they are related, then it would follow that brachycephaly and the associated blockage of breathing is likely the reason for pharyngeal collapse in these types of dog.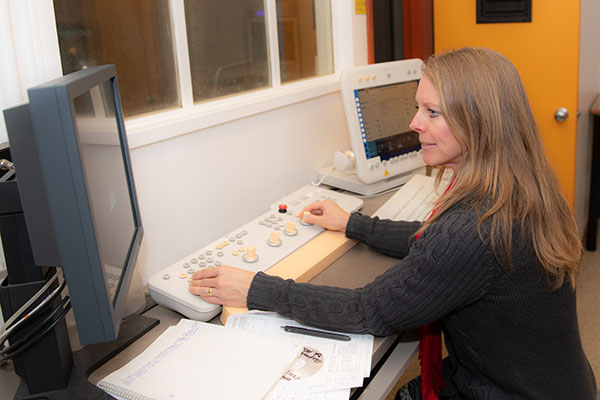 Support Dr. Pollard's research by helping to purchase a new videofluoroscopy unit
Our current videofluoroscopy unit has reached its retirement. Dr. Pollard is selecting a new machine that will enable her to image patients with breathing and swallowing disorders more quickly, more safely, and with easier access to the still and video images. Support her research by donating to Diagnostic Imaging and copying the link to this article in the notes with your message. We would love to have you participate in treating patients and performing clinical research studies!
If you would like to read a copy of this study, please email Dr. Pollard at repollard@ucdavis.edu. Subscribe to our newsletter for more articles about diagnostic imaging.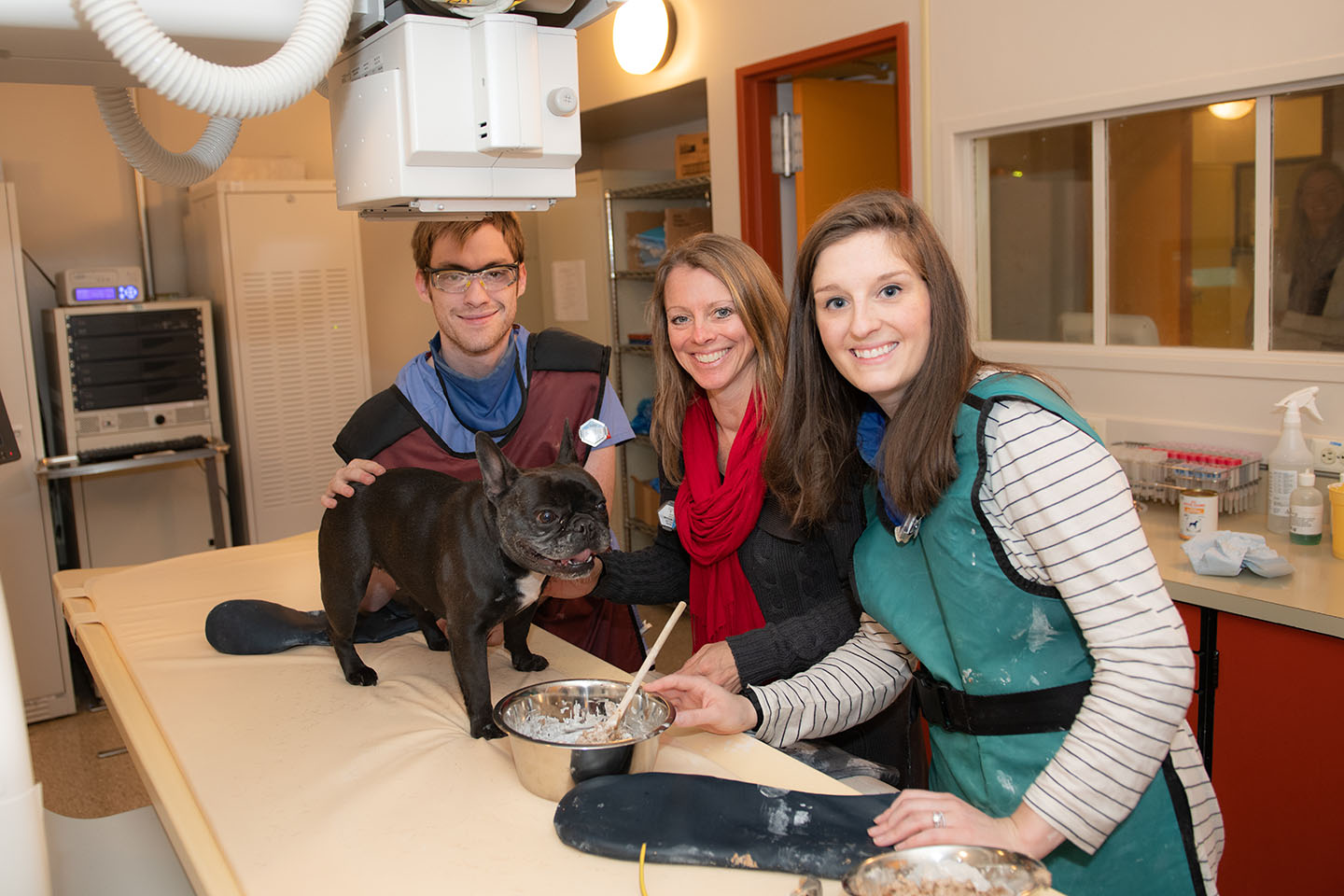 Tags