New Procedure More Efficient for Ovariohysterectomy on Horse
"Case of the Month" – October 2020
Georgia, an 18-year-old warmblood mare, was brought to the UC Davis veterinary hospital after a recent change of ownership. The previous owners disclosed she had been treated medically for chronic endometritis (inflammation of the uterine lining) over the past several years without resolution of the condition.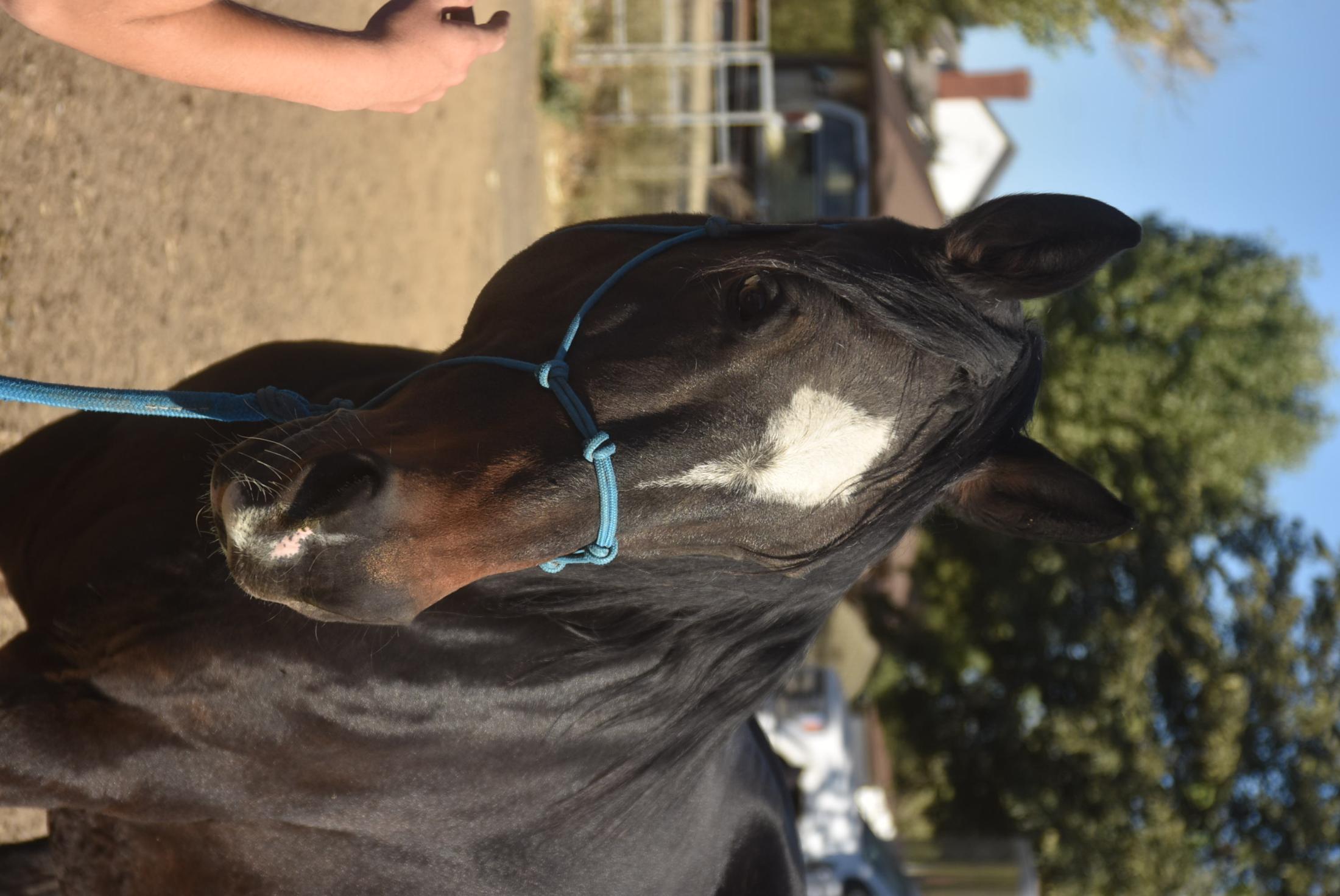 Dr. Ghislaine Dujovne, chief of the Equine Theriogenology (Reproduction) Service, and resident Dr. Eduardo Santos Villanueva examined Georgia's reproductive tract. On examination, they discovered Georgia's cervix was scarred closed, preventing normal clearance of accumulated fluid from her uterus. With manual manipulation, they were able to break down some of the scar tissue to gain access to the uterus. A catheter was then used to obtain a fluid sample from the uterus for evaluation. The uterus was subsequently flushed, and during the flush, a large amount of purulent material (pus) was evacuated from the uterus. Test results from the fluid sample revealed large numbers of bacteria and inflammatory cells consistent with chronic endometritis and a suspected pyometra (infection in the uterus). Initially, Georgia was treated with daily intra-uterine antibiotics and uterine flushes. However, because Georgia's cervix was so badly compromised, they realized it was unlikely they could resolve the pyometra with medical management alone, so a surgical ovariohysterectomy (spay) to remove both ovaries and uterus was elected.
"Historically, this has been considered a difficult procedure to perform in mares due to the limited access to the reproductive tract from a ventral abdominal approach," stated Dr. Scott Katzman, chief of the Equine Surgery and Lameness Service. "In Georgia's case, we employed a recently described technique combining standing laparoscopic 'keyhole' surgery, with an open ventral abdominal approach."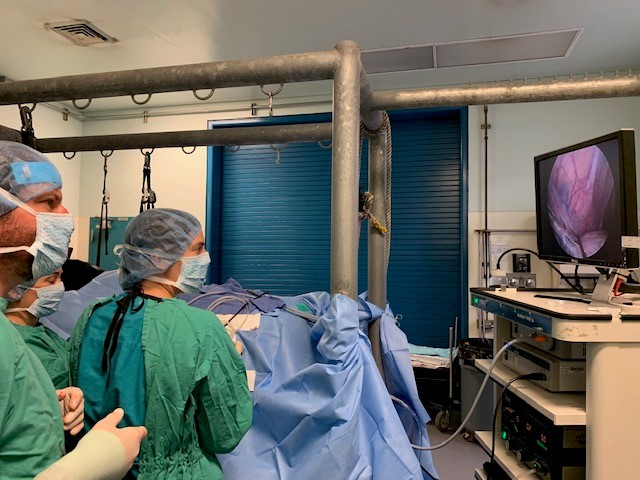 Using the new approach, Dr. Katzman and equine surgery residents Drs. Bridget Nottle and Steffi Arndt were able to free the ovaries and the connecting ligaments of the uterus using laparoscopic equipment while Georgia was under standing sedation. Then, under general anesthesia, the surgical team was able to remove the uterus and ovaries through a ventral midline incision.
Following surgery, Georgia was hospitalized in the Equine Intensive Care Unit for two days. She received intravenous fluid therapy, antibiotics, and pain management. Georgia remained bright and alert with an excellent appetite throughout the remainder of her stay in the hospital.
"This two-stage procedure has made ovariohysterectomy much easier to accomplish in mares," Dr. Katzman said. "We are confident this will be curative for Georgia and other mares suffering from chronic uterine infection unresponsive to medical management."
To ensure that her abdominal wall heals properly, Georgia's recovery will consist of a month of stall rest with only two 10-minute daily walks. In month two of her recovery, she will be allowed access to a small run (approximately 20' x 20') in addition to her stall. Finally, she will be allowed access to a large paddock in month three, after which she can begin to work under saddle.
#   #   #
Primary Category
Tags