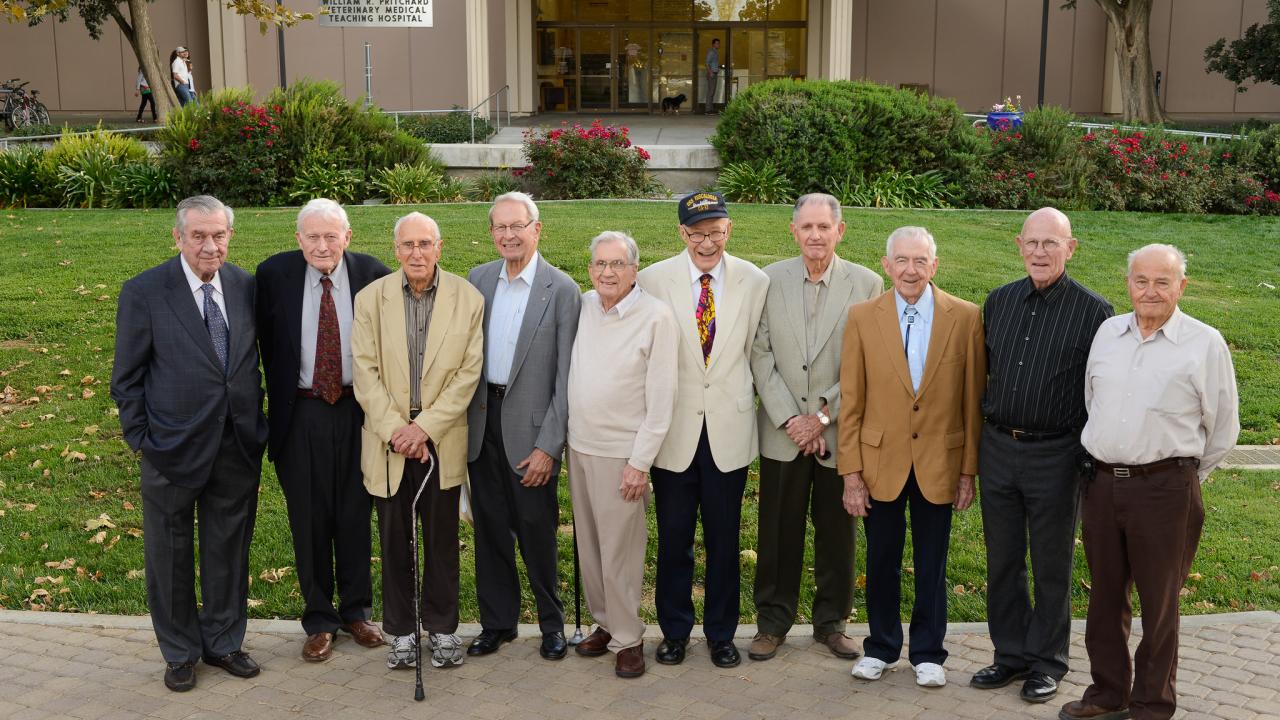 Dr. Norman Baker, DVM, passed away February 16, 2018. Dr. Baker, 91, was a member of the inaugural class of the UC Davis School of Veterinary Medicine (SVM) in 1952. Following his DVM studies, he completed a PhD in parasitology at UC Davis.
Dr. Baker then joined the faculty at the SVM as a professor of parasitology. He stayed at UC Davis for more than 30 years. During his tenure at the SVM, Dr. Baker served as an assistant veterinarian in the Agricultural Experiment Station, earned his doctorate in comparative pathology, and developed the parasitology diagnostic service at the Veterinary Medical Teaching Hospital (VMTH).
Dr. Baker was the first person to recognize that, although the life cycles and pathogenicity of the trichstrongylidae (internal gastrointestinal parasites) of California cattle are similar to those of cattle in the East, Midwest and South, the seasonal cycles of the clinical effects caused by these parasites differed greatly on the West Coast, as compared with the rest of the country, and that strategic treatment of California cattle herds for control needed to be done at different times of the year than were generally recommended in other parts of the country. Dr. Baker also assumed responsibility for keeping up with what was known about all new anthelmintics and parasiticides that were coming out or were in the corporate developmental pipeline, and even evaluating many of them himself, in the field and in his lab, for efficacy.
"After Dr. Baker passed away, I came to appreciate how valuable his expertise had been to me (and private veterinary practitioners) as a resource, since it was no longer a resource that we could benefit from," said Dr. Charles Hjerpe, DVM, emeritus professor at the UC Davis School of Veterinary Medicine. "Norm and I were both on the search and selection ad hoc committees to select two parasitologists to replace him (one of which was current SVM Professor Dr. Pat Conrad). He was a good friend and was very supportive and helpful to me, as I attempted to develop a teaching practice in the VMTH ambulatory clinic, emphasizing disease prevention and herd health in dairy and beef cattle herds in the Davis area."
Dr. Baker was a charter member of the American Association of Veterinary Parasitologists (AAVP), co-founder of the Northern California Parasitologists, and a member of the World Association for the Advancement of Veterinary Parasitology. In 1987, Dr. Baker received the AAVP Distinguished Service Award.
Dr. Baker retired to his home on 20 acres in Dixon, California. In his later years, he became a regular at faculty and alumni socials and receptions. Like the overwhelming majority of the members of the Class of 1952, Dr. Baker was a World War II veteran. He is survived by two daughters.
Category
Tags