School Diversity Information and Resources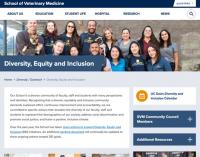 UC Davis Veterinary Medicine is a community that prides itself on its diversity, equity and inclusion (DEI), and understands that we are comprised of individuals having many perspectives and identities. The commitment to social justice through DEI is ongoing, with a mandate from the school's strategic plan and direction provided by the Community Council.
In order to more broadly present the school's DEI activities online, the school recently increased its initiatives and resources on the school's website and made the information easier to find. "Diversity" has been added to the main menu under the "About Us" tab, and the "Diversity, Equity and Inclusion" page includes information on support resources, the school's actions, the Community Council, a dean's statement and more. It also links over to the student diversity pages, which can be accessed directly from the website's main menu under the "Student Life" tab.
Primary Category
Tags