UC Davis Continuing Education Returns to In-Person Events
With its upcoming Canine Behavior Symposium on May 14, the UC Davis School of Veterinary Medicine (SVM) is returning to in-person participation at its continuing education (CE) events. Hosting more than a dozen CE events a year, the school adjusted its presentations to an online approach since the COVID-19 pandemic started more than two years ago, offering both virtual interactive sessions and on-demand content. Going forward, the school will now offer both in-person and online CE content.
"I'm proud of how our team at the Center for Continuing Professional Education (CCPE) quickly adjusted during the pandemic to keep CE available to veterinary professionals who rely on it to maintain their licenses," said Dr. Jodi Westropp, director of the center. "We understood the importance of these events to our professional community and pivoted to a successful online platform, while offering sessions that provide ample time for attendee questions and interaction with the speakers."
But as pandemic restrictions ease throughout the state and on campus, the school and CE participants are excited to be able to share best practices in-person again.
"We're looking forward to 'getting up-close and personal' again," said attendee Annette Miranda, RVT, a clinical coordinator with Carrington College's veterinary technician programs. "I think we'll start to see more student involvement with a return to in-person CE events."
Miranda, who has participated in two UC Davis CE events recently, uses the events not only to stay abreast of the latest advances in veterinary medicine, but to also network with industry professionals. In her role at Carrington, she assists students to connect with clinics where they can achieve the hands-on experience needed to earn their RVT degree and licenses.
"Having our instructors and students attend, and sometimes moderate, the CE events is a great opportunity for us," said Miranda. "Not only are we building relationships for our students to gain externships, but we are also gaining information on the latest techniques in our field. We can incorporate this immediately into our patient care. As an example, we recently learned a new surgical safety and recovery procedure that we're now utilizing."
Miranda also appreciates how CE events provide resources such as how students can get involved in more hands-on training opportunities, like volunteering in fire/disaster recovery efforts that UC Davis coordinates, or helping their own communities prepare for disaster situations.
"I like seeing our students get involved in our community," said Miranda. "That's a big part of what vet techs do, and these CE presentations are an added extracurricular benefit to our students' training and education."
Since many participants appreciated the at-home availability of CE and many people's schedules have been permanently altered due to the pandemic, some UC Davis CE events will continue online going forward, along with hybrid at-home/in-person CE seminars.
"I like having the convenience of attending from home," said Dr. Viranjini Gopisetty, DVM, a general practitioner at Avenues Pet Hospital in San Francisco. "Many veterinarians' workloads have exploded during the pandemic, so the online events work well with my busy schedule."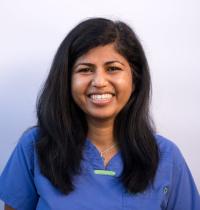 Dr. Gopisetty, a 2015 SVM graduate, has attended several CE sessions in recent years, including the recent Winter Conference.
"I attend UC Davis CE events because I know they will always be good," said Dr. Gopisetty. "They give general practitioners like me insight into the more cutting-edge and recent innovations in veterinary medicine. The events help me improve my patient care by presenting new treatment options that I can suggest to my clients."
The CCPE's "mini bootcamp" series, which consist of 2- to 3-hour sessions on one topic, has been a new way for attendees to engage with the speakers virtually. At a kidney disease session, Dr. Gopisetty learned about new medications to treat the disease that she is now achieving success with at her clinic. During one that focused on diet as it relates to heart disease, she learned about potential negative effects of grain free diets that she now shares with her clients and utilizes the research to help them plan more appropriate diets for their pets.
Like Miranda, Dr. Gopisetty also commented on the relationship building aspect of the CE events and how that has positively affected her patients. When a French bulldog recently presented with a difficult case of a drug-resistant urinary tract infection, she consulted with Dr. Westropp and the two developed a successful treatment plan. And since brachycephalic dogs comprise about 60% of her caseload, Dr. Gopisetty is now more informed about their potential health concerns thanks to her gained knowledge of UC Davis faculty's work with those breeds. She now is more confident in referring those patients to UC Davis when they are need of advanced care.
UC Davis CE events are available to veterinary professionals who are seeking new opportunities for advancing veterinary care, professional development, and fulfilling their CE requirements. Select events are also provided that are appropriate for the public to learn more about animal welfare, disease prevention, and one health issues. The programs provide the most current research and clinical developments in veterinary medicine and improve the quality of life for the community's veterinary patients.
For more information on CE events at UC Davis, please see their website which includes a complete schedule and registration information on upcoming events.
#   #   #
Primary Category
Tags