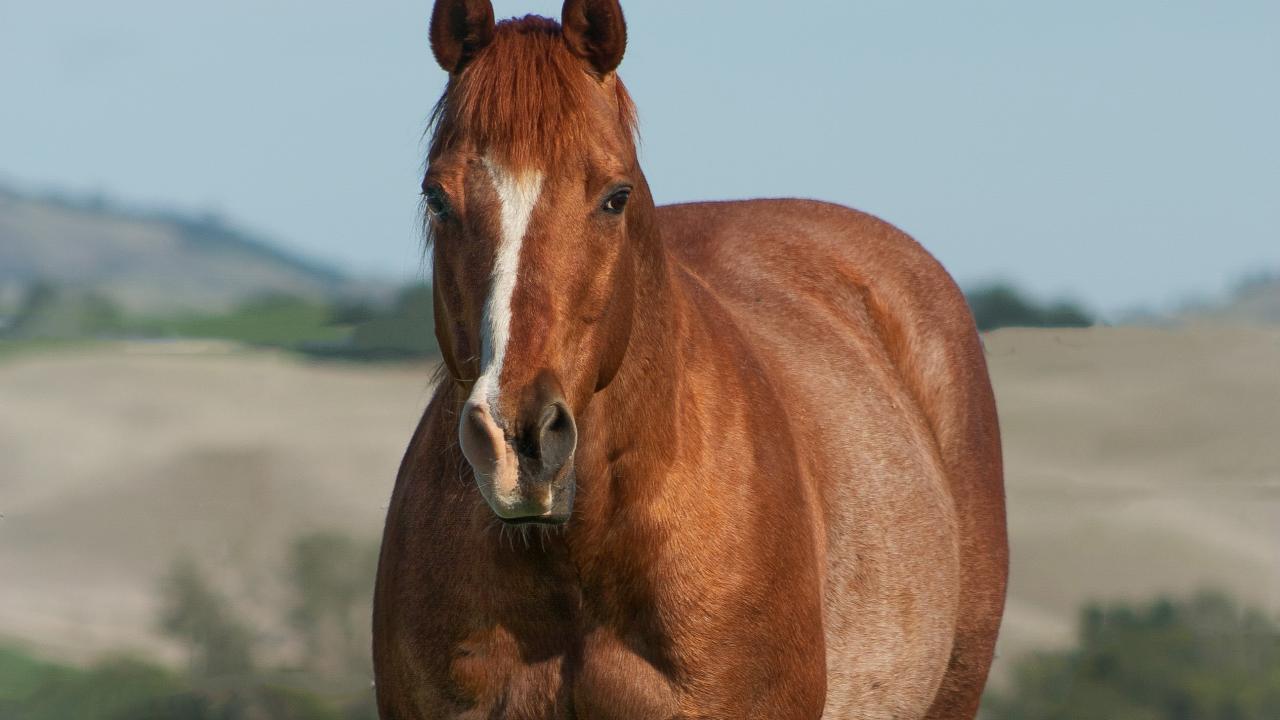 "Case of the Month" – December 2018
Holly, a 23-year-old American Quarter Horse gelding, was found in his paddock lame on the right front forelimb with a wound over his elbow. The UC Davis veterinary hospital's Equine Field Service was quickly dispatched to the ranch, and radiographs taken there revealed a fracture of the right olecranon – the curved top of the ulna in the elbow joint.
Holly's owner, Nicole Coates, found tail hair in Holly's hoof. She suspects he accidentally stepped on his paddockmate's tail while he was lying down and was subsequently kicked for the mishap.
Dr. Lisa Edwards, a fellow with the Equine Field Service, administered pain medication and antibiotics, and prepared Holly for transport back to the UC Davis veterinary hospital by bandaging the wound and placing a splint on his forelimb.
Once back at the hospital, Drs. Larry Galuppo (chief of the Equine Surgery and Lameness Service) and Pablo Espinosa—both board-certified surgeons—took over Holly's case, assisted by surgery resident Dr. Marcos Perez-Nogues. Following further evaluation of Holly's injury, the doctors developed a surgical plan to repair the break.
UC Davis' surgery preparation team has been together for many years. The technicians and anesthesiologists are like a well-oiled machine when it comes to preparing cases like Holly for surgery. Anesthetizing a horse can be a delicate procedure. UC Davis' expertise in this area is more advanced than any other veterinary hospital in California, with more board-certified anesthesiologists than any other facility. In surgery, Drs. Galuppo, Espinosa and Perez-Nogues repaired Holly's broken leg with internal fixation using a 12-hole locking compression plate and screws.
Coates, along with her husband Andrew, had high hopes for Holly's recovery. They've owned him for many years, and he has been a mainstay in their children's lives. Progressing from ponies when they were young, Holly was there to help teach the children to ride a full-size horse, and their son showed Holly as a cutting horse.
"He's a member of our family," said Coates. "He's like our children's caretaker, so it was important for us have this surgery succeed."
For the first month of recovery, Holly was kept on strict stall rest wearing gel orthotic boots. UC Davis provided check-ups at 1-, 2-, 3-, 6-, and 12-month intervals. While his recovery was slower than hoped, Holly did show positive signs during his recovery – most importantly that there was no sign of laminitis in either front hoof. Veterinarians increased his exercise with each recheck appointment until he was hand walked for 15 minutes a day at 6 months (occasionally being ridden by the Coates' daughter), increasing to 30 and 45 minutes of walking. By 12 months, he was allowed to trot in a larger turnout.
"We could not be more pleased with our experience with the dedicated professionals at UC Davis," said Coates. "From the expert care on the day the injury occurred to the numerous check-ups throughout the year, we always felt that we got the best care that this special horse deserved. We are so thankful for the team at UC Davis who went above and beyond for Holly."
Dr. Galuppo is encouraged by Holly's progress and hopes for a full recovery.
#   #   #
Category
Tags