UC Davis School of Veterinary Medicine Recognized for Highest-Ever Level of NIH Funding
by Amy Young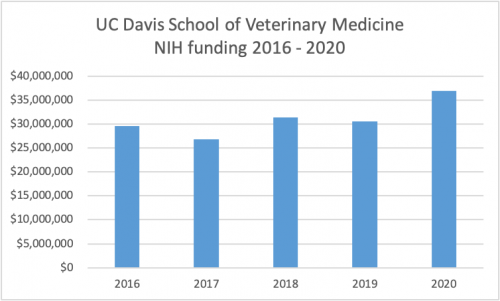 The UC Davis School of Veterinary Medicine has topped Blue Ridge Institute for Medical Research's ranking of U.S. Schools of Veterinary Medicine, handily capturing the top spot for the twelfth year in a row. The school secured $36.9 million in National Institutes of Health (NIH) funding in 2020, an increase of more than $6 million over the previous year.
"More than ever, the long-term health of our planet largely depends on scientifically sound research that recognizes the value of all species and their physical environment," said Dr. Isaac Pessah, associate dean of Research and Graduate Programs. "This distinction in NIH funding reflects the immense quality of our faculty, who are clearly at the forefront of addressing the complex challenges that will ultimately influence the health of human society."
The Blue Ridge Institute for Medical Research publishes ranking tables of NIH funding for U.S. Schools of Medicine and Veterinary Medicine annually. Results are derived from data compiled and released by the NIH at the close of the federal fiscal year.
The UC Davis School of Medicine also ranked among the nation's leading medical schools for NIH funding in 2020. The schools work together closely to ensure the wellbeing of people, animals and the environment through a One Health approach to collaborative problem solving.
Primary Category
Tags