UC Davis Veterinary Hospital Celebrates Dr. Jane Sykes' Leadership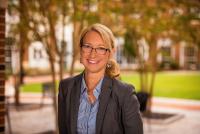 Dr. Jane Sykes, chief veterinary medical officer (CVMO), will step down from her leadership role at the UC Davis veterinary hospital following the completion of her 5-year term. Under her leadership, set to expire June 30, the hospital reached new heights of success and continued to grow its reputation as one of the preeminent clinical facilities in the country. The School of Veterinary Medicine (SVM) is currently conducting a search for her replacement.
As CVMO, Dr. Sykes had administrative responsibility for the management and fiscal integrity of the hospital, ensuring the academic quality of the clinical learning environment for DVM students and house officers, and the provision of clinical care and operational efficiency of all academic and clinical service activities. She was also responsible for ensuring the ethical and professional conduct of the more than 1,000 hospital faculty and staff members; compliance with the California Veterinary Medicine Practice Act; and creating a culture of inclusion in support of diversity that embraces the UC Davis Principles of Community. During her term, Dr. Sykes also completed a Master of Business Administration degree from the University of Georgia.
During her tenure, Dr. Sykes took on a critical role with the Veterinary Medical Center (VMC) Facilities Planning Committee, as UC Davis looks to the future of the hospital, envisioning a state-of-the-art VMC to be constructed on campus in the coming decade. The VMC campaign will bring a world-class veterinary facility to UC Davis – one that optimizes patient care, collaboration, clinical advancements, and translational research.
"The school is deeply indebted to Dr. Sykes for her hospital leadership," said Dr. Michael Lairmore, dean of the SVM. "We congratulate her on the many accomplishments achieved at the hospital over the past five years. Dr. Sykes has contributed greatly to advancing the VMC and has laid the groundwork for that campaign's success going forward."
The school is well into Phase I of the VMC campaign, having completed several growth projects and accomplished other initiatives under Dr. Sykes' leadership, including:
Created a team approach to hospital leadership through engagement of the hospital administrator, directors of small and large animal clinical services, Diagnostic Imaging Service, Clinical Diagnostic Laboratories, and other co-leaders in daily conversations about hospital operations. Worked to acknowledge the efforts of the team and support constructive and positive team relationships that adhere to the UC Davis Principles of Community.
Initiated the development of the first hospital-specific strategic plan to guide decision making.
Spearheaded the creation of directors of professional DVM student clinical affairs and house officer affairs to improve support for students and house officers.
Engaged SVM Information Technology Services to strive for completely paperless operations, including creation of online pharmacy ordering, online laboratory ordering, development of client and referring veterinarian portals, electronic imaging ordering, electronic ward orders, telemedicine, artificial intelligence/machine learning/natural language processing, and multiple electronic records upgrades.
Secured funding to support the hire of the first wellness counselor for hospital clients and house officers.
Created the internal hospital website to centralize items such as policy documents, memorandums of understanding, forms, and financial information in support of transparency of operations and access to current information.
Solidified hospital committee activities to promote improved operations. Created the Committee on Clinical Outcomes to improve prevention of adverse events and the Hospital Executive Committee to improve fairness of assessment of clinical faculty performance in hospital letters and to obtain input on policies and procedures.
Updated and created dozens of policies and procedures to enhance administrative operations of the hospital.
Drafted the first by-laws and clinical privileges documents for the hospital.
Investigated and implemented a new call system that allowed collection of data on call metrics for the first time in the hospital's history, ultimately allowing improvement in client services call response.
Spearheaded assessment of hospital leadership structure and needs, which will guide future improvements in administrative structure.
Designed and implemented the first licensure curriculum, University Veterinary Licensure, and obtained premise licensure as required by the California Veterinary Medical Board.
Grew the Community Medicine Service from one doctor to four in order to improve entry-level DVM student training in community medicine.
Expanded the Integrative Medicine Service to meet the needs of pet owners in the community.
Implemented regular feedback systems from clients and referring veterinarians through engagement of professional surveys to improve operations.
Strengthened interactions with the communications and marketing team to optimize internal and external communications.
Developed a new year-long house officer curriculum to cover hospital operations, clinical research, communication, wellness and resilience, time management, and telemedicine.
Expanded patient care access by renovating outdated space into two new examination rooms in the hospital's Small Animal Clinic (SAC), where clinical space is at the most premium in the hospital.  
Maintained accreditation by the American Animal Hospital Association, a distinction less than 15% of animal hospitals in the United States and Canada achieve.
Worked with the Clinical Diagnostic Laboratories to bring MALDI-TOF mass spectrometry to the microbiology laboratory, with more rapid, less expensive, and more accurate identification of bacterial pathogens.
Increased the nation's largest house officer (residents, fellows, interns) program to 127 positions in 39 advanced training disciplines. The program has drawn participants from dozens of countries and nearly all 50 states. Supported new fellowship opportunities in multiple specialty disciplines to grow the hospital's reputation for training in advanced specialty veterinary medicine.
Strengthened relationships with industry partners to promote industry support of hospital operations and the school as a whole.
Instituted the "Cultural Journey Toward Excellence" and developed its five pillars of success (Pursue Excellence, Trusted Dialogue, One Team, Value People, and Realize Our Vision), along with the initiative's VPETT employee recognition program.
Supported an increase in the hospital's annual caseload to more than 60,000 patients.
Created the Feline Treatment and Housing Suite, an all-in-one facility that allows clinicians and technicians to treat and house cats in a state-of-the-art treatment center and hospitalization ward.
Created a new minimally invasive operating room in the SAC and relocated the post-anesthesia recovery (PAR) ward; spearheaded creation of the intermediate care ward; developed idea for possible future relocation of induction in PAR and vice versa to expand induction space.
Identified space to expand clinical research activities for ophthalmology, cardiology, and the Center for Clinical Trials.
Worked to secure funding for several new pieces of equipment, including a cardiology fluoroscopy unit, a navigational neurosurgery system, a diagnostic imaging service fluoroscopy unit, endoscopy equipment, and multiple ultrasound units for both small and large animals.
Developed new laundry room, locker rooms, and additional support facilities throughout the hospital, as well as many other renovations and infrastructure improvements throughout the 51-year-old hospital complex.
Increased future access to surgeries with the Outpatient Orthopedic Surgery Center project, currently in its final design stages.
Planned and begun hiring staff to support a new urgent care clinic.
Oversaw the completion of the new Large Animal Support Facility, as well as the relocation of blood donor animal pastures, to facilitate future needs of the VMC.
Expanded the Companion Exotic Animal Medicine and Surgery Service's workspace with the creation of three new examination rooms to enhance the service's capabilities for treating exotics patients.
Implemented many initiatives during the COVID-19 pandemic to remain open 24/7 as the primary resource for Northern California animal owners.
Led the hospital's Disaster Response Committee through several wildfire seasons that saw sudden influxes of dozens of burned and injured patients, many times when the hospital was at or near capacity.
Updated and/or enhanced several services' clinical spaces, including relocation of the Cardiology Service to larger quarters, with a planned Dermatology Service relocation following that.
Co-led the VMC's All Species Imaging Center project to fruition (including equipment selection), currently in the construction bidding process.
"It was an honor to lead one of the foremost veterinary hospitals in the country," said Dr. Sykes. "I was thrilled to support our team of talented and caring clinicians, staff, and students in bringing cutting-edge veterinary care to animal owners throughout California and beyond. As our new Veterinary Medical Center becomes a reality, I have no doubt that we will be able to accelerate the rate we make medical breakthroughs and dramatically improve the health and well-being of animals."
A faculty member since 2002, Dr. Sykes previously served as interim director of the hospital, director of the SAC, chief of the Small Animal Internal Medicine Service, and biosecurity officer of the SAC. Outside of UC Davis, she was president of the specialty of Small Animal Internal Medicine within the American College of Veterinary Internal Medicine and is now president-elect of the college. Dr. Sykes also served as president and now secretary-treasurer of the International Society for Companion Animal Infectious Diseases, an organization she founded in 2006.
Dr. Sykes hails from Melbourne, Australia. She completed her residency at the University of Minnesota, where she was also a clinical faculty member before starting at UC Davis. She will remain as a professor in the SVM.
#   #   #
Primary Category
Tags