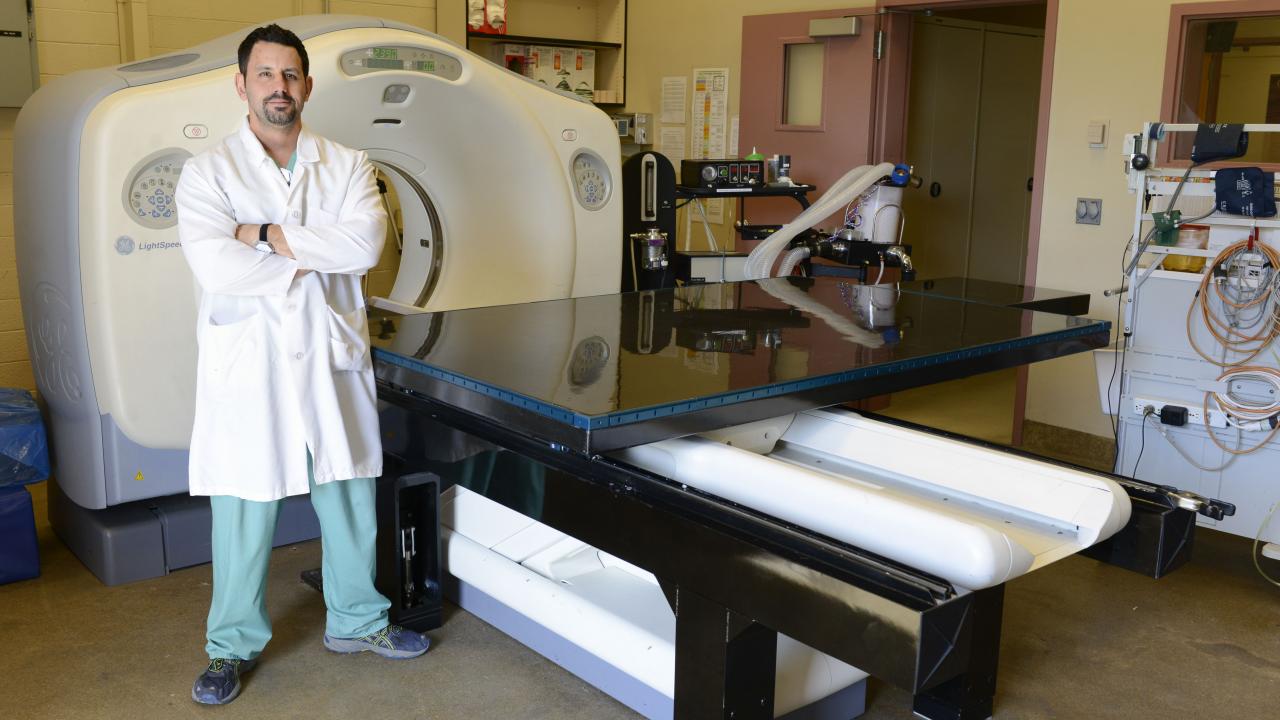 ***Click here for HorseTalk coverage of this story***
***Click here for The Horse coverage of this story***
***Click here for DVM360 coverage of this story***
***Click here for The Hoof Blog coverage of this story***
***Click here for Veterinary Practice News coverage of this story***
***Click here for Paulick Report coverage of this story***
***Click here for Modern Equine Vet coverage of this story***
 
Performing a CT scan on a horse is a laborious process that takes a team of nearly a dozen technicians and veterinarians. It involves forklifts and cranes, and the skilled techniques of veterinary technicians who have mastered this task after years of repetition. Thanks to an innovative UC Davis imaging technician, however, that process just got a lot less complicated.

Jason Peters, RVT, RLAT, a technician in the hospital's Diagnostic Imaging Service, recently created a new CT table that will drastically improve how scans on horses are performed.

"We set out to acquire a new large animal table for CT," said Peters, noting that the existing table has been in use at UC Davis for 30 years. "Due to our room configuration, however, we could not purchase a pre-existing table. So, we decided to build our own."

After discussing types of materials for the project, and knowing they would need to build a massive table that could handle thousands of pounds, carbon fiber stood out. Carbon fiber is a new age material that can be molded to take any shape and strength. NASA uses carbon fiber for many applications in the space program due to the strength-to-weight ratio, high stiffness, chemical resistance, and temperature tolerances. The material is also used in exotic sports cars (Ferrari, Lamborghini, etc.), motorcycles, bicycles and sail boats.

"Just because something is made from carbon fiber, however, doesn't mean it's strong," said Peters. "If it's not molded correctly, that greatly affects the strength and durability of the piece. So we made sure to work with professionals who knew the best techniques."

Using plans developed in conjunction with the UC Davis College of Engineering, Peters worked with Finishline Advanced Composites, a Bay Area carbon fiber manufacturer that specializes in automotive parts. Together, they designed a table that weighs only 100 pounds, but can handle up to 10,000 pounds in any given area. This ensures that the table can handle off-balanced loads and certain impacts to the table during loading and unloading of a large animal patient. The old table weighs twice as much and is not nearly as strong.

Another drawback to the old table is its stationary position. If a horse needed both front and hind legs scanned, the horse would need to be physically repositioned by the technicians. Keeping this in mind, Peters incorporated slide actuators under the table that enable it to move side-to-side and to-and-from the CT machine. Now, the horse can remain stationary, and the table can be easily moved into position.

When a small animal CT is immediately following a horse, the new table can be quickly dismantled by easily removing locking pins in the legs and lifting the table out of place. Peters estimates that it now takes half the time it used to take to switch from small animal to large animal.

Extension plates were also manufactured to provide an extra surface for anatomy that does not fit on the main table. These pieces were made in the same manner as the main table and were engineered to hinge onto the main table at any given point.

The new table accommodates skulls and extremities of the equine, bovine, or exotic animal.
See an equine CT scan in action at UC Davis
#   #   #