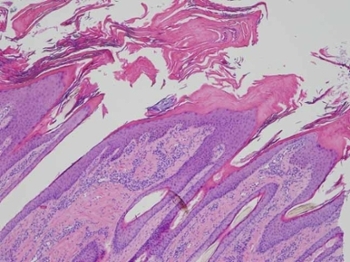 Pathology Consulting
Dermatopathology: Cannon keratosis in a horse - marked superficial compact and parakertotic hyperkeratosis with extension into the follicular infundibula.
VMTH Pathology is proud to offer specialty consulting, utilizing the many years combined expertise of our world-renowned faculty.
Our Mission - Accurate and Prompt Diagnoses
Our Goal - Support for Optimal Patient Care
Services include:
Dermatopathology
Comparative Ocular Pathology
Veterinary ophthalmologists and general practitioners can send ocular samples (globes, periocular tissue, orbital tissue, etc.) for processing and interpretation by Dr. Christopher Reilly, a board-certified anatomic pathologist and faculty member with training and experience in ocular pathology. A special submission form is available (pdf), which facilitates lesion orientation and special requests relevant to ocular submissions. The service is competitively priced, and offers the consulting expertise of colleagues at the VMTH, including experts in dermatopathology, neuropathology, and leukocyte pathology, as well as extensive immunohistochemistry and special staining techniques. Clinicopathologic correlates are emphasized, and collaboration on case reports and other clinical studies is encouraged. For more information, current pricing, or to set up an account with the VMTH, call 530-752-1368, or email UCDCOPS@ucdavis.edu.