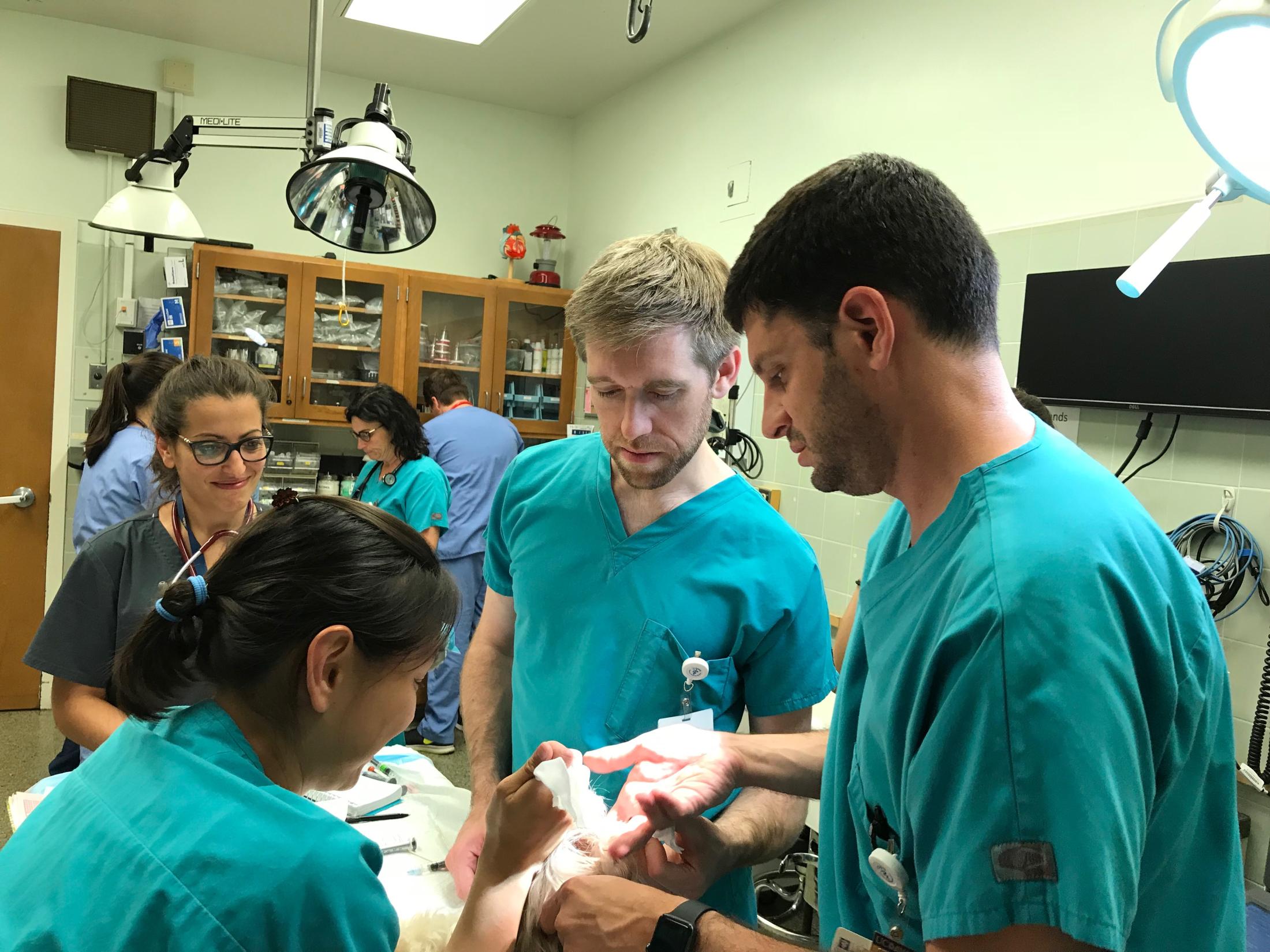 Residency Program in Small Animal Emergency Medicine and Critical Care
This is a three year, postdoctoral, non-degree training program. Minimum qualifications include graduation from an accredited school of veterinary medicine and a one-year small animal rotating internship or equivalent practice experience. Acceptance into the second and third years is based on merit, desire, and successful completion of the earlier year. The selection of residents is made on the basis of academic achievement, career objectives, letters of recommendation, interpersonal skills, clinical skills, personal narrative, and pertinent experience.
Objectives of the program:
The objectives of this program are to train individuals to be excellent emergency and critical care clinicians with a focus on the development of critical thinking, an in-depth knowledge base, and life-long learning skills. The program provides experience and expertise in clinical teaching and guidance in the area of research. Our Veterinary Medical Teaching Hospital is an approved Residency Training Facility for the American College of Veterinary Emergency and Critical Care and the residency program meets all the requirements for board eligibility.
The need for specific training:
The specialty of emergency and critical care is currently growing with over 700 board-certified specialists and approximately 180 residents in training. The UC Davis SA ECC program emphasizes the importance of understanding physiology and provides an intensive didactic resident rounds course. Our high caseload of complex cases exposes the residents to a broad variety of conditions with ample opportunity to participate in cutting edge veterinary medicine. This program prepares individuals to be highly competent in stabilization and management of the emergency patient as well as be capable of providing high level critical care. Particular strengths of our program include the training in respiratory medicine, mechanical ventilation, physiology of hemostasis, and hemodynamic stabilization. It is excellent training for future academicians as well as private practitioners. This program does not provide extensive surgical training beyond that required for board credentials.
Course of activities:
Sixty-five percent of the residency is spent on clinic duty, dedicated to either emergency receiving or ICU, under the direction of an emergency/critical care specialist. Residents have case-based interactions with specialists in diagnostic imaging, surgery, cardiology, neurology and neurosurgery, anesthesia, oncology, renal medicine and hemodialysis, internal medicine, dentistry and oral surgery, dermatology, ophthalmology, nutrition, clinical pathology, and anatomic pathology. Fifteen percent of the residency is spent in non-ECC specialty rotations as required by the ACVECC. Residents are on weeknight call approximately 30% of the time and on ICU weekend duty for 25 to 30 weekends of the 3-year period. Protected off-clinics time is provided for preparation and completion of a research project, attending scientific meetings, and vacation.
Clinic duty on the emergency service includes primary assessment, management, and treatment of primary, secondary (referral), and tertiary referral emergency cases. The majority are weekday or swing receiving shifts under the direct supervision of an ACVECC Diplomate with approximately 4–5 weeks/year of overnight and weekend shifts included in the schedule. Residents are responsible for client communications, referring veterinarian communications, and timely maintenance of an acceptable medical record. Clinic duty when working in the ICU includes examination and evaluation of ICU patients, consulting with students and clinicians of other services regarding patient management, and performance of procedures including advanced catheter placement and care of patients undergoing mechanical ventilation.
A primary aim of this residency program is to provide a high level of academic instruction. Resident rounds are held weekly for 10 months / year; residents are required to complete assigned reading and participate in these sessions. In addition, journal club is held weekly and residents are required to read the assigned article and to contribute to the discussion. Residents do at least two didactic lecture presentations annually including E/CC grand rounds, resident rounds, and student club events, which easily fulfill the ACVECC requirement for didactic teaching.
Residents in our program participate in clinical and didactic student and specialty intern teaching. Residents also participate in teaching veterinary student laboratories. Performance of a research project is required for ACVECC board certification and to attain the UC Davis E/CC residency certificate. Residents will be guided and assisted through all stages of development of a research project including project design, grant writing, data generation, data analysis, manuscript preparation, and abstract presentation.
Structure and organization:
Day clinic duty starts at 7:00 am, though exact start time is determined by case requirements. The receiving day ends at 5:30 pm but residents are responsible for completing their own patient assessments, diagnostic tests, institution of treatment, and completion of the medical record before leaving the building. The ICU day is finished at ~6:00 pm or when all patients are adequately stabilized. Dedicated faculty members are on duty in both the emergency room and the ICU all day on weekdays. During after-hours, there is a board-certified E/CC specialist on call at all times for phone or in-person consultation. The majority of case management and student teaching is performed under direct supervision of a faculty member.
Residents share office space. There is access to numerous shared computer terminals throughout the hospital and an extensive library of relevant hard copy and digital textbooks is readily available. The Medical Library is in an adjacent building and the University has full online access to many medical resources including PubMed, Cab Abstracts and Web of Science. The facilities and resources for research opportunities are extensive.
Faculty participating in the program: Kate Hopper (50% clinical appointment); Karl Jandrey (35%); Steven Epstein (70%); Jamie Burkitt (70%); Ron Li (50%); Angela Borchers (90%); and Kate Farrell (90%).
Process of evaluation:
Residents receive 4 formal evaluations (written and verbal) during the residency program at 6 months, 12 months, 2 years, and 3 years. More frequent evaluations may be performed as needed. If resident performance is considered inadequate they will receive written letters of warning describing the concerns and what is required to rectify them and in what time frame. If these performance issues are severe the resident will be informed that failure to improve could result in termination from the program. If the performance of the resident fails to improve despite two or more of these warnings the resident may be dismissed.
Certification:
Successful completion of a minimum of 45 weeks of clinical duty in emergency receiving and 40 weeks of clinical duty in the ICU, participation in rotations with other services as required by ACVECC, and completion of a research project at UC Davis during the residency period are required in order to be awarded a residency certificate.
State Licensure:
SPECIAL NOTE: The California Veterinary Medical Board requires all veterinarians working at the University of California, Davis with primary patient care duties to hold either a California license or a special University license. To obtain a University license, veterinarians that are not licensed in the state of California will be required to take a 3-day course on regionally-important diseases and a short open-book jurisprudence test, in addition to being background checked. The course will be given, via webinar, in April so that you do not have to be in Davis. You can attend this webinar from any location. The cost of licensure will be the responsibility of the trainee (currently $600). This limited license only permits individuals to work in California as veterinarians for University-related practice. Although veterinarians that do not have hands-on patient care duty (e.g., anatomic pathologists, clinical pathologists) are not required to hold this license, obtaining the license is encouraged whenever your activities may have an impact on animal-owning members of the public. If in doubt, please contact the Office of the CVMO for clarification.
Advanced degree during residency:
None
California Driver's License:
Not required.
MINIMUM QUALIFICATIONS
Graduated from a college or school of veterinary medicine accredited by the AVMA; or possess a certificate issued by the Educational Commission for Foreign Veterinary Graduates (ECFVG); or are legally qualified to practice veterinary medicine in some state, province, territory, or possession of the United States, Canada, or other country.

Have demonstrated unquestionable moral character and professional behavior.

One year rotating internship or equivalent mentored practice experience.
Requirements for foreign applicants:
In addition to the minimum qualifications above, foreign graduates must also meet the following requirement.
Must be eligible for a TN (Mexico and Canada) or J-1 visa with no bars or home country requirement. Also, while the hospital will initially pay the cost of the VISA application fee, you will be expected to reimburse the hospital upon your acceptance and arrival in your new house officer position 

Information for Foreign Applicants
Service/Board requirements:
Certifications
TOEFL – No but encouraged
NAVLE – No
PAVE - No
ECFVG - No
OTHER - No
Selections will be made in accordance with the guidelines of the Veterinary Internship/Residency Matching Program. For application procedures, salary and benefits, and other information about the residency program, please see General Information.
Application: Interview is required for consideration and are by invitation only. Skype interview is required at minimum; in-person interview can be arranged if desired. All applicants who wish to interview for the residency should submit a CV to Dr. Jamie Burkitt at jmburkitt@ucdavis.edu by Monday, December 2, 2019, for strongest consideration. Applicants who submit a CV between December 3 – 9 may be considered, and those who do not submit a CV by December 9 will not be considered for the program. The Skype interview will be approximately 30 minutes in length and will be scheduled either later in December or in early January. In-person interviews are not necessary for consideration but can be arranged if the candidate desires.
Please note: Foreign nationals must be eligible for either a TN or J1 visa without bars or home country requirement. 
The University of California, Davis, and the Veterinary Medical Teaching Hospital are interested in candidates who are committed to the highest standards of scholarship and professional activities, and to the development of a campus climate that supports equality and diversity.
RESIDENTS MUST BE ABLE TO ARRIVE AT THE HOSPITAL WITHIN 15 MINUTES OF AN EMERGENCY CALL; THEREFORE, RESIDENTS MUST PLAN TO LIVE WITHIN 15 MILES OF THE HOSPITAL.