Large Animal Ultrasound Fellowship
UC Davis Large Animal Ultrasound Service with Tucker, Dr. Mary Beth Whitcomb (Faculty), Dr. Betsy Vaughan (Faculty) & Dr. Sue Jones (2014-15 Ultrasound Fellow)
The goals of the Large Animal Ultrasound Fellowship are to produce veterinarians with advanced technical and interpretative skills in this important clinical discipline. The species emphasis is equine, but fellows will gain exposure to other large animal species such as cows, goats, sheep and pigs. This position is an 80% clinical appointment with 20% time for off clinic pursuits (see below). Annual salary is $30,492 with medical benefits included. Housing is not provided. The fellowship is one year in length, and runs from July 1-June 30 (may begin earlier if candidate is available).  

This webpage is designed to provide potential applicants with detailed information regarding the program, including overall service information and what to expect from the fellowship. Graduates of the program have gone on to secure faculty positions in large animal ultrasound, residencies in radiology and equine surgery and established regional ultrasound consulting services.  
Notice to potential candidates: We are happy to announce that we are currently recruiting for the 2018-19 Large Animal Ultrasound Fellow. The fellowship will begin July 1, 2018; however, an earlier start date is possible if the candidate of choice has earlier availability. The application deadline is January 16, 2018. Please also note that visitation, which is strongly recommended, will ONLY be available from January 29-March 2, 2018. Please contact Dr. Betsy Vaughan (mevaughan@ucdavis.edu) to schedule your visit.
About the UC Davis Large Animal Ultrasound Service
The Large Animal Ultrasound Service provides diagnostic imaging services five days per week. The majority of the service caseload is supported by the hospital's Equine Surgery and Lameness Service, therefore, a large percentage of ultrasound examinations are musculoskeletal in nature. However, a wide variety of ultrasound exams are performed. The candidate selected will receive training in the sonographic evaluation of all areas, including the abdomen, thorax, cardiac, and ophthalmologic exams. The equine caseload consists of a variety of performance horses, including dressage, hunter/jumpers, race, endurance horses, western performance horses (cutting, reining, roping, barrel racing), pleasure horses and specialty breeds such as Peruvian Pasos. A working knowledge of performance horses is beneficial. There is little to no emergency duty. Emergency colic ultrasound evaluations are performed by the surgery resident on call. The Equine Medicine Service and Livestock Medicine and Surgery Service perform medical emergency ultrasound evaluations.
Our Equipment
The Large Animal Ultrasound Service has a full range of equipment available for all aspects of equine, livestock and small ruminant ultrasound. Our state-of-the-art ultrasound machines are carefully selected for their superior imaging abilities. We are fortunate to have two excellent ultrasound console systems that allow us to evaluate two patients simultaneously. Both machines excel at musculoskeletal and abdominal imaging. We also have a grab-n-go portable system that facilitates quick responses to stall-side emergencies, intra-operative and other procedures. Transducers available include 6-18 MHz and 5-10 MHz linear transducers for musculoskeletal use, 4-8 MHz microconvex transducers for neonatal and small ruminant abdominal/thoracic imaging, 2-5 MHz curvilinear transducers for adult equine abdominal and thoracic imaging and a 2-5 MHz phased array transducer for cardiac imaging.
Our Faculty and Staff
Mary Beth Whitcomb, DVM, MBA, ECVDI (Large Animal Associate)
Betsy Vaughan, DVM, DACVSMR (Section Head)
Allison Bernardi (Technician)
Our Large Animal Ultrasound Fellows
2015-16 Fellow:  Lothar Vanslambrouck, DVM
Dr. Vanslambrouck is a 2013 graduate of Ghent University Faculty of Veterinary Medicine. After his fellowship, he returned to the Middle East and worked as the lead veterinarian for the Royal Family of Oman. 

2014-15 Fellow:  Sue Jones, MVB, MRCVS        
Dr. Jones initially returned to Australia to begin a faculty position with the University of Adelaide School of Animal and Veterinay Sciences. She is currently in her second year of an Equine Sports Medicine Residency at the University of Melbourne's U-Vet Werribee Equine Centre.
2012-14 Fellow:  Georgette Shields, DVM, DACVR
Dr. Shields completed her radiology residency at Colorado State University in 2017. She has recently moved to the San Diego region and is currently working in private practice as a boarded-certified radiologist.
2011-12 Fellow:  Rachel Gottlieb (Kaplan), DVM
Dr. Gottlieb returned to Northwest Equine Performance in Mulino, Oregon as an associate veterinarian with a special interest in ultrasound and imaging. Dr. Gottlieb travels frequently to major equestrian events to perform ultrasound exams on high level performance horses.  
2009-11 Fellow:  Beth Biscoe, DVM, DACVR
Dr. Biscoe completed a radiology residency at Washington State University in 2014 and is a board-certified Diplomate of the American College of Veterinary Radiology. She is currently a staff radiologist at Animal Imaging in Irving, Texas where she enjoys seeing both small and large animal patients.
2008-10 Fellow:  Alex Young, BVSc, DACVR
Dr. Young became a board-certified Diplomate of the American College of Veterinary Radiology after completing her radiology residency at UC Davis in 2014. After 3 years at the University of Sydney as a faculty radiologist, Dr. Young is now a senior lecturer in radiology at the University of Queensland.
2007-08 Fellow:  Karine Pader, DVM, DACVS
Dr. Pader went on to complete a large animal surgery residency at Purdue University College of Veterinary Medicine. After a position with the University of Montreal, Dr. Pader returned to her native France where she is currently in private practice. 
2006-07 Fellow:  Suzanne Brenner, DVM
Dr. Brenner has focused exclusively on equine ultrasound and regularly consults at Pioneer Equine Hospital in Oakdale, CA and with other veterinarians in the area. 
2005-06 Fellow:  Wade Tenney, DVM
Dr. Tenney was on staff at Steinbeck Country Equine Clinic for several years before becoming an Assistant Clinical Professor at Tufts University where he is currently in charge of their Large Animal Ultrasound Service. 
2003-05 Fellow:  Betsy Vaughan, DVM, DACVSMR
Dr. Vaughan has been a faculty veterinarian in the Large Animal Ultrasound Service at UC Davis since completing her 2-year ultrasound fellowship at UC Davis. She is currently Section Head of the Large Animal Ultrasound Service. 
2002-03 Fellow:  Agustin Almanza, MV
Dr. Almanza has practiced throughout Europe and South America and is currently based in his home country of Argentina. 
2001-02 Fellow:  Katie Flynn, BVMS, MRCVS
Dr. Flynn is a veterinarian with the California Department of Food and Agriculture.  She is well-known to California equine veterinarians for her work monitoring and communicating about infectious disease outbreaks.  
Our Caseload
Since the program's inception in 2001, the Large Animal Ultrasound Service has averaged an annual caseload of nearly 1,200 ultrasound exams, with strong representation of exams in musculoskeletal, spinal/pelvic, abdominal, ultrasound guided procedures, and acoustic shock wave treatments.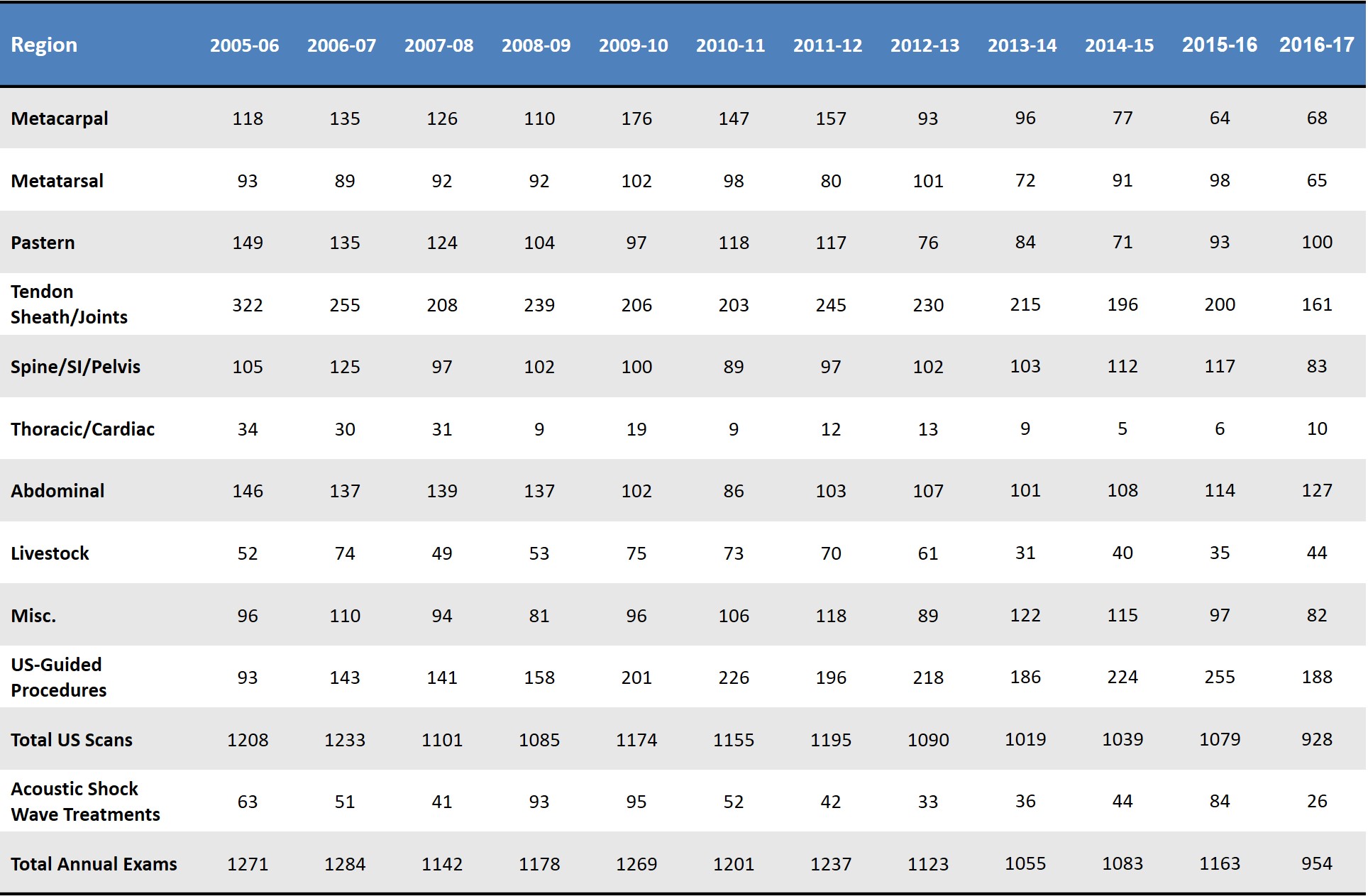 Fellow Clinical Responsibilities (approximately 80%)
The fellow will perform and interpret ultrasound examinations on patients presenting to the Large Animal Ultrasound Service under the direction of faculty from the Department of Surgical and Radiological Sciences. Fellow will also perform shock wave treatments on equine musculoskeletal cases. 
The fellow will be involved in the clinical instruction of fourth year veterinary students during their senior year rotations.
The fellow will be involved in the laboratory instruction of third year veterinary students.
The fellow will assist with weekly Combined Imaging Rounds in conjunction with the large animal radiology resident(s) and students.
The fellow has the option to complete a 2-3 week small animal ultrasound clinical rotation in the final months of the fellowship. This rotation will give exposure to comparative ultrasonographic anatomy.
The fellow will attend weekly Known Case Conference (KCC) with the Diagnostic Imaging Service, and will interpret one Large Animal Ultrasound Service case weekly.
The fellow will also be expected to embrace their role as Ambassador for the Large Animal Clinic and support efforts to enhance the reputation of the Large Animal Clinic, the Large Animal Ultrasound Service and fellowship program.
Fellow Off-Clinic Time (approximately 20%)
Off-clinic time is provided to allow the fellow to pursue individual research interest(s) under the guidance of faculty in the Department of Surgical & Radiological Sciences with the expectation of presentation at UC Davis House Officer Seminar Day and eventual publication in a refereed journal.
The fellow will also have the opportunity to rotate through other Services, according to the fellow's interests.
Attend veterinary courses in small and large animal ultrasound.
Vacation – the fellow accrues 16 hours per month (24 days in a one-year period).
Requirements for Application
DVM or equivalent degree from a school of veterinary medicine (AVMA accredited preferred)
At least one year of equine related private practice or internship experience
Working knowledge of performance horses
Demonstrated interest in large animal ultrasound
Application materials (see below)
Visitation is strongly recommended for qualified applicants. Visits are limited to 1-2 days, and are arranged by contacting Dr. Vaughan from January 29 - March 2, 2018.
Foreign nationals must be eligible for J1 visa with no bars or home country requirement
NAVLE is not a requirement of the program
Application Materials - All application materials are due by January 16, 2018.
Curriculum vitae
Letter of Intent
Three letters of recommendation
Veterinary Academic Transcript(s)
By email:
All application materials including letters of reference (on letterhead, with signature), may be emailed to the House Officer Affairs Coordinator at nijadams@ucdavis.edu.
By mail:
Send application materials to:
Nicole Adams, House Officer Affairs Coordinator
UC Davis Veterinary Medical Teaching Hospital
One Shields Ave.
Davis, CA 95616-8747
We will notify the successful candidate by mid-March 2018.
Additional information regarding the Large Animal Ultrasound Service and the fellowship program may be obtained by contacting Dr. Whitcomb or Dr. Vaughan.