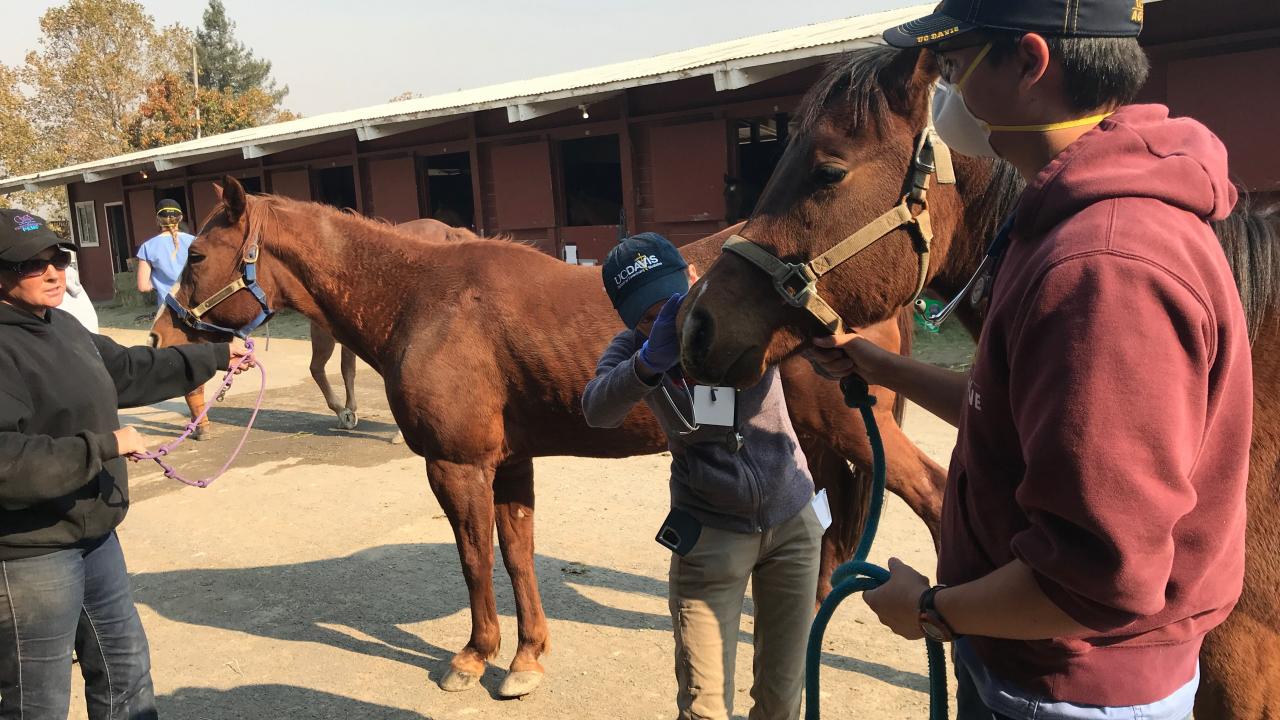 Created by Monica Lam, Sruti Mamidanna and Alice Woelfle for KQED's "The California Report"
At the Sonoma County Fairgrounds in Santa Rosa, where more than 100 evacuated animals were sheltering in stables, the mood was upbeat. The long rows of stalls were occupied by a motley menagerie of all shapes and sizes: Most of the animals were horses but there were also alpacas, goats, sheep, and surprisingly, a pair of emus.
Around 10 a.m., some animal owners began to arrive. They helped themselves to donated apples, carrots and hay and walked their animals around the yard.
As flames from the Kincade Fire grew and evacuation orders began rolling out, some residents had to make the difficult decision to leave their animals behind as they fled their homes. That's where Dr. John Madigan and his team stepped in.
Madigan founded and coordinates the UC Davis Veterinary Emergency Response Team (VERT), a group of volunteers who help rescue animals and provide medical care during disasters. VERT was started more than 20 years ago during a flood in the Central Valley.
"When we had a large scale emergency in 1997, because we were looked at as people that did things in emergencies, they gave us a call," Madigan said. "Since then, we've been activated for different levels of emergency."
Madigan says the presence of veterinarians can help animals and their owners cope with the trauma of living through a wildfire. Most of the animals at this shelter were doing well, but when animals are moved to a new location, they often experience stress, he said.
"You just try to make them happy. Food, water and keep them with a friend," said Madigan."Feed is calming too, and then what happens is we feed him too much and they get a stomach ache and colic. So we actually have to be really careful about that."
Category
Tags