Kitten's Collaborative Care Exemplifies UC Davis' Campuswide Animal-Centered Spirit
"Case of the Month" – September 2020
So, what do a local university patron, four veterinary hospital services, a veterinary resident, a newly graduated Animal Science major, and dozens of faculty, staff, and student caregivers have in common? All of these UC Davis entities came together to save the life of a tiny kitten barely big enough to fit in your hand.
Emma, a female domestic shorthair kitten, was orphaned at a young age and found by Good Samaritans who brought her to the Yolo SPCA, a longtime client of the UC Davis veterinary hospital. Since 1987, the organization has brought countless cats and dogs to UC Davis. Their support of the veterinary program has been a tremendous resource for DVM students, providing hundreds of teaching cases for the hospital's Community Surgery Service and the school's Gourley Clinical Teaching Center.
Emma, who was being fostered by third-year oncology resident Dr. Sarah Vidal and participating in an ophthalmology clinical trial, was having trouble keeping food down. At the time, she weighed only 400 grams, just shy of 1 pound. Emma did not want to eat the next morning, so Dr. Vidal syringe fed her, only to have her vomit again.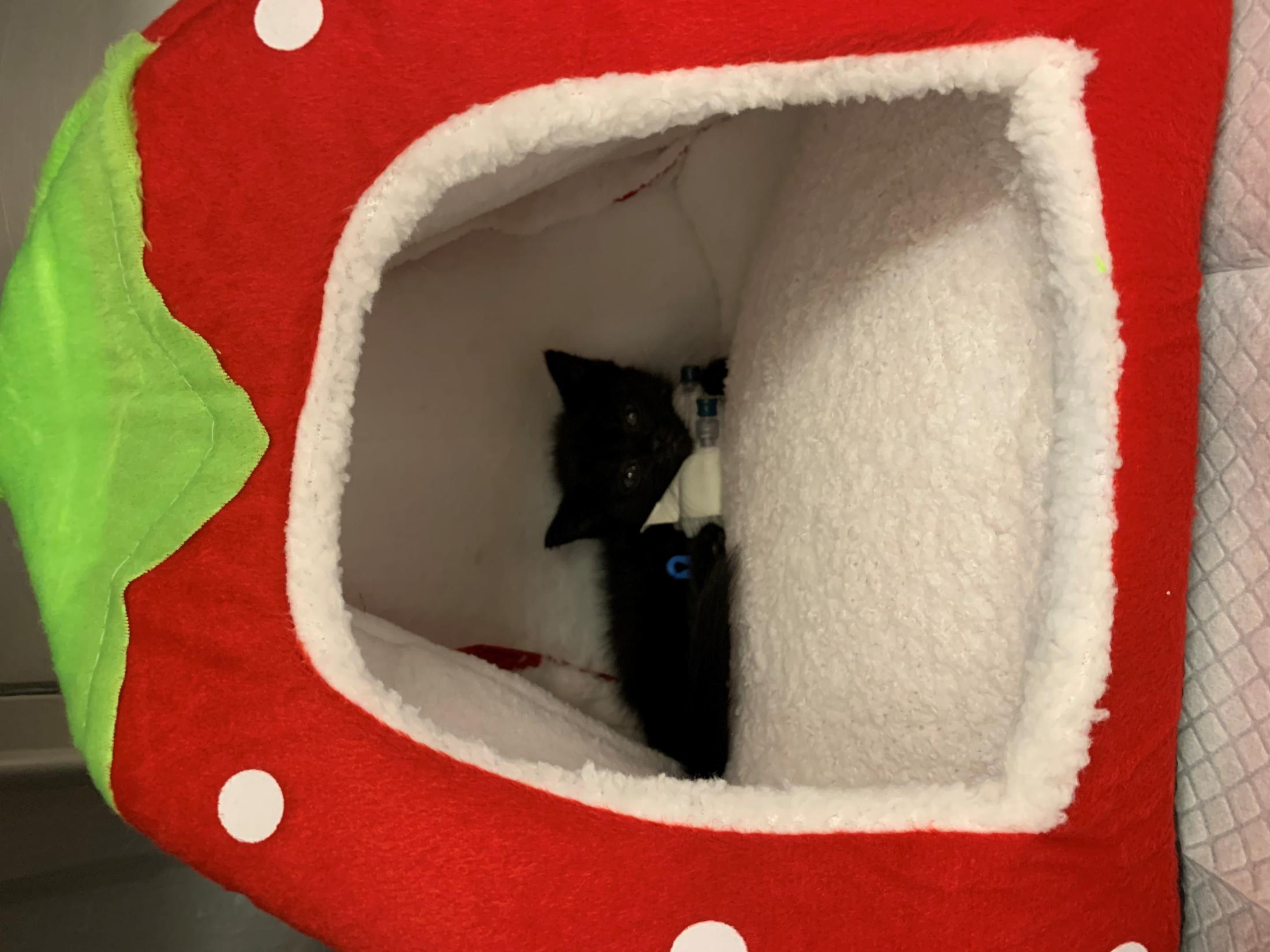 She was taken to the UC Davis veterinary hospital's Emergency Room, where the Emergency and Critical Care Service collaborated with the Diagnostic Imaging Service to diagnose an ileocolic intussusception, a blockage in the intestine where one section of the intestine folds and collapses into another section. The obstruction prevents food from being digested and continuing through the gastrointestinal tract.
Emergency surgery would be necessary, so the Anesthesiology/Critical Patient Care Service and the Soft Tissue Surgery Service prepared Emma. During surgery, the intussusception was unable to be reduced, so a 2-inch section of bowel was resected. Emma recovered well from surgery but was monitored closely for any signs of post-operative or post-anesthetic complications. She ate well during recovery.
Unfortunately, Emma began vomiting again about two weeks after surgery. Another trip to the Emergency Room revealed an intestinal narrowing at her previous surgical site. Her veterinary team decided to hold off on another surgical resection in hopes that the narrowing may be less problematic as she grew. However, her problems persisted, and Emma required a second surgery a few days later. Thankfully, that surgery went well, and she continues to recover in foster care.
Three weeks after Emma's second surgery, Dr. Vidal's residency ended, and she pursued other professional opportunities outside the area. In stepped Tingwei Li, an intern with Yolo SPCA. Emma is the 29th cat Li has fostered through the organization in the past year.
Li, a 2020 UC Davis graduate (B.S. – Animal Science) from San Diego, reports Emma is socializing well with the two other cats she is currently fostering.
Li enjoys working with animals from the Yolo SPCA and hopes to pursue veterinary school in a few years. She will continue to foster Emma until a forever home is found.
Emma is scheduled for a spay soon with the hospital's Community Surgery Service, where students gain hands-on surgical experience performing spays, neuters, simple mass removals, and other minor surgical procedures.  
If you would like to help more cats like Emma receive life-saving care, please consider donating to the School of Veterinary Medicine's Feline Compassionate Care Fund.
#   #   #
Primary Category
Tags