Radiation Therapy Successful in Treating Dog's Rare Cancer
Charlotte, a 7-year-old Cavalier King Charles spaniel, was always a happy and healthy dog. Last summer, her owners Lannis and Jamie Pope noticed a small (but growing), discolored dot on her nostril that seemed to cause her nose to run excessively. After taking her to their primary veterinarian, where it was determined to be cancerous after a basic lab result, the Popes sought an advanced diagnosis from the oncology specialists at the UC Davis veterinary hospital.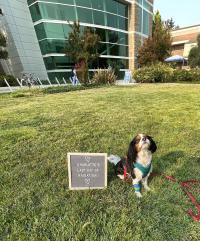 Additional tests by the Oncology Service at UC Davis determined the growth to be T-cell epitheliotropic lymphoma, a rare cancer with little case history to direct treatment protocols. After discussion of several options, the Popes opted for a short-term radiation therapy plan, consisting of five treatments over one week.  
The Popes qualified for financial assistance through a generous grant from the Blue Buffalo Foundation's support of the Petco Foundation pet cancer treatment program at the UC Davis veterinary hospital. The grant helps support treatments for domestic companion animals suffering from cancer. The project is designed to support pet parents of modest means or pet parents whose pets provide a service to others.
"We initially were going to wait to see how the lymphoma would progress without treatment due to the high cost we would incur with the different radiation options," said the Popes. "The main reason we went forward with radiation treatment for Charlotte was because of the very generous grant offered to us by the Petco Foundation. This grant relieved us of a substantial amount of the treatment cost and gave us additional options for her care."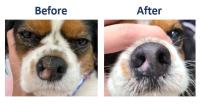 "The entire staff at the UC Davis Oncology Service, especially residents Drs. Sarah Saad and Kirsha Fredrickson, were truly amazing," the Popes said. "Everyone explained each process thoroughly throughout Charlotte's treatments. Each day we brought her to treatment, the staff would greet Charlotte with open arms and love. We felt better knowing she was in such great hands during such unsettling times."
Charlotte's radiation treatments were a success, and no new tumor growth was discovered in follow-up visits since her radiation treatments nearly six months ago.  
"We can tell that she is back to her old self – a happy and loving part of our family," said the Popes. "We cannot thank the staff at UC Davis enough for all their help and attention throughout this process, especially with assisting us with applying for the grant. If we had not received the financial help from the Petco Foundation, we would not have been able to afford the radiation treatment that Charlotte received. We are truly thankful."
#   #   #
Primary Category
Tags