Shelters and Underserved Populations Benefit from Access to Veterinary Care at UC Davis
--Portions of this article first appeared in California Veterinarian magazine--
A thorough and well-rounded veterinary education can involve dozens if not hundreds of different facets – learning compassionate care is one of them. A new program at the UC Davis School of Veterinary Medicine aims to assist animals, people, and organizations in need, while gaining training opportunities for its students.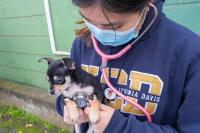 With overpopulated shelters and underserved populations throughout Northern California, animals can often go untreated. To better serve these communities and administer the needed care, the school's veterinary hospital recently added the Access to Care Program to its lineup of specialty and community care services.
While many faculty members and students have already been performing these activities for years, those programs now have an umbrella to better guide them and more efficiently administer their services.
The Access to Care Program is led by Service Chief Dr. Kristin Jankowski along with Drs. Jonathan Dear, Elizabeth Montgomery, and Karen Vernau, who mentor DVM students in a variety of community-based veterinary care outlets. While UC Davis has operated some of these organizations for years to decades, the new program is designed to bring together ones with an existing tie to the veterinary hospital. This will start with Knights Landing One Health Clinic, treatment for cats burned in wildfires, Fracture Program, the Orphan Kitten Project (OKP), as well as aspects of the Community Surgery Service, a required clinical rotation where students gain valuable hands-on experience in spays/neuters, mass removals, and other basic surgeries.
The Access to Care teams aim to collaborate across these existing community outreach programs, help elevate and unify that work, and broaden the base of access to veterinary care at UC Davis. The faculty is currently establishing partnerships with the school's Development Office to help advance these activities through philanthropic support and proposes to create an elective clinical rotation through the service for fourth-year students.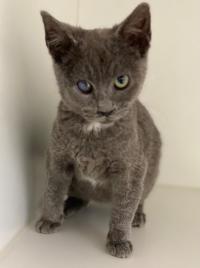 Recently, the program had a busy week, seeing seven kittens with a variety of ocular and musculoskeletal issues. The Tehama County Animal Care Center, a small shelter in Red Bluff, was struggling for space with an influx of kittens. The ones that needed immediate medical attention were brought to UC Davis and taken into rescue by OKP and the Yolo County SPCA.
The kittens fulfilled a need for teaching cases generally not seen in the students' specialty service clinical rotations. One of the kittens suffered humeral and femoral head fractures that provided training for orthopedic surgery residents and students through the Fracture Program, as well as students in the community surgery rotation. Another kitten had an infected eye that required removal, which was performed in the Community Surgery Service, as well as treatment for a rolled-in lower eyelid. The kittens were all spayed/neutered, microchipped, and vaccinated by students on rotation in the service.
Two of the seven kittens have already been adopted. Following the completion of their care at UC Davis and fostering by students, faculty, and staff, the remaining five kittens will be adopted through OKP and the Yolo County SPCA.
"This was a great example of multiple Access to Care Program efforts at UC Davis working together to provide great opportunities for the kittens, the students, and the residents," Dr. Jankowski said.
#   #   #
Primary Category
Tags