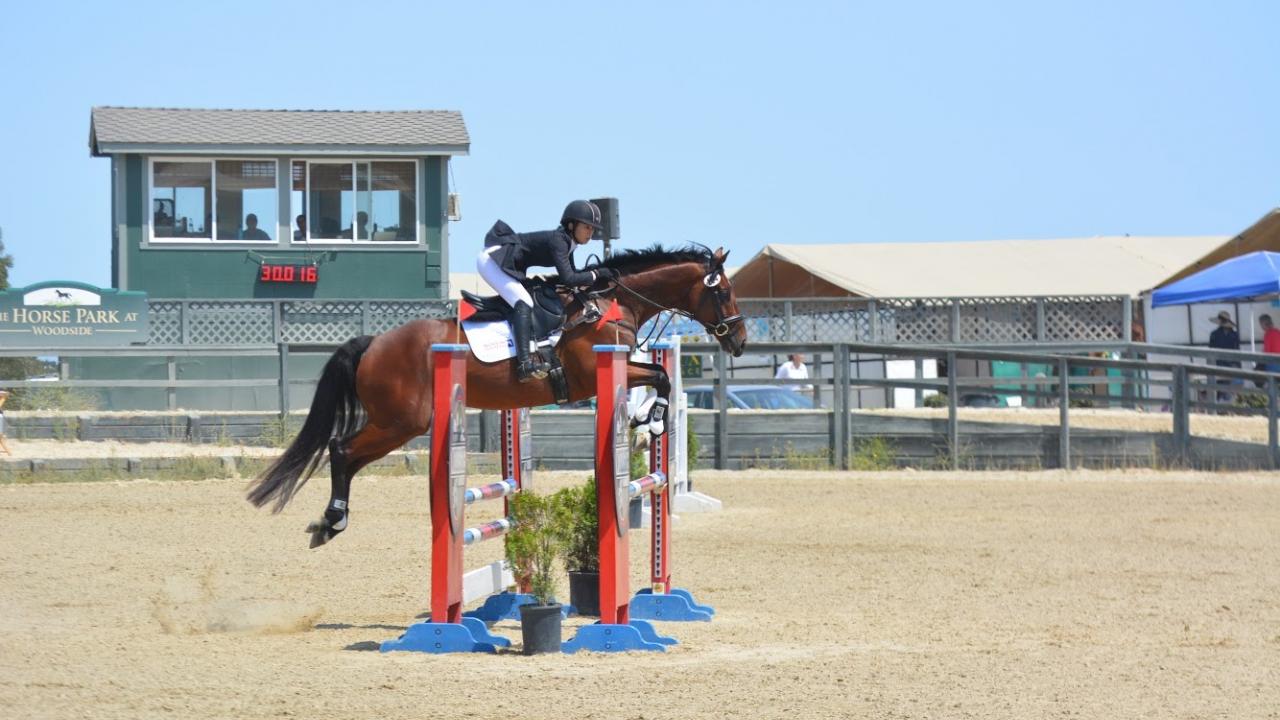 "Case of the Month" – September 2019
Monty, a 6-year-old Thoroughbred gelding, was down and displaying signs of colic when owner Ashley Aguado received the late-night call that he was sick. She rushed to him and found her three-day eventing horse in a dire condition.
"When I arrived, Monty's face was cut up from all the rolling he was doing," said Aguado. "He was sweating and just didn't look good overall."
Aguado gave Monty a dose of flunixin, a drug commonly used on horses to relieve pain associated with colic. The drug did not seem to have any effect, and Monty's condition was not improving. Having never experienced colic with her horses, Aguado called Monty's veterinarian and his trainer. Due to the late hour, they suggested getting him to the UC Davis veterinary hospital immediately, as its Large Animal Clinic's 24/7 emergency service was the only place that could help him.
Following the 1-hour drive to campus, Monty was immediately seen by the emergency veterinarians on duty. As the clock approached midnight, Monty underwent a thorough examination that identified a distended small intestine during rectal palpation and an ultrasound examination, and the presence of red-tinged abdominal fluid collected during a "belly tap."  These findings, as well as the severe, refractory pain that Monty continued to exhibit, indicated he needed emergency surgery. During emergency colic surgery, equine emergency surgeons located and corrected an epiploic foramen entrapment, which is a type of intestinal strangulation. Fifteen feet of Monty's small intestine needed to be removed because it was irreversibly damaged and a jejunocecostomy was performed, in which the remaining small intestine was reattached to empty into the cecum, the first section of the large intestine.
Monty seemed to recover well from surgery and spent a week under close monitoring in the Intensive Care Unit. However, six days after returning home, he became uncomfortable and stopped eating. Aguado wasn't taking any chances, so she returned with Monty to UC Davis.
In rare cases, horses will colic again following colic surgery due to a variety of reasons that may be related or unrelated to the original surgery. Unfortunately, Monty did not respond to medical treatment and had to undergo another surgery. At the second surgery, a feed impaction at the previous surgery site (jejeunocecostomy) was found. The impaction was resolved by gentle massage and emptied through an incision in the small intestine. The jejunocecostomy site appeared functional but inflamed.  To allow this site time to heal and reduce its swelling, a second connection was made between the small intestine and large intestine (a jejunocolostomy) to allow feed to empty into the large intestine and bypass the previous site of impaction.
Thankfully, Monty's recovery from the second surgery has been uneventful. He is on a strict diet of more pelleted feed than hay, and Aguado is allowing him several months to slowly return to competition. Now nine months later, she is finally riding him again for the first time since the surgeries.
"We want to take it slow," said Aguado. "There's no need to rush anything, especially since he is such a young horse. We'll take our time in producing him into a top-level eventer."
Aguado acquired Monty three years ago when her previous eventing horse maxed out at the "training" level, which is only third on a scale of seven levels in three-day eventing. Even though Monty is early in his athletic career, she feels he can go much further than the "training" level.
"I'm very hopeful for Monty's future," said Aguado. "He's quite talented."
Last year (in only his second event ever), Monty and Aguado won the "novice" (second) level at the Fresno County Horse Park Trials—giving Aguado her first victory—and placed fourth at the Twin Rivers Horse Trials. Overall, Monty placed in the top-10 in six of the seven events in which he was entered. He then advanced to the "training" level before becoming ill.
With Monty being only age 6, Aguado feels he may have ten years of competition ahead of him. She plans to slowly get his fitness back up and re-enter competition at the Woodside Horse Trials in May 2020.  Fortunately, several studies have found that horses can return to athletic activities in their intended discipline (including horse racing) and at their previous or higher level of performance after colic surgery.
"The goal is to build his confidence while moving up the levels of competition slowly," Aguado said enthusiastically. "Let's see where he takes me."
#   #   #
As Phase I of UC Davis' new Veterinary Medical Center commences, horse enthusiasts can look forward to the proposed Equine Performance Center and Equine Surgery & Critical Care Center. These state-of-the-art transitions of the current Large Animal Clinic will allow equine specialists to enhance their offerings of the most progressive surgical techniques available for equine athletes like Monty, and horses of all kinds.
Category
Tags