Alumnus Wins Dr. Murray Fowler Lifetime Achievement Award
UC Davis alumnus Dr. Don Janssen (DVM '78) was recently awarded the Dr. Murray Fowler Lifetime Achievement Award from the American College of Zoological Medicine (ACZM). The award is given for exceptional commitment and contributions to the ACZM while making significant lifetime contributions that have advanced the discipline of zoological medicine. A diplomate of the ACZM and a past president of the American Association of Zoo Veterinarians, Dr. Janssen served as director of veterinary services and was vice president for animal health at San Diego Zoo Global prior to retirement. He is known for his leadership in the field of zoo and wildlife medicine and for his contributions via clinical research, veterinary practice, teaching, mentoring, and service throughout his career.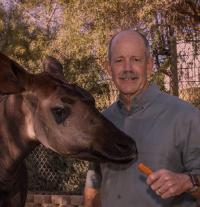 The award is named for the late Dr. Murray Fowler, a long-time faculty member of the UC Davis School of Veterinary Medicine and head veterinarian of the Sacramento Zoo for 24 years. In 1974, Dr. Fowler established the Zoological Medicine Residency Program at UC Davis, the first of its kind in the world. This highly competitive advanced training program prepares veterinarians for careers in the field and ACZM specialty board certification. The program emphasizes clinical approaches for non-domesticated zoological species and wildlife under human care, such as those in zoological collections, conservation programs, or wildlife rehabilitation settings.
Dr. Fowler's leadership helped establish UC Davis' long-time connection to the Sacramento Zoo. For several decades, UC Davis veterinarians, residents, and DVM students have cared for the zoo's more than 500 animals. The veterinary hospital on the zoo grounds is named for Dr. Fowler.
Primary Category
Tags