Clinical Trial Places Cat's FIP in Remission
"Case of the Month" – December 2022
Lily, a 9-month-old female Bengal cat, is now in remission from feline infectious peritonitis (FIP) thanks to clinical trials at the UC Davis veterinary hospital. Currently enrolling cats, these new clinical trials are focused on improving treatments for FIP. Lily's remission shows the great promise these new therapies hold for cats with FIP. All clinical signs related to her previously diagnosed FIP have resolved.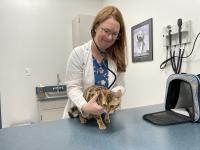 FIP is a serious disease caused by a feline coronavirus variant, though not the one that causes COVID-19. The virus will spread through a cat's body causing systemic inflammation. Up to 95% of cats diagnosed with FIP die without treatment. Cats can develop FIP at any age, but it is usually diagnosed in cats between 6 months and 2 years of age. It is one of the most common causes of death in young cats with infectious diseases. Currently there is no successful treatment approved for veterinarians in the United States.
Drs. Emma Cosaro, Amir Kol, Brian Murphy, and Krystle Reagan are leading the way on the research behind the trials. Dr. Reagan recently told the American Animal Hospital Association that she hopes these studies will find a treatment that is readily accessible to treat cats diagnosed with FIP.   
Previous research conducted by UC Davis Professor Emeritus Niels Pedersen uncovered several promising treatments for this disease, including an antiviral drug, GS-441524, that was found to be safe and efficacious in treating cats with naturally occurring FIP. However, the drug is not readily available in the United States. The current trials expand on Pedersen's research to further improve FIP treatment.
The trial Lily participated in investigates the safety and efficacy of remdesivir, which is similar to GS-441524. This study is enrolling two treatment groups – one will receive oral GS-441524 and the other will receive oral remdesivir for comparison.
"I feel incredibly blessed that we had this opportunity to participate in the trial," said Kristina Wardlow, Lily's owner. "Now that she's finished, you can't tell there was every anything wrong with her."
Lily's treatment consisted of once per day oral medication for 84 days, including several recheck appointments to monitor the progression. At present, Lily's treatment group has not been revealed as the clinical trial is ongoing.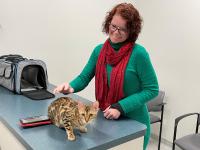 "Every day was a little bit better," said Wardlow, assessing Lily's marked improvement through the process. "She started gaining weight really well."
At Lily's initial screening for the trial, she weighed 2.6 pounds at 3 months old, with no signs of continued growth. By the end of the trail, she weighed 7.3 pounds, and Wardlow now reports Lily weighs more than 8 pounds.
At the final recheck appointment, Lily was bright and happy with no signs of FIP in her system.
The other UC Davis clinical trial seeks to determine if antiviral drugs combined with mesenchymal stem cells may improve response to treatment for FIP. The goal of the study is to see if cell therapy can enhance the immune response and support restoration of a normal immune system post infection. The two treatment groups in this study will either receive oral GS-441524 along with an infusion of a novel cell-based therapy, or oral GS-441524 with a placebo. Cats must be within 3-12 months of age and have the wet form of FIP.
"It was amazing to work with the UC Davis team," said Wardlow. "Everybody was so supportive – they clearly detailed everything I needed to do, because there is a lot of home care needed by the owners."
Owners interested in enrolling their cats in these clinical trials must reside within close proximity of Davis, California due to the need for multiple recheck visits.
"I can't say enough about the staff at UC Davis," Wardlow emphasized. "The first day I took her there, Dr. Reagan called me at home later that night to see how Lily was doing. She was always responsive to any concern I had."
Lily is expected to live a full life.
#   #   #
If you need more information on enrolling a cat in these clinical trials, please click on the hyperlinks in the above article and following the contact instructions on those pages.
Primary Category
Tags