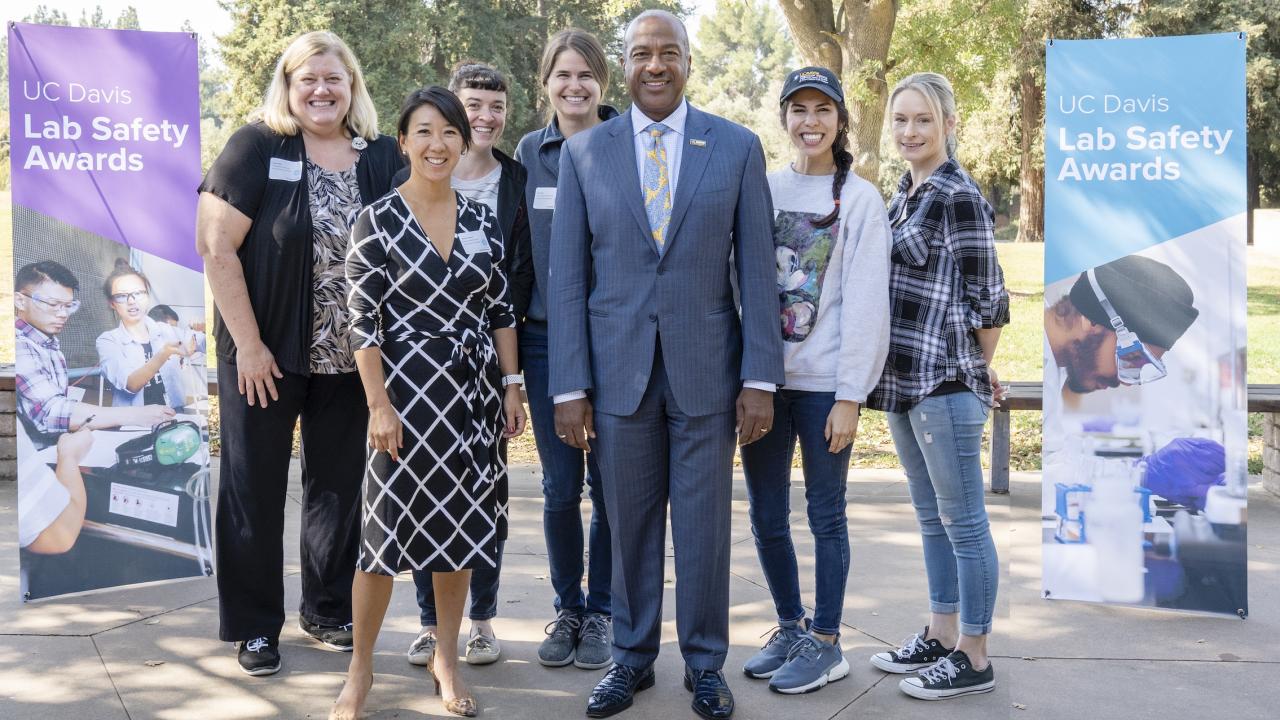 by Brenda Dawson
The Comparative Pathology Lab (also know as the Imai-Leonard Lab) won a UC Davis Lab Safety Award, presented in October. The Safety Services Lab Safety Awards are part of UC Davis' commitment to recognizing labs with a strong safety emphasis who are doing their part to Think Safe. Act Safe. Be Safe. The awards are endorsed by the faculty-led Chemical and Lab Safety Committee.
Every Monday morning in the Comparative Pathology Lab at the UC Davis School of Veterinary Medicine kicks off the week the same way: with rounds to discuss what projects are coming up and a chance to discuss any potential safety concerns. Led by Denise Imai-Leonard, lab analyzes blood and tissue samples for researchers working with lab animals, particularly mice and rats.
The lab is self-supporting and provides services to other UC Davis labs, and also to UCSF, UC Merced, UC Santa Cruz, the California Animal Health & Food Safety Laboratory System, and to small biotech firms. The lab's dozen staff members work with a rotating mix of residents in medicine, pathology, and veterinary programs, student workers, and interns. So consistent safety training, accurate use of personal protective equipment (PPE), and clear communication is important to maintain this lab's strong safety culture.
This summer, the team was reminded of the importance of their safety precautions when they confirmed the presence of Q fever during routine screening of sheep tissue that was otherwise on its way to a UC Davis Veterinary Medicine lab for students to use as part of their education. The team was using proper protocol, working under a hood and using respirators, and the discovery meant working with campus Environmental Health & Safety and the CDC for full reporting. This was the first time the lab has had a positive test result for Q fever in 5 years.
"When we alerted our partners at the other lab on campus, they had just been talking about why do we do this testing since it's always negative," said Jenelle Fraser, the lab's assistant director and safety officer. "But when it's positive, the exposure could have had a huge impact."
Category
Tags