Emergency Team Administers First Aid Course for K9 Handlers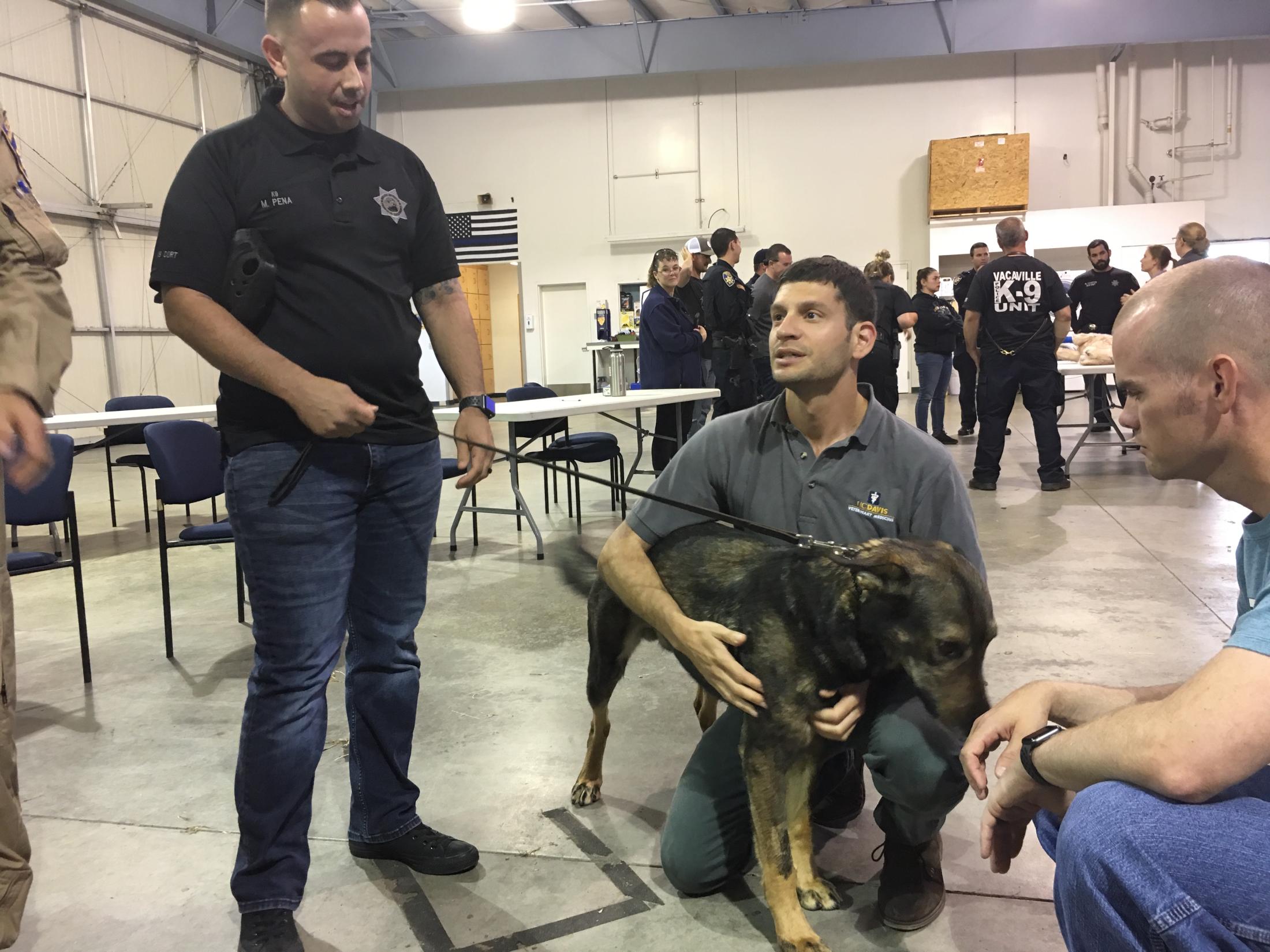 Earlier this year, K9 Officer Cort of the Fairfield (CA) Police Department was stabbed while apprehending a suspect. California Highway Patrol (CHP) officers were on site and immediately called their air division that had a helicopter in the area. CHP flew Cort to the UC Davis airport where campus police transported him about a mile to the university's veterinary hospital.
The hospital's Emergency & Critical Care Service immediately treated Cort's wounds, which thankfully were not life threatening. The experience prompted an idea from CHP to host a canine first aid training session for their K9 handlers and emergency crew pilots. In May, the idea came to fruition with nearly two dozen CHP and other area officers.
Faculty members Drs. Kate Hopper and Steve Epstein, along with staff veterinarian Dr. Kate Farrell and third-year resident Dr. Simon Hagley, traveled to the Napa Airport to train the officers at the CHP Air Rescue Operations Unit headquarters. The team led a 2-hour first aid lecture and hands-on laboratory session that covered potential situations like cardiac arrest, narcotics exposure, choking, shock, heatstroke, dehydration, fractures, snake bites, and much more.
The hands-on session included CPR, Heimlich maneuver, bandage and pressure wraps, and other life-saving techniques that can be utilized in critical situations. The officers were able to practice on mannequin dogs that the school uses to train students.
The training session is one of many partnerships the school has with law enforcement K9 handlers. The hospital has a long history of caring for K9 officers, having treated nearly 200 police dogs in the past decade. Ophthalmology and dentistry specialists at the hospital also offer free annual eye and teeth examinations for K9s.
In 2015, the school established the Faithful Partner Fund to assist with the medical costs of treating K9 officers, as well as search and rescue dogs, injured in the line of duty. With matching funds from the Dean's Office and the UC Davis Police Department, the fund was then opened to the public. To learn more about the Faithful Partner Fund and help with these efforts, please see the website.
#   #   #
Primary Category
Tags