Hospital Hosts Online Version of Veterinary Intern and Resident Research Day for 2021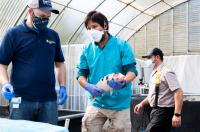 On March 19, 2021, the UC Davis veterinary hospital virtually hosted its annual Gerald V. Ling Veterinary Intern and Resident Research Day (VIRRS). The day-long event featured short presentations of research findings from house officers (resident, fellow, intern) to fellow house officers, faculty, staff, students, and guests.
Having the ability to do research is a major advantage of doing a residency at the UC Davis veterinary hospital. With the largest and most diverse house office program in the country, the hospital is able to offer research opportunities not available elsewhere. UC Davis trains upwards of 125 house officers in more than 30 specialty services every year, and nearly 50 of them present research studies at VIRRS, covering a large breadth of topics throughout veterinary medicine.
Congratulations to the planning committee for organizing the first virtual VIRRS in the 43-year history of the event. Due to the COVID-19 pandemic, the event was conducted 100% online in 2021, after having been canceled for the first time ever in 2020.
Award winners at the 2021 VIRRS include:
Overall Grand Prize Research Study and Presentation
Dr. Kelly Ramsay (fellow), Lab Animal Pathology: "A Possible Mouse Model of Calcaneal (Achilles) Tendinopathy with Chondroid Metaplasia"
Dr. Samantha Darling (resident III), Pathology: "Receptor Tyrosine Kinase Inhibition in Canine Glioma"
Gerald V. Ling Award for Outstanding Small Animal Research Study and Presentation
Dr. Flavio Alonso (resident III), Clinical Pathology: "Lipoprotein Profile of Transudates in Dogs and Cats"
Outstanding Small Animal Research Study and Presentation #2
Dr. Emmelyn Hsieh (resident II), Internal Medicine: "Diagnostic Yield of Cystoscopy Compared to Ultrasonography for Evaluating Lower Urinary Tract Disorders in Dogs"
Outstanding Small Animal Research Study and Presentation #3
Dr. Craig Sutter (resident III), Internal Medicine: "A Pilot Study to Assess Endoscopic Placement of Patient Specific 3D-Printed Nasopharyngeal Stents in Canine Cadavers"
Chris Smith Award for Outstanding Equine Research Study and Presentation
Dr. Stefanie Arndt (resident II), Equine Surgery: "Comparison of Peripheral Blood Glucose Concentration and Peritoneal Fluid Variables Between Horses with Septic and Non-Septic Peritonitis"
Outstanding Large Animal Research Study and Presentation
Dr. David Sheedy (resident III), Dairy Production Medicine: "Effect of Antimicrobial Treatment on Rates of Gain and Loss of Ceftiofur Resistance in Enterobacteriaceae from Adult California Dairy Cows"
Outstanding Avian, Exotics, Lab Animal or Poultry Research Study and Presentation
Dr. Eric Littman (fellow I), Aquatic Animal Health: "Experimental Infection of a Virulent Strain of Lactococcus garvieae from Mortality Events at Rainbow Trout (Oncorhynchus mykiss) Hatcheries Under Various Conditions"
Primary Category
Tags