Pioneering 3D Minimally Invasive Surgery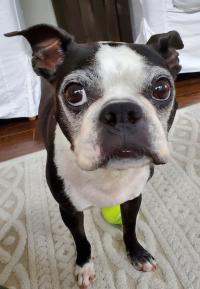 Louie, an 8-year-old male Boston terrier with Cushing's disease, was cured after undergoing the world's first laparoscopic adrenalectomy on an animal utilizing 3D technology at the UC Davis veterinary hospital. The pioneering surgery was made possible by generous CCAH donors who enabled the purchase of a three-dimensional scope used for minimally-invasive surgical procedures. 
Soft Tissue Surgery Service faculty member Dr. Ingrid Balsa led the surgery to remove a tumor in Louie's right adrenal gland that was causing the condition. Cushing's disease causes a dog's adrenal glands to produce too much cortisol, a chemical that controls many aspects of a dog's body, including its weight, ability to fight infections, maintain blood sugar levels, and many other vital functions.  
As a pioneer in minimally invasive procedures, UC Davis has been performing laparoscopic surgeries for many years, including adrenalectomies. Normally, these surgeries are guided by an on-screen two-dimensional (2D) image from a camera in the scope. Surgeons are able to navigate the animal's body proficiently after a learning curve, however they lose depth perception with a 2D image which may lead to surgical errors or prolong surgical time. 
The new 3D scope greatly improves on the 2D technology. With two cameras in the scope instead of one, two images are presented on-screen. When viewed with 3D glasses, the two images are fused together due to the polarization of the glasses, creating a 3D image on the monitor, helping veterinarians to better navigate their surgical field. 
While 3D technology has been used in human surgeries for several years, it is new advancement for veterinary medicine. Studies on human procedures have shown 3D surgeries to decrease surgical time and decrease surgical errors, and the school's faculty hope to see those advantages realized for their veterinary patients. 
"I hope this allows us to push the envelope for different types of surgeries that we could consider performing in a minimally invasively fashion," said Balsa, who will continue to investigate 3D capabilities with fellow faculty surgeon Dr. Philipp Mayhew. "I think this will also provide a stepping stone for resident training in regard to learning laparoscopic procedures, which have different instrumentation and techniques compared to traditional open surgeries. The 3D scope will remove loss of depth perception in learning laparoscopy." 
Primary Category