UC Davis Veterinary Medicine Celebrates 75 Years!
The UC Davis School of Veterinary Medicine kicked off its 75th anniversary last weekend with a host of celebrations and activities. Events started with a luncheon for key donors and guests—including Dr. George Puterbaugh from the inaugural Class of 1952. Gunrock and the triathlete pup, Cori, were on hand to greet guests as they arrived.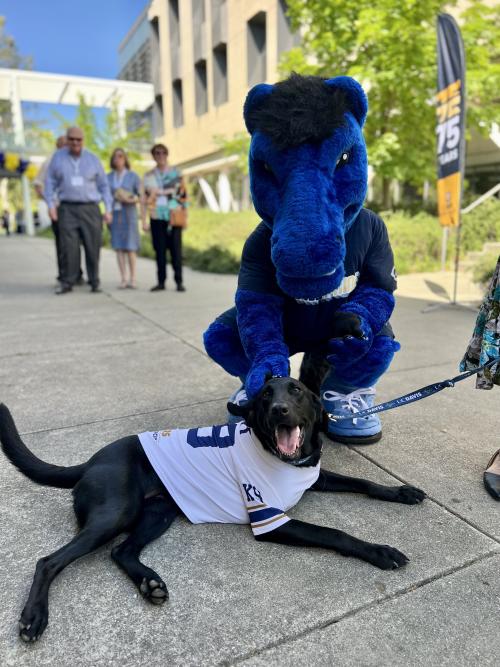 Debbie Wilson, executive director of development, and Dr. Mary Croughan, provost and executive vice chancellor, offered heart-felt remarks about the roles the veterinary school has played in their lives.
Dean Mark Stetter presented Valerie and Larry Casey with the El Blanco Award—one of the school's highest honors that animal owners and other benefactors have made to advance animal health and well-being. 
Dr. Crystal Rogers served as master of ceremonies as the luncheon continued with a panel discussion on recent scientific discoveries and the future direction of veterinary medicine. Guests listened to presentations including Dr. Pamela Lein describing the relation of Alzheimer's related disease in rodents and traffic-related air pollution; Dr. Bret McNabb explaining the role of CRISPR gene editing in preventing cattle diseases; Dr. Krystle Reagan showing the role of artificial intelligence in better detecting illness such as Addison's disease in dogs; and Dr. Christine Johnson explaining the importance of forging relationships with other countries to support One Health strategies and prevent future pandemics.
Guests then had the opportunity to visit the veterinary medicine campus and listen to presentations on curing cancer in dogs and humans (Dr. Michael Kent), saving shelter animal lives (Dr. Kate Hurley), and helping animals during disasters (Dr. Michael Ziccardi). The afternoon concluded with tours of the advanced veterinary surgery center and the Gourley Clinical teaching Center.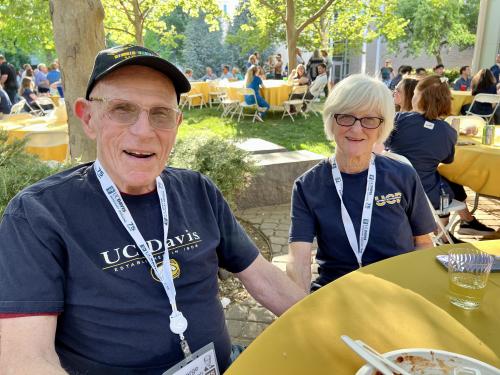 Friday evening, the greater veterinary community gathered with alumni for a BBQ accompanied by live music from the Don Los Angeles band that included faculty members Brian Leonard and Scott Katzman.
Dean Mark Stetter thanked everyone for joining in the celebrations and highlighted Mieko Temple from the Class of 2025 for her winning 75th anniversary poster design.
Saturday morning kicked off with the annual Oscar W. Schalm Lectureship, established in 1988. The event honors the memory of Oscar W. Schalm, a founding faculty member of the school and an eminent teacher and research scientist in the fields of bovine mastitis, diagnostic veterinary hematology and clinical pathology. Dr. Ivan Schwab, professor emeritus of ophthalmology, presented a fascinating lecture on "Sensory Diversity and the Eye," describing how some animals use alternate sensory mechanisms combined with visual pathways, as well as the evolution of these animals. In the final Q&A, renowned veterinary ophthalmologist Dr. Christopher Murphy quipped that Schwab was the most misplaced physician he'd ever met because he is truly a veterinarian at heart.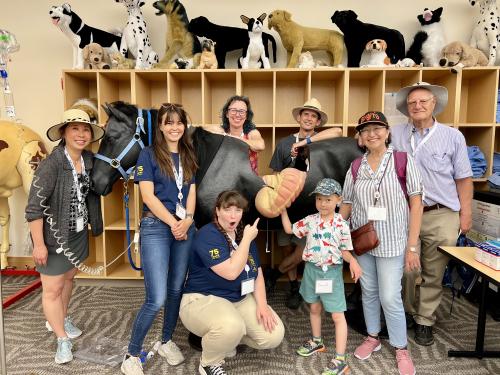 The Class of 1973 then enjoyed a 50th reunion brunch (along with other class years) followed by tours of the teaching and clinical facilities.
On Saturday evening, alumni gathered for a celebration dinner – that began with a standing ovation for Dr. Puterbaugh – and the presentation of the Alumni Achievement Awards. "Rising Star" Alumni Award recipients included Dr. Roxann Brooks Motroni, PhD '12, DVM '13, honored for her research into the cause of foothill abortion and for national leadership in the diagnosis and prevention of infectious diseases of livestock. Another rising star award went to Dr. Kimberly Dodd, PhD '14, DVM '15, honored for her leadership in the diagnosis and prevention of infectious diseases of livestock and people.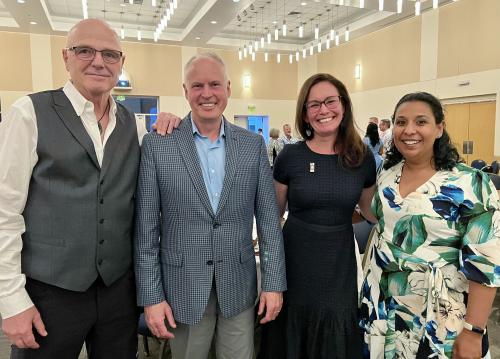 Dr. Jeffrey Boehm, DVM '90, was honored for outstanding contributions to improving the health of aquatic animals. Dr. Laurel Gershwin, DVM '71, PhD '79, was recognized for contributions to sustaining animal health with an emphasis on facilitating care for pets of those unable to access or afford veterinary services. Dr. Christopher Murphy, DVM, PhD '84 was honored for his leadership and professional contributions to comparative ophthalmology and vision science. He has held joint faculty appointments at the medical and veterinary schools.
The school's position as #1 in the nation is made possible by the ingenuity and dedication of individuals who built the school's foundation and continue to advance veterinary medicine today. Their commitment to a world-class institution continues to be reflected in our research facilities, classrooms, clinics and beyond—making a difference for animals, people and our planet. Read more about the history of the school in Synergy's spring issue. 
Visit the school's 75th-anniversary website to learn more about other ways we are honoring three-quarters of a century of leading veterinary medicine.
Watch brief celebration video
Primary Category