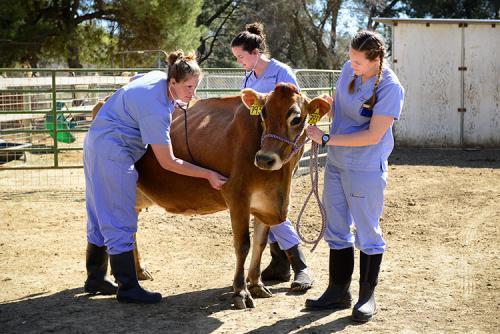 75 Years of Exceptional Care and Innovation
Throughout history, animals have been in our homes, on our farms, at our jobs, and in our arms. They have contributed to our health, well-being, and survival. Those companions have always asked for far less in return than we've often given them. 
75 years ago, UC Davis School of Veterinary Medicine faculty and staff set out to provide first-class animal care and prepare top-tier veterinary medicine students for careers and service. In doing so, we've saved and improved the lives of animals of all sizes all over the world, thereby improving that world. 
This spring, we'll paws and begin a year-long celebration of decades of accomplishments and innovations in classrooms, laboratories and communities. As we kick off our annual Alumni Reunion Weekend, we'll share recollections and stories of breakthroughs that have led to controlled and cured disease, improved surgical techniques, and standard-setting animal health care.
But we won't just look back during our 75th anniversary year. At events across campus and in communities around the globe, we'll come together, reconnect, and in some cases, make new connections.  The conversations we'll have will spur us to even greater heights. Generations from now, veterinary science leaders will barely believe how far they've come, just as we look back on challenges overcome and lives changed — both animal and human. 
Want to know more? Contact us.    Alumni Reunion Weekend - April 28-30, 2023