Legislative Resolution Honors School's 75 Years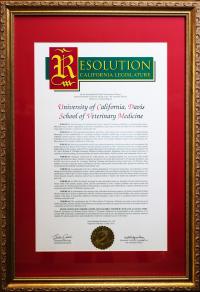 The UC Davis School of Veterinary Medicine was honored with Legislative Resolution #130 on April 30, 2023, highlighting its positive impact and key achievements on the advent of its 75th anniversary. The resolution, sponsored by Senator Bill Dodd and Assemblymember Cecilia Aguiar-Curry, emphasizes the school's pioneering accomplishments over the years and how it continues to lead veterinary medicine today.
Message from Dean Mark Stetter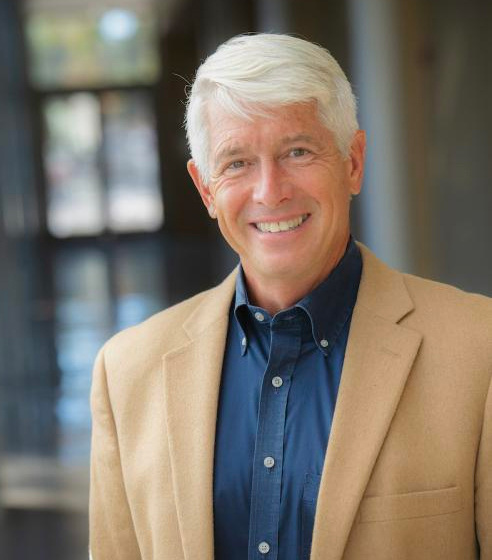 Thank you for being part of the UC Davis veterinary medicine community as we celebrate 75 years of exceptional care, education and innovation!
Originally founded to meet the needs of livestock owners in California, the school has grown to become a game-changing veterinary medical center ranked #1 among the nation's veterinary schools. It has pioneered innovation in all veterinary hospitals and educational programs. In fact, we have the largest and most diverse residency training program worldwide, as well as the world's largest veterinary research program.
Our hospital sees more than 50,000 patients annually and offers cutting-edge expertise in more than 35 specialties. Even if the animals in your life don't visit us at UC Davis, it is likely that your local veterinarians have received their training here. We're proud of our doctors of veterinary medicine graduates who now total more than 7,000 across the world!
In partnership with UC Davis Health, the veterinary school makes a difference in the lives of humans too. Our researchers collaborate on scientific breakthroughs in areas such as cancer, spina bifida, ophthalmology, regenerative medicine, and advanced imaging.
We look forward to celebrating this year with you and look forward to many more.
—  Dean Mark Stetter
Honoring Our Past
Animal Success Stories from the Past 75 Years
Over the years, many of UC Davis veterinary hospital's patients have been featured in national and international news coverage. Their success stories were made possible by the dedicated teams of clinicians, staff and students who provide compassionate care on a daily basis. Here are several of those stories.
Top Clinical & Research Accomplishments Over 75 Years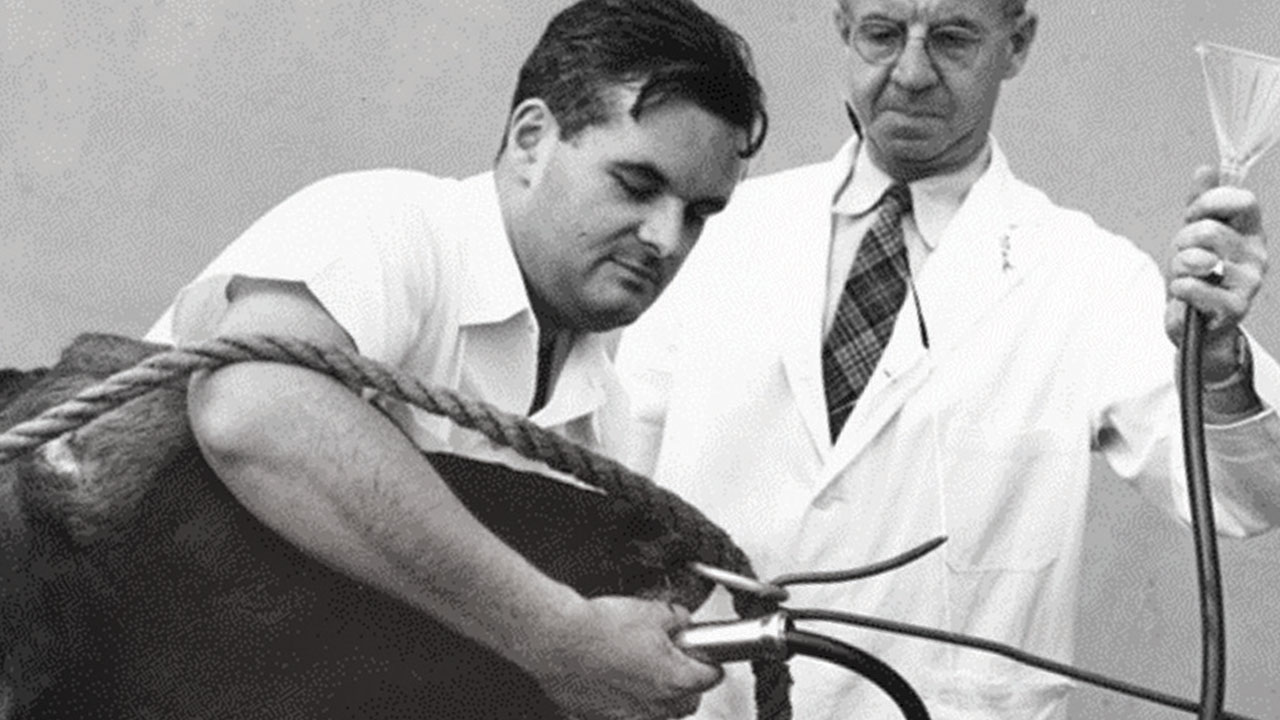 Since 1948, the school's faculty, staff, and students have made significant breakthroughs in research studies and clinical applications—from vaccine development for devastating livestock diseases to using stem cells in regenerative medicine. Their work has changed the world and laid the groundwork for future veterinarians to expand on their advances. On the 75th anniversary of the school's opening, we celebrate those achievements by highlighting several key accomplishments.
Embracing Our Future
Veterinary medicine is changing the world — what if we could do even more? Such as curing cancer in dogs and humans, reducing world hunger or improving health while aging. Let's do it together. You can help us make these "what ifs" a reality.
Learn how veterinary medicine is changing the world
Poster Design Contest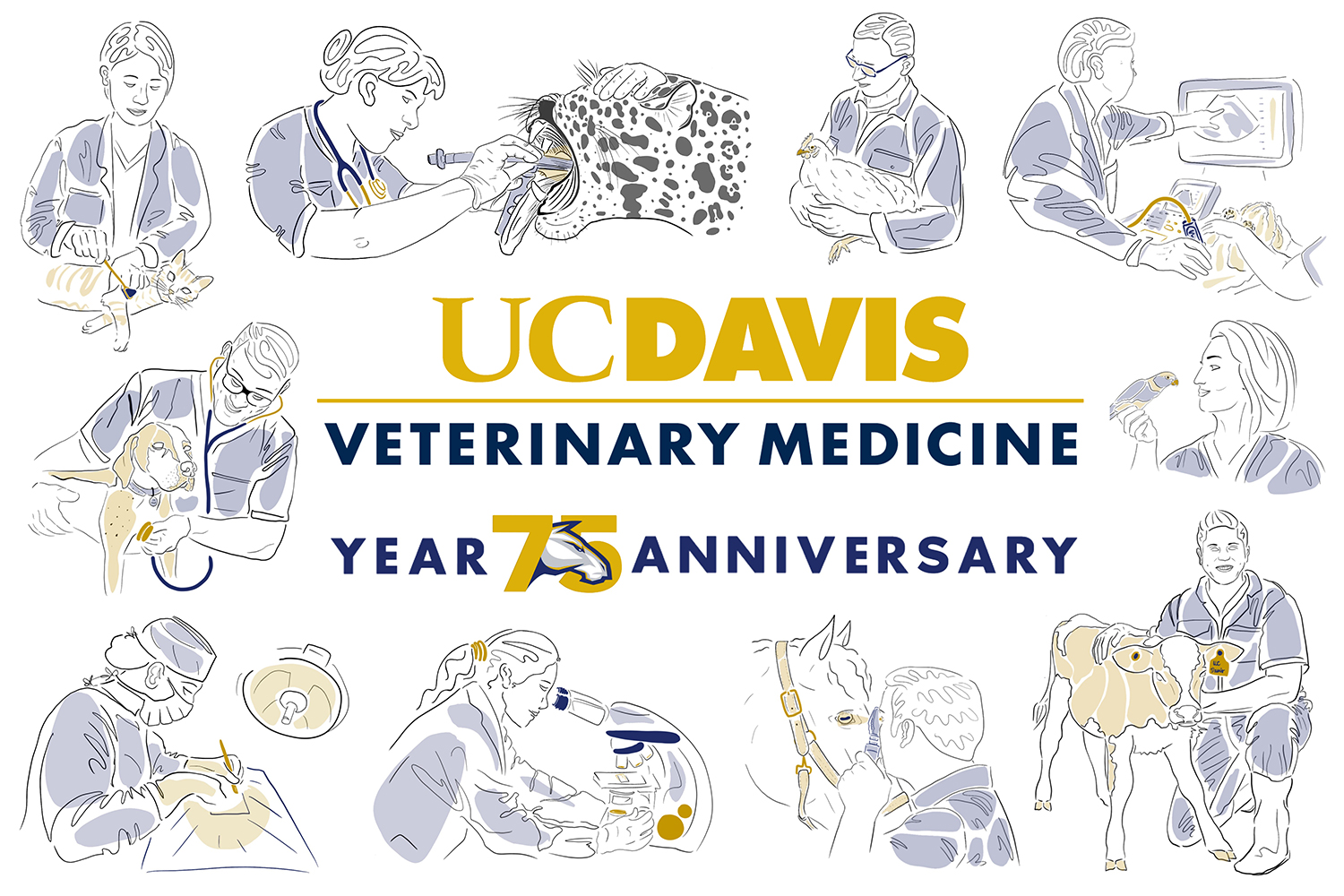 Congratulations to Mieko Temple, Class of 2025, for winning the student poster design contest for the school's 75th anniversary. Her unique design features several different illustrations of multiple disciplines of veterinary medicine surrounding the central logo celebrating 75 years of the UC Davis School of Veterinary Medicine.
Anniversary Logo: Dolce

So, what's the story behind the outline of a little dog in a tutu on one of the UC Davis veterinary school's 75th anniversary logos? Meet Dolce, a 7-year-old Pomeranian-mix princess. But this sweet girl didn't always live the pampered life.
Dolce was found scared, cold, and in pain on a January morning in 2019 on the side of a road after being hit by a car. She was transferred from the Yolo County SPCA and referred to the UC Davis Fracture Program. Surgeons successfully repaired Dolce's fractures, and it wasn't long before she caught the attention of Debbie Wilson, the school's executive director of development. To help Dolce make a complete recovery after surgery, Debbie also brought Dolce to appointments with the Integrative Medicine Service and the Nutrition Service.
Alumni Reunion and 75th Anniversary Kickoff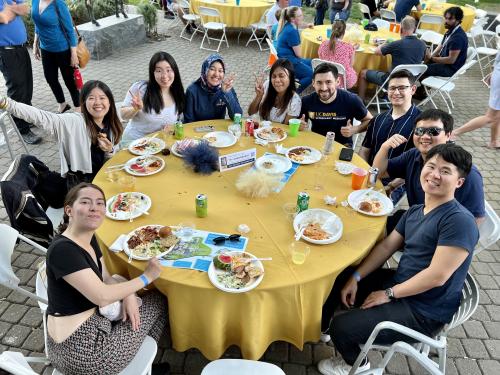 This spring began a year-long celebration of accomplishments and innovations in clinics, classrooms, laboratories, and communities. The UC Davis School of Veterinary Medicine kicked off its 75th anniversary on April 29, 2023 with a host of celebrations and activities. Events started with a luncheon on Friday for key donors and guests where Dean Mark Stetter presented Valerie and Larry Casey with the El Blanco Award. Guests then had the opportunity to visit the veterinary medicine campus and listen to presentations. That evening, the greater veterinary community gathered with alumni for a BBQ. Saturday kicked off with the annual Oscar W. Schlam Lectureship followed by a brunch and tours. That evening, alumni gathered for a celebration dinner and presentation of the Alumni Achievement Awards.
But we won't just look back during our 75th anniversary year. At events across campus and in communities around the globe, we'll come together, reconnect, and in some cases, make new connections. The conversations we'll have will spur us to even greater heights. Generations from now, veterinary science leaders will barely believe how far they've come, just as we look back on challenges overcome and lives changed — both animal and human.